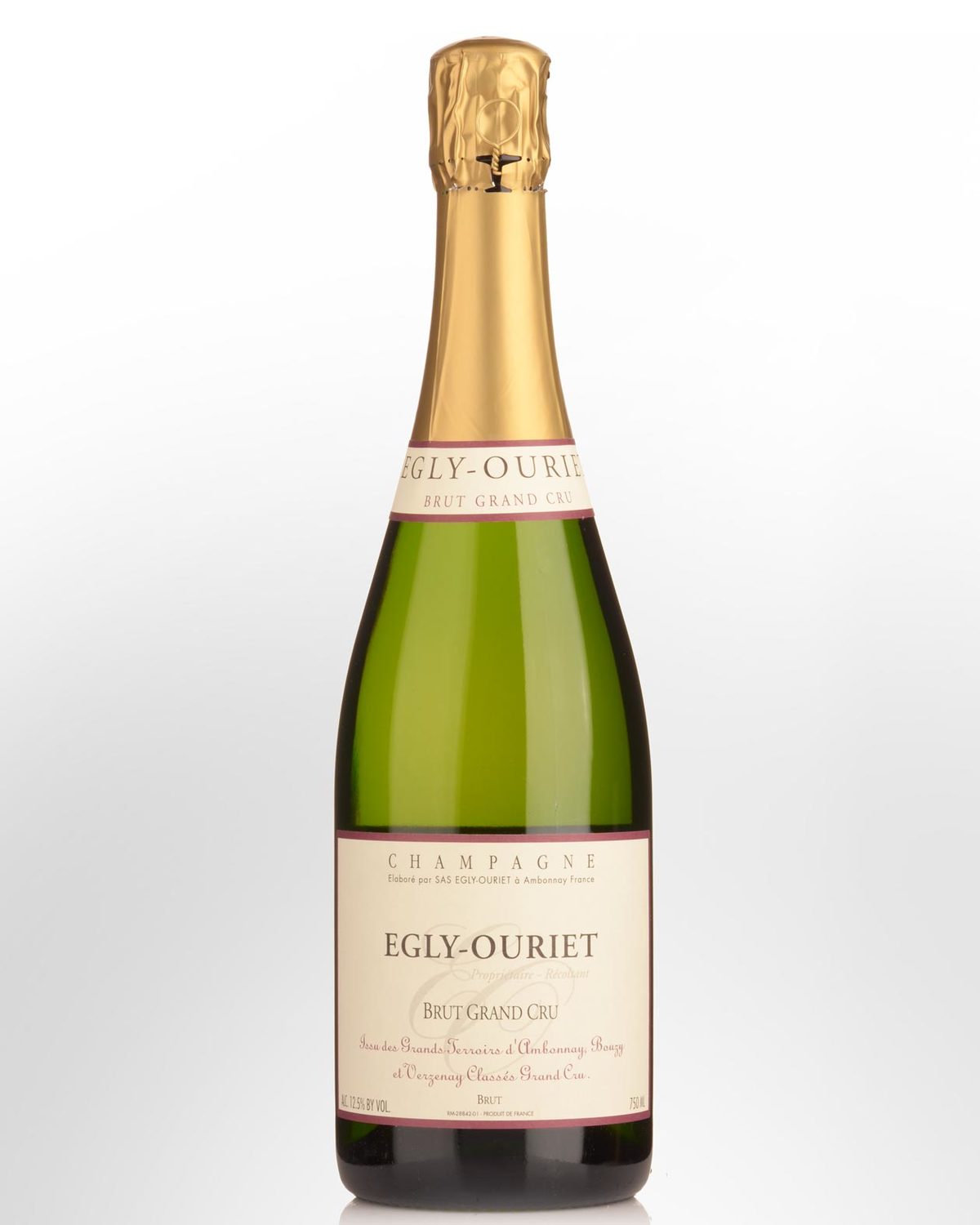 Egly-Ouriet Brut Grand Cru Champagne
Cellar:
Drink now - 6 Years (2018-2024)
The Ambonnay based Egly-Ouriet are a reference point for grower producers in Champagne, known for their impeccable vineyard management and fastidious winemaking skills. Much of their production is raised in oak barrels, with extended aging on lees a feature. Brut Tradition is a blend of up of 70% Pinot Noir and 30% Chardonnay from low yielding vines in Grand Cru terroirs, and is a wine that puts to shame many a prestige cuvee at double the price.
Please note: Disgorgement dates can vary. Please contact the store if you would like to check which disgorgement is currently available.
Previous tasting October 2018:
A fine satin like mousse shows good hold over a pale straw base with pale gold edgings. Very profuse and exceptionally fine bead. Superb aromatics of baked bread and yeast lees meld with subtle honeyed notes, pear, citrus and lightly roasted cashew. Very faint hazelnut end notes complete a complex sniff. Rich toasty baked bread and yeast lees characters pair with subtle pear and citrus flavours. Refined lacy feel with sculptured acidity lending tension on the mouth watering finish. Also evident are cashew and buttered brioche nuances. Long creamy oily baked bread and yeast lees tinged finish with a bite of refreshing citrus.
97 points
Drink over the next 5-6 years.
Alc. 12.5%
Other Reviews....
70% pinot noir, 30% chardonnay from the '12, '11 and '10 vintages, disgorged October '17 after 51 months on lees. Fourth-generation vigneron, Francis Egly, assumed responsibility in '82, deciding to bottle the production of 8300 dozen from the 12ha estate. His determination to make only the best quality champagne means he now sells on allocation. This wine is supremely concentrated, and equally classy. Dosage 2g/l.
97 points
James Halliday - Australian Wine Companion

Even though it was only Disgorged: a few months ago, the NV Brut Tradition Grand Cru is super-expressive. The Brut Tradition brings together parcels in Ambonnay, Bouzy and Verzenay that, together, yield a Pinot-driven Champagne with tremendous breadth as well as cut. Red fruit, dried flowers, mint, spice and lemon confit are some of the aromas and flavors that build in this wonderfully open-knit, inviting Champagne from Egly-Ouriet.
92 points
Antonio Galloni - Vinous
With this release, based on the 2014 vintage and disgorged in June-July 2019, what was formerly Egly's Brut "Tradition" becomes simply his NV Brut Grand Cru, a simplification that paves the way for several new cuvées from this reference-point grower that I'll be reporting about in due course. Changes in nomenclature aside, the wine in the bottle has never been better, and the latest release soars from the glass with an expressive bouquet of golden orchard fruit, honeycomb, citrus zest and freshly baked bread. On the palate, it's full-bodied, deep and layered, with real concentration and intensity, built around racy acids and chalky dry extract. The finish is long and lingering.
93 points
William Kelley - Wine Advocate (May 2020)
From the very first cuvée, Egly-Ouriet is distinguished for its ability to preserve exacting precision and outstanding chalk mineral focus in the midst of magnificent generosity. A vinous wine of calm authority, carrying the full grandeur and complexity of carefully tended, low-yielding, old vine Pinot Noir on some of Champagne's most revered grand crus… A paradox of luxurious generosity and crystalline purity.
95 points
Tyson Stelzer - The Champagne Guide 2015-2016