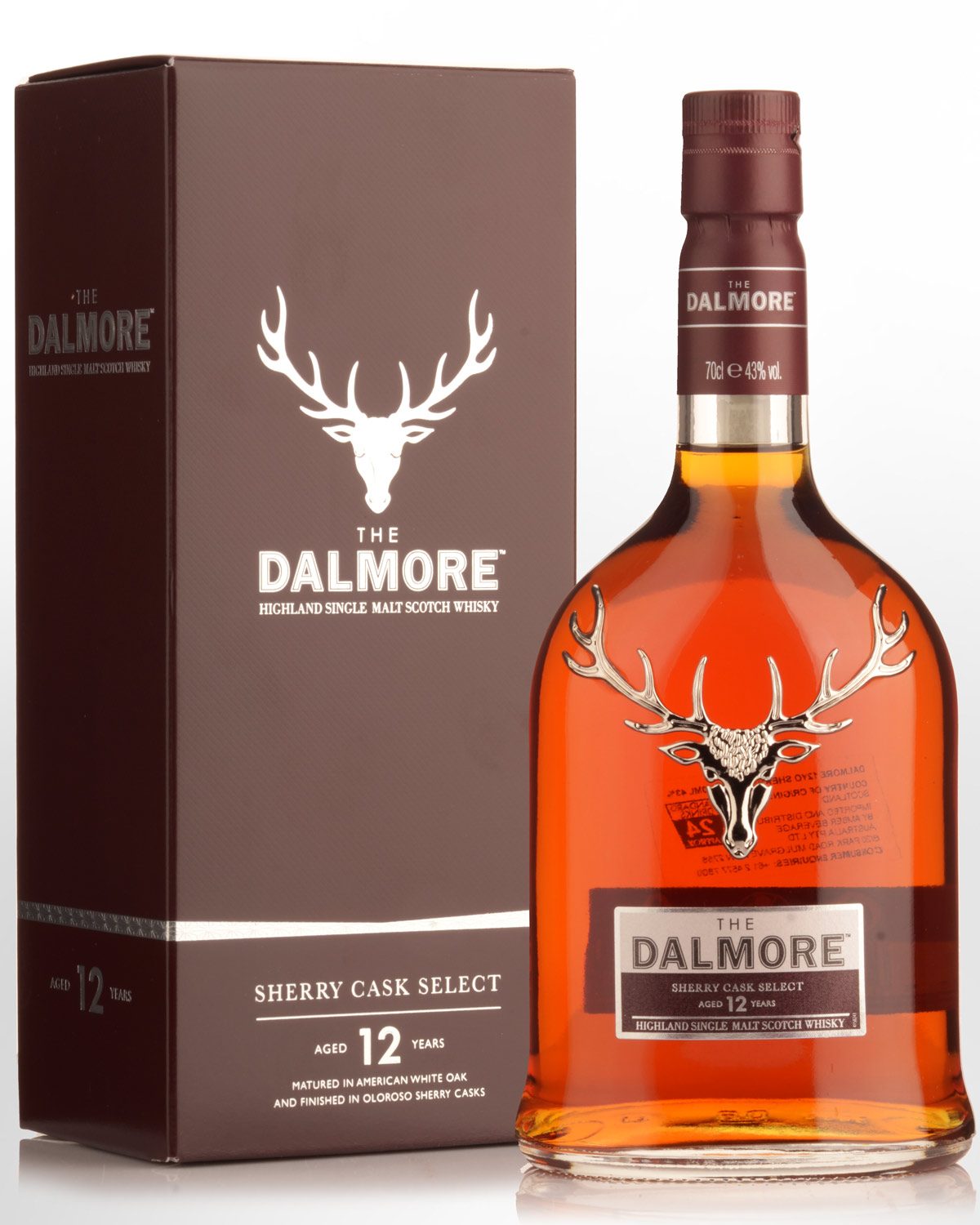 Dalmore 12 Year Old Sherry Cask Select Single Malt Scotch Whisky (700ml)
One exclusive forward allocation.
"...Seriously good." - whiskyfun.com.
Richard "the Nose" Paterson has been crafting single malts for more than fifty years and is one of the world's foremost blenders. His skill of choosing the perfect barrel and knowing when it's at its best has been described as "unparalleled". Recently he turned his talents to focus almost exclusively on Dalmore. This is one of the results: A sherry assemblage with twice the wine influence of their standard 12 year old, matured in Bourbon for ten, then Oloroso & PX for two years. Tevasa, Vasyma and Paez in Jerez worked with Paterson to create sherries to season custom-built casks, allowing for three distinct barrel types to get the balance right. Like most well-sherried malts, you're going to want to give this some breathing to enhance the subtle notes of prunes, roasted nuts, pipe tobacco, cinnamon and citrus zest that initially speak more of Oloroso. The sweeter, plump dried fruit notes from the PX take a little longer to come through. Likewise the palate: On entry it leans towards the drier side of single malt - think dark chocolate, hazelnuts and walnuts. But by the finish you get the richness of figs, fruit cake and malt boosting the mouthfeel, capped off with a controlled injection of pepper and baking spices. This is no brash sherry bomb. Instead it's an elegant, 'adult' sherry experience that transports you back decades. It resonates with the likes of Macallan or Aberlour of yesteryear, and at 43%, ups the ante on your average Dalmore, delivering real depth and sophistication. In a style now rarely encountered, created from the heart by an industry traditionalist, grab this Northern Highland gem before it becomes another blip on the whisky calendar - even though it's expected to be an ongoing line, the importers tell us they only receive one allocation per year. Next year's allocation is not completely guaranteed as Dalmore might choose to offer it to other markets around the world.
Other reviews... The nose is rich, with new leather, sultanas, dates, furniture polish, ginger, Jaffa oranges, and cloves. Silky on the palate, mandarin oranges with cream, developing toffee, milky coffee, and milk chocolate. The long finish offers nougat, dark chocolate, licorice, and light spices. 91 points - whiskyadvocate.com, reviewed by: Gavin Smith 2020
...The cask influence comes through in the aromas, showing baked plums, tangy nectarine, and toasted nuts. Supremely smooth in texture, the flavors are rich and deep with walnut and brazil nut, dried orchard fruits, and baking spice. Dark honey and tobacco round out the finish. 96 points / Extraordinary, Ultimate Recommendation - Ultimate Spirits Challenge 2020
...I've always had strong feelings for Dalmore and even found their craziest marketing stunts disconcertingly charming. I believe it's a brand that's got its very own world, pretty much out of touch with reality, a kind of parallel Macallan that, in your tasting glass, can really swing and rock and roll. The very fact that they often make us laugh is far from being the least of their qualities. Let's drink some… A brand new expression that's admirably old-school and that reminds us all that we should always match ties and handkerchiefs. A matter of education, you understand. Excuse me? But where have you been, this is 1970, good people! Colour: deep amber. Nose: walnuts and teas at first, Darjeeling-Express style, then fresh figs, old books, incense and cinnamon rolls. Very old school indeed, but then again, there isn't much to enjoy in 2020, don't you agree? I would imagine someone could have a bottle of this in the drinks cabinet of his rusty old Bentley. New ones are so nouveau-riche… Mouth: fudge, stout, praline, chocolate, cinnamon rolls again, a little tobacco, quite some tea (Darjeeling indeed) and the expected old walnuts. A wee earthy side and even a few mushrooms. Excellent. Finish: 43% works so much better than 40%! Brownies, cinnamon, raisin rolls, tobacco, chocolate, fudge… Comments: don't we have it good in 1970? And did you hear that the Stones have a new live album? I believe it's called Get yer ya-ya's out!, so get your stereo – and your crystal decanter - ready. Seriously, this is seriously good. 87 points - whiskyfun.com
...Fans of The Dalmore and sherry finishing will find plenty to enjoy here: There's a warm, wintry quality to the expression that evokes well-worn tropes of fireplaces, leather chairs, and wood-paneled rooms but proves up to the challenge of delivering the goods. The sherry finish is tempered with just enough fruit and spice to make this an excellent way to cap off a heavy, savory dinner or serve as an accompaniment to a good book. - drinkhacker.com
Notes from the producers... The aroma: Caramelised orange, ginger and sultanas, laced with honey On the palate: Dark chocolate and crushed almonds with a dusting of cinnamon. Finishing notes: Sweet mangos, panna cotta and lemon sponge cake. Elegance personified. A truly decadent masterpiece!