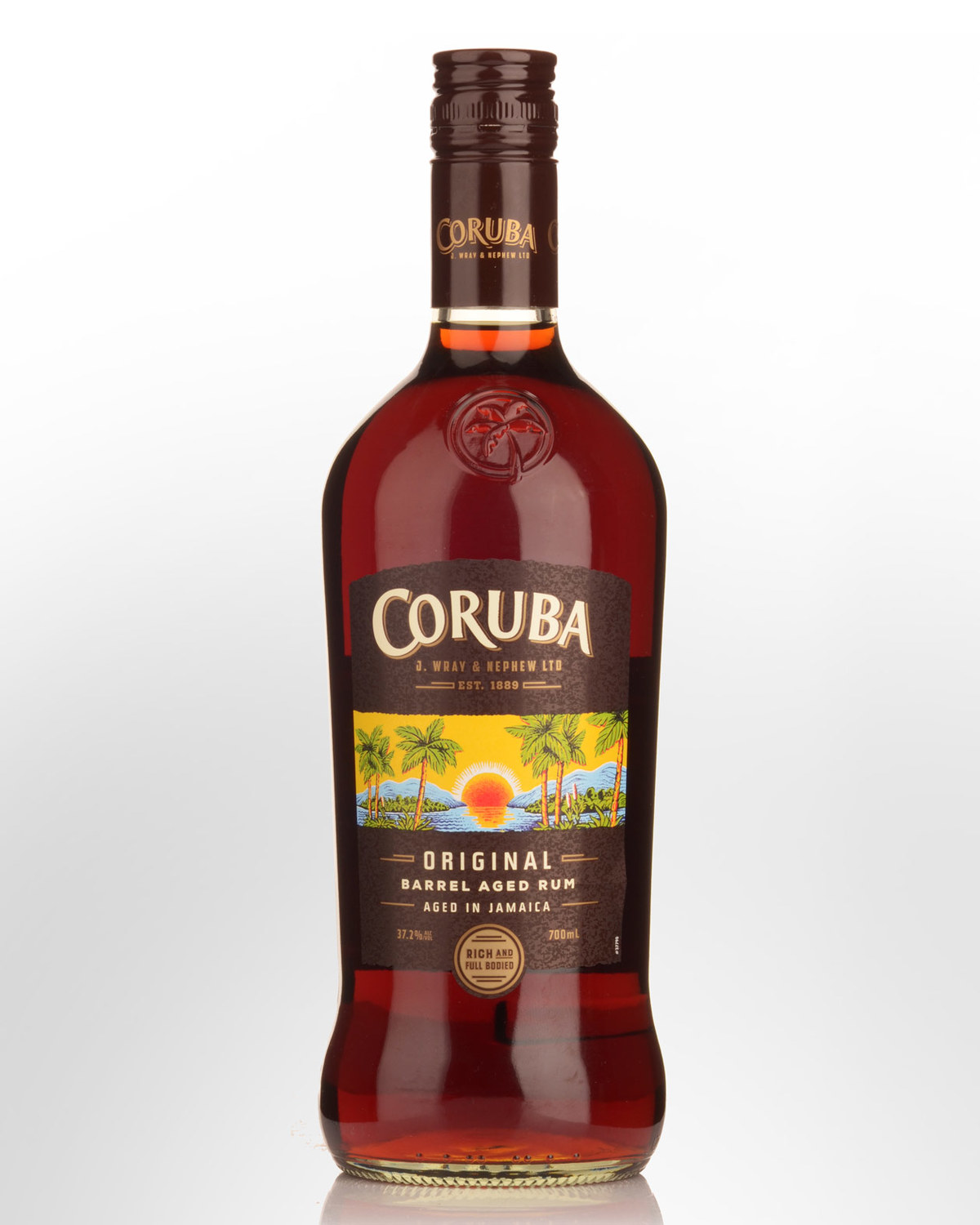 Coruba Rum (700ml)
Jamaica is one of the most important rum-making islands of the West Indies and the first to produce it commercially. The capital is Kingston in the south of the island, and it is here, along a 40-mile narrow strip, that are to be found the best sugar estates which have been in production ever since the early eighteenth century. Local to Kingston is the Coruba distillery.
In the past, Coruba, as with most Jamaican Rum, was one of the most full-bodied and highly flavoured of all rums (achieved by distilling at a comparatively low strength to allow a large amount of esters to come over in the distillation.) Now, however, as more and more is used in cocktails and mixing, a lighter, paler and less erotic article is preferred. While Coruba is not a weak spirit, it is also not a traditional dark, full flavoured rum. Oaky, well rounded and mellow with a clean and dry spirit finish, Coruba offers a warm sensation of the tropics. It is aged for a minimum of three years. Below are some mixing ideas:
"Muddy Waters"
Pour a generous serving of Coruba into a glass filled with ice. Top up with fresh orange juice and stir.
"Do Da Dry"
- Add Coruba to a hearty sized tumbler stacked with chunks of ice. Fill to the brim with Dry Ginger Ale. Classic Cocktail: The Mai Tai
Invented in 1944 by Victor 'Trader Vic' Bergeron. He recounts it was served to some friends from Tahiti, who promptly proclaimed
'Mai Tai, Roa Ae!'
, which in Tahitian means
'Out of this world, the best!'.
Mr. Bergeron was so put out by all of the various lounges that claimed to be the birthplace of the Mai Tai, that he contacted the friends he originally made his concoction for, and had them sign an affidavit attesting to it origins. The drink can also include Pinapple, Orange Juice, and other fruity additives to increase its tropical flair.
30ml light rum
30ml gold rum
15ml orange curaçao
15ml Almond Syrup or Amaretto
15ml ounce fresh lime juice
30ml Coruba Dark Rum Method: Shake all but the dark rum with ice. Strain into old fashioned glass. Top with the dark rum. Garnish with a maraschino cherry. Note: Always use fresh lime juice. The float of dark rum on the top is an important addition, so be sure you use straws.