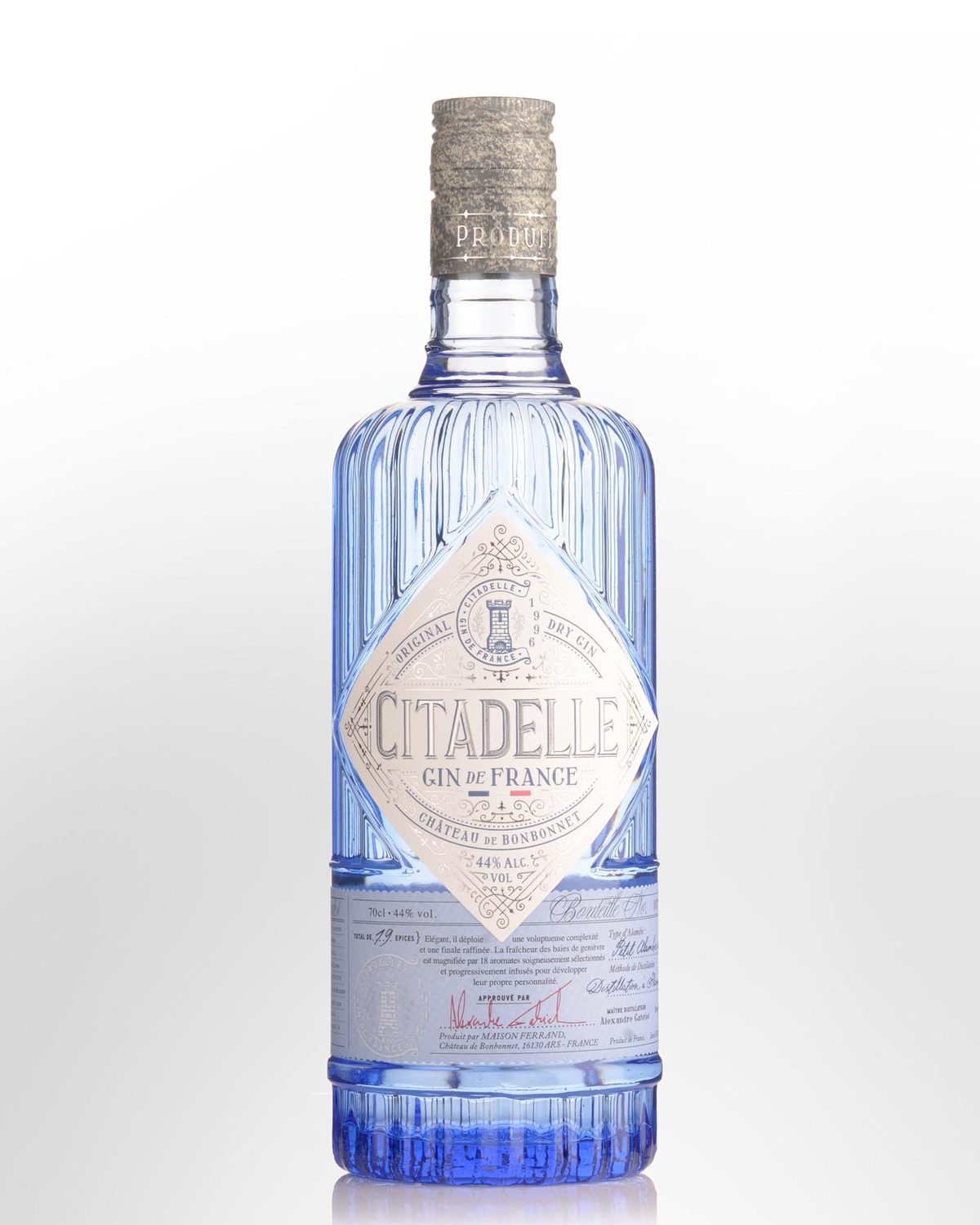 Citadelle Original Gin (700ml)
FRANCE
Triple distilled from wheat, Citadelle Gin includes 19 botanicals: "coriander from Morocco; orange peel from Mexico; cardamom and nutmeg from India; liquorice from China; cubeb pepper from Java; juniper, savoury, violet and star anise from France; fennel from the Mediterranean; iris from Italy; cinnamon from Sri Lanka; almonds and lemon rind from Spain; cassia from Indochina; angelica from Germany; grains of paradise from West Africa; and cumin from Holland."
Technically, Citadelle is classified as a London Dry gin, however, the method of production is unusual with its use of the Charentais pot still, (a form of still made popular in the 16th century for the production of Cognac, which utilizes a naked flame as opposed to team for its heat source).
Enjoy this unique Gin with a tonic and lime, or in a variety of cocktails like the 'Peche Collins' below.
Cocktail: Peche Collins
-22ml Peche De Vigne
-22ml Fresh Lemon Juice
-43ml Citadelle Gin
-Build in a pint glass. Shake three times over ice and pour into an ice filled highball. Top with club soda.
-Garnish: Peach Slice (in season) or Lemon Wheel
Tasting note: Clear. A range of aromas form a mesh of lemon merringue, orange zest and mineral notes with some heavier scents of spicy stewed pear. The flavour wave begins with orange pith, aniseed and coriander seed with a soft, spicy, slightly oily mouthfeel unfolding with excellent length. Sweet spirit backbone. Aftertaste of coriander seed and mineral with a delicate citrus zest fade. A full bodied and invigorating Gin that retains a sense of elegance. 44% Alc./Vol.
Other reviews... Clear. Aromas of tree bark, floral juniper, marshmallow, nutmeg, and white pepper follow through on a round, supple entry to a dry-yet-fruity medium-full body with citrus pastry and taffy, dusty anise, and cream notes. Finishes with a tangy, melange of spices, sweet citrus, herbal juniper and talc. A fun, flavorful gin.
International Review of Spirits Award: Silver Medal
RATING: 89 points (Highly Recommended) - www.tastings.com
...The first nosing passes find scents of fresh flowers, jasmine, honeysuckle, and cardamom; further aeration stimulates deeper, more herbal notes including anise, grains of paradise, and cinnamon. At the palate entry, the off-dry juniper presence is clearly evident; at midpalate the taste profile turns creamy, rich, and flowery once again. Ends up off-dry, high on juniper essence, and elegant.
96-100: Classic/Highest Recommendation - www.wineenthusiast.com
 Click here to learn more about Gin.