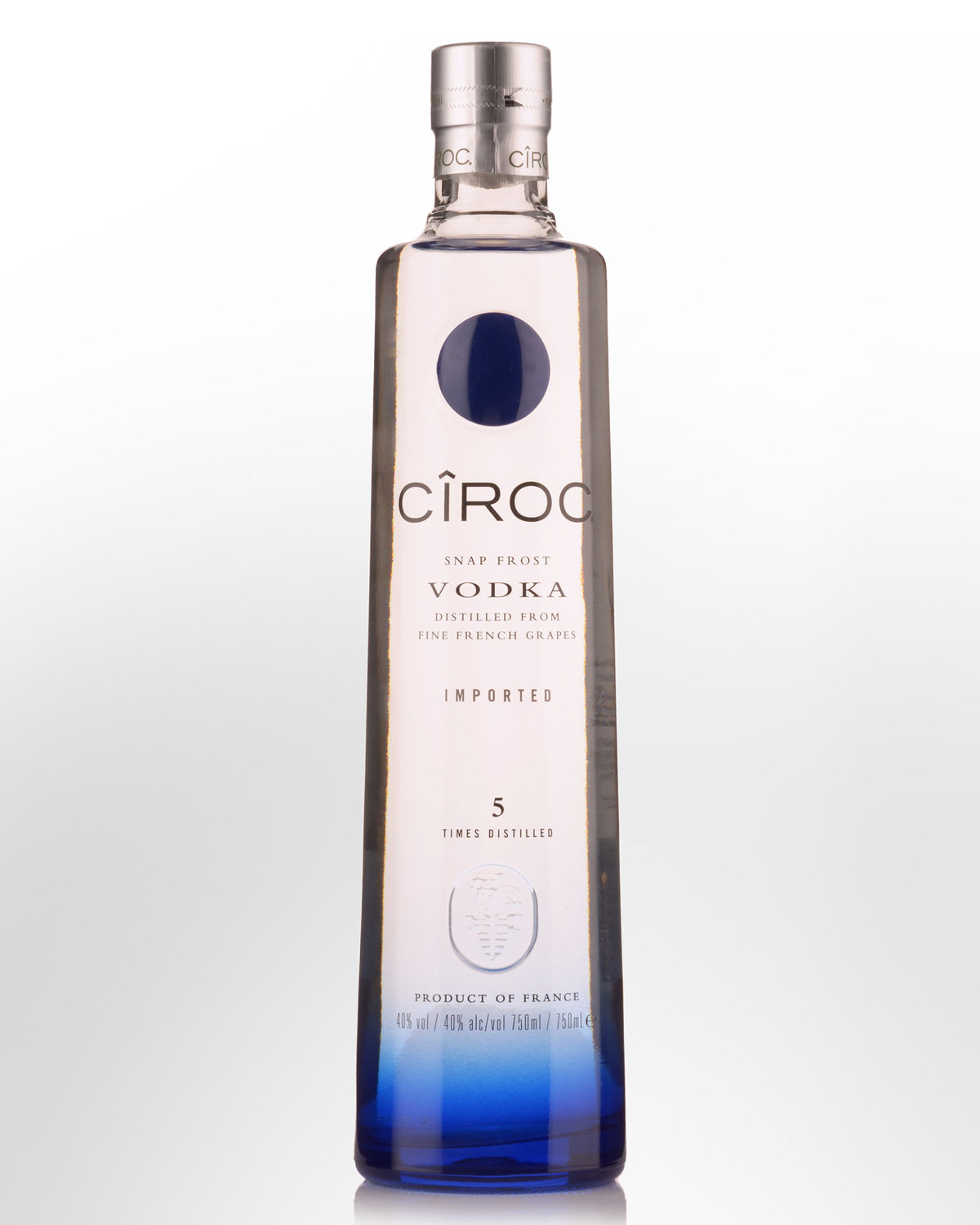 Ciroc Snap Frost Vodka (750ml)
An unusual vodka. Whereas most vodkas are produced from common starches such as wheat or potatoes, Ciroc is made from the Mauzac Blanc and Ugni Blanc grapes left on the vine for extended ripening. The fruit is sourced from Gaillac in the Southwest of France, (nestled between Roussillon and the Pyrenees in the South and the Gorges of the Tarn in the East). After harvesting, the juice is pressed, cold fermented then distilled five times - the fifth time using specially-designed, traditional copper pot-stills.
Tasting note: Crystal clear. The aroma is pronounced by vodka standards with a mixed peel / citrus focus that you'd anticipate from a gin. The citrus theme carries through to the palate which is fresh, medium dry and gently warming. Tails off nicely finishing clean, dry and mildly spicy with juicy grape and sweet citrus notes persisting. Think of a gin less the juniper - the possibilities are endless! 40% Alc./Vol.
Other reviews... Clear. Perfumed aromas of lemon creme and Key Lime pie. A soft, supple entry leads to a glycerous, sweetish medium-to full-bodied palate with creamy vanilla frosting, citrus pie, and mild peppery spice flavours. Finishes with a peppery baked citrus peel fade. More of a citrus flavoured vodka or eau-de-vie (which technically it is) in character, but nice.
International Review of Spirits Award: Silver Medal
RATED: 88 points (Highly Recommended) - www.tastings.comsize>
Other reviews… Clear. Owns a peculiar bouquet reminiscent of turkey dressing. Palate entry is sweet, ripe and grapey, a complete 180-degree turn from the odd bouquet; midpalate highlights the sweet, fruity ripeness to the point where it starts to resemble grappa. Finish is delightfully sweet, polished and elegant. Rating: 90-95 - www.wineenthusiast.comsize>
Please note: Due to the status of this product it is company policy that extra security measures are in place for online transactions. Payment by credit card will attract additional security procedures and delay dispatch. Payment made using either PayPal or via Bank Transfer can ensure a much faster dispatch time.
Click here to learn more about Vodka.