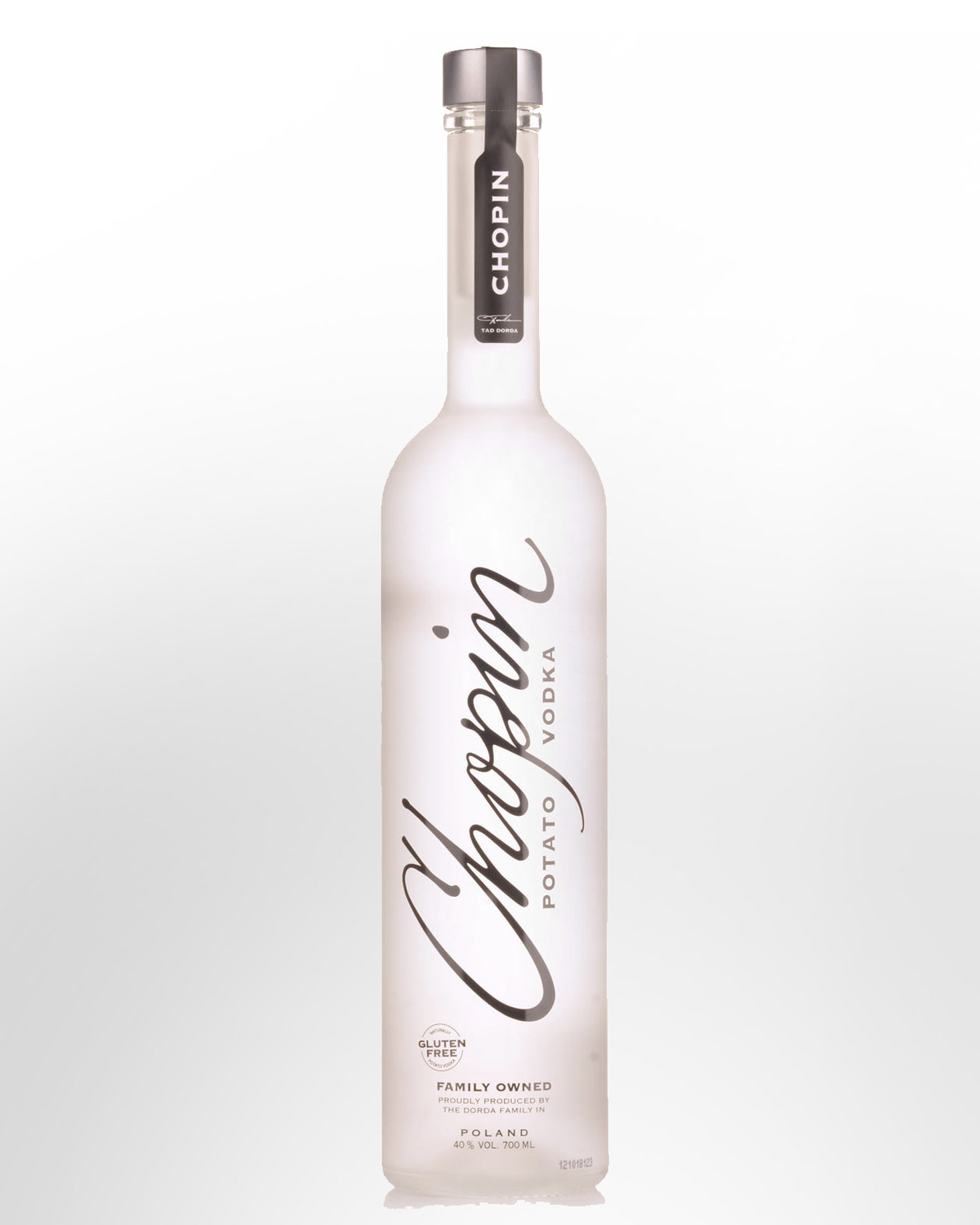 Chopin Potato Vodka (700ml)
POLAND
Launched in 1992, this is one of Poland's super premium brands made exclusively from Stobrawa potatoes, mostly sourced from nearby the distillery to maximise freshness. The vodka is distilled four times following a six century old tradition. Founder and CEO, Tadeusz Dorda sums up the brand's philosophy:
"We believe that the definition of vodka – "a flavorless, odorless, neutral spirit without distinctive character, aroma, taste or color" – is simply incorrect. We also reject the popular notion that all vodkas are the same. The flavor profile of our marquee product, Chopin Potato Vodka, is distinctively creamy with earthy notes and sets the standard in its category."
Master Distiller, Waldemar Durakiewicz, has worked with the Dorda family (who still own and run the company) since he graduated from university in 1978. Named after Poland's favourite son, the vodka is packaged in a frosted, cork-finished bottle which has since been copied by the likes of Belvedere Vodka and others.
Other reviews… Clear. Clean flinty aromas gives way to a supple, silky, light-to-medium bodied palate with confectioner's sugar, lemon zest and mineral flavors and a pointed peppery fade. A smooth and elegant vodka for martinis. 40%Alc./Vol.
International Review of Spirits Award: Gold Medal
93 points (Exceptional) - tastings.com
The first sniffings unearth a soft, slightly sour and vegetal aroma; more time adds minor scents of ash and unsmoked cigarette. The bittersweet palate entry taste flashes on cocoa bean and sap; at midpalate toasty, sooty flavors of tobacco leaf, wood smoke, wood resin and vanilla are found. Ends up semisweet, succulent and roughly spirity. 85-89 points - wineenthusiast.com
"Potato vodkas have never been as well-received as their grain-based competitors, but Chopin—which appeared on the American market in 1997—should go a long way toward changing their lowbrow reputation. It's the smoothest vodka we tried, with a slight oiliness (specific to potato vodkas) that cut beautifully against the briny funk of black caviar and held its own against the thickest black bread I'd been able to find. We found Chopin itself to be 'slightly sweet' and 'well-rounded' with 'perhaps a hint of apple.' Chopin also had a 'medium-length, pleasing burn,' but 'very little aftertaste—it's remarkably clean.' To top it off, Chopin's tall frosted bottle was the prettiest we'd seen...the panel unanimously called Chopin 'far and away the best vodka we tried." – Alex Abramovich, "Hit me With Your Best Shot", Slate Magazine, 2004.