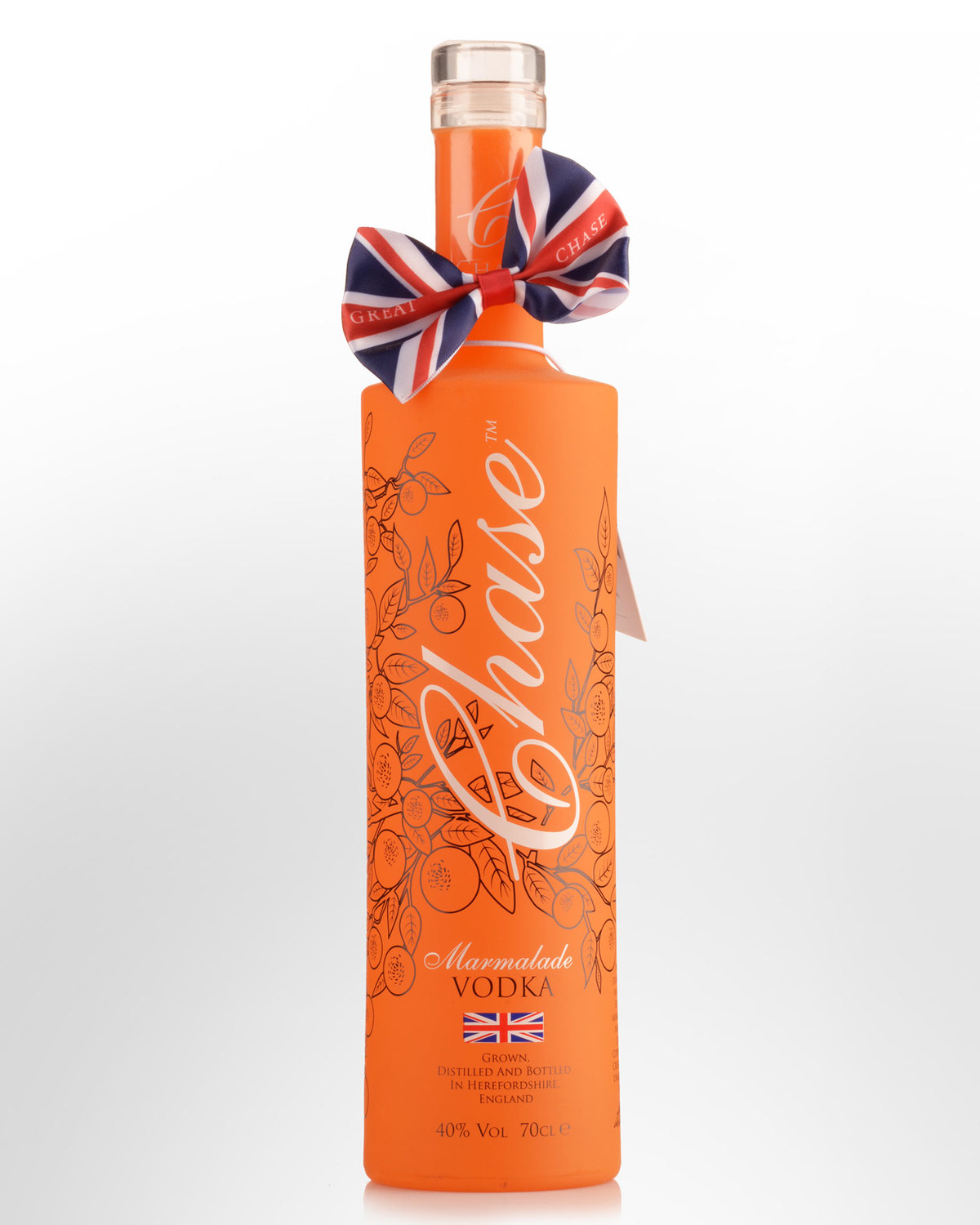 Chase Marmalade Flavoured Vodka (700ml)
Herefordshire,
UNITED KINGDOM
Having sold Tyrrells Potato Chips, the Williams Chase Group diversified into a new direction with their spuds. Chase vodka was first produced in April 2008 and became the world's first super premium English potato vodka, and by 2010, was already voted Best Vodka by San Francisco World Spirits Competition. The family grow, mash, ferment, strip and distil their own full pedigree, gluten free, King Edward & Lady Claire potatoes on their Herefordshire farm. They use only traditional artisan methods including a bespoke copper pot still for the initial charge and a unique 70 foot rectification column, reputedly the tallest in Europe, for two further distillations.
An initial batch of marmalade vodka was a mere 1000 bottles but proved to be so popular that the company decided to make marmalade vodka a permanent addition to the Chase portfolio.  Chase Vodka is marinated with the finest Seville orange marmalade in a copper pot still. It's then distilled a fourth time with the vapours passing through fresh orange peel, to create a complex, totally natural orange experience.
Tasting note: Very pale straw gold appearance. The aroma is in a word - marmalade, offering candied orange peel conserve qualities with lovely authenticity and freshness. In the mouth, a super soft spirit backbone repeats the aromas with a nice sweet / bitter balance and delicate citrus peel characteristics with good concentration, length and persistence for a flavoured vodka. The clean tangy aftertaste rounds off what could be a sound alternative to quality triple sec. 40% Alc./Vol.
Other reviews... Pale golden color. Aromas of orange and lemon marmalades on rye toast with a supple, fruity medium-to-full body and a tangy, citrus pastry, grassy earth, beeswax saffron, and turmeric accented finish. A pure, cleverly flavorful and complex orange liqueur-like vodka.
International Review of Spirits Award: Gold Medal
RATING: 92 points (Exceptional) - www.tastings.com.
 Click here to learn more about Vodka.