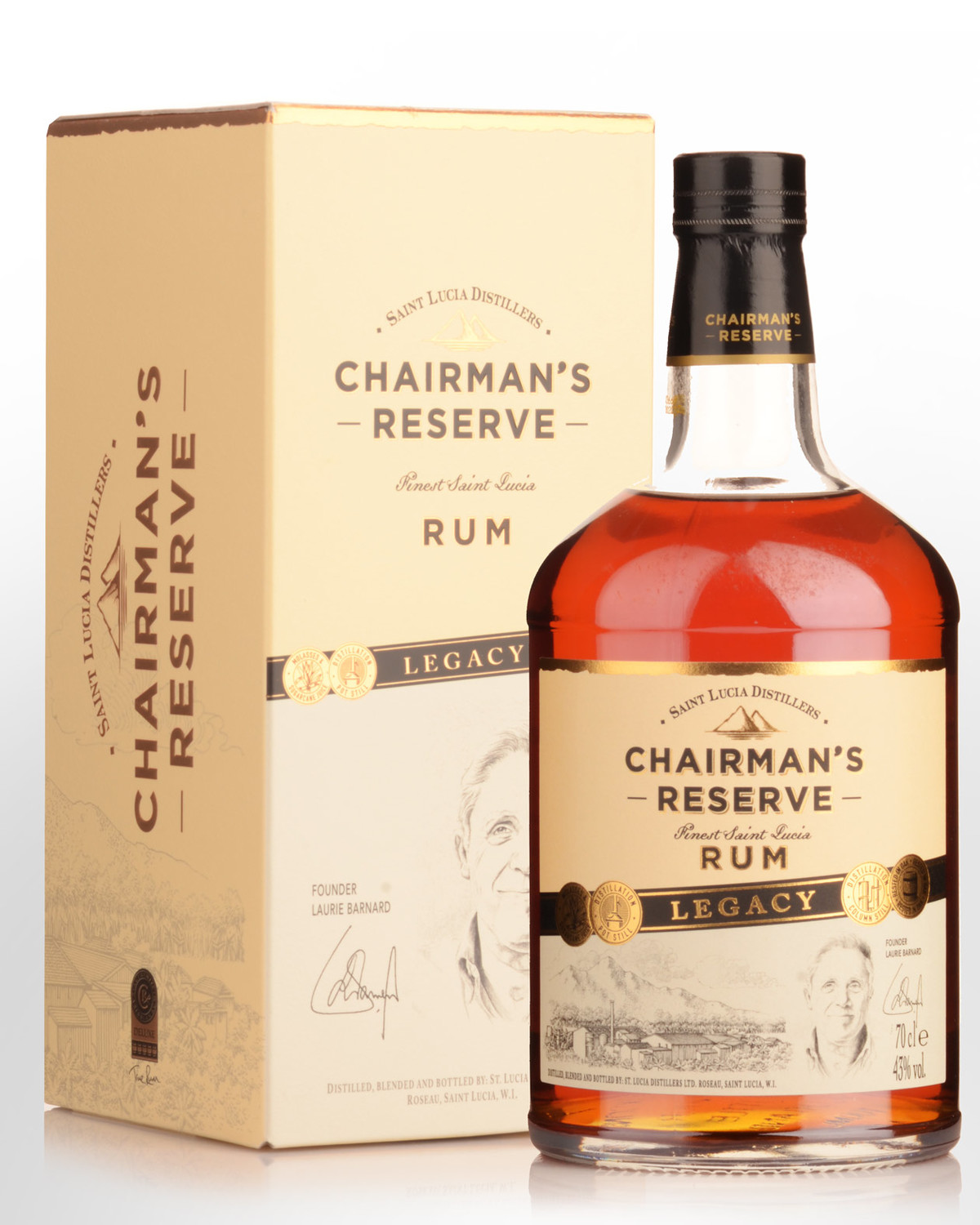 Chairman's Reserve Legacy Rum (700ml)
SAINT LUCIA
Saint Lucia Distillers (SLD) have been busy with new releases, and the latest installment is this tropically aged, 5-6 year old molasses-based rum labelled 'Legacy'. Rums from both the John Dore and Vendome Pot Stills and the Coffey Column Still are employed. If you're a bit of a rum maven, the exact breakdown is as follows: John Dore 2 -7.5 years old (16%); Pot Still Vendome 7 years old (4%); Coffey Column Still RR104 marque 5.5 years old (72%), plus a final addition of Pot Still John Dore 2-5 year old rums distilled from sugar cane juice (8%). The percentages represent their contribution to the overall blend. All the components were aged in ex-bourbon barrels.
The addition of a little sugarcane juice distillate was a tradition of Laurie Barnard's since his first cane harvest from the plantation that he established around the distillery. That was also in order to isolate the signature proprietary yeast that Chairman's Reserve is now famous for. It's an appropriate touch, given that 'Legacy' is a tribute to Barnard, the "Chairman" who created the iconic brand. He was known as an early innovator. While other distilleries were purchasing column stills to increase production, Barnard was investing in eclectic barrel types, small pot stills, a proprietary yeast strain and sugarcane. Legacy has been well recieved in the rum community and is considered one of the better values in SLD's portfolio.
Other reviews... On the sip, it is reminiscent of Chairman's Reserve Original but it has an extra layer of refinement and complexity. The entry has a spicy, slightly grassy/floral note which again reminds me of pine cones and a touch of pot pourri. The vanilla comes through afterward taking you through to a mid palate which has a note of spearmint. It's very fresh with a spicy hit of oak and some tobacco notes. The fruity notes come more in the way of coconut and some banana. Baking spices and notes of sweet shortcrust pastry.... This is amazing value for money as an everyday sipper and a fantastic introduction to Saint Lucia Distillers output. I think Laurie Barnard would have absolutely loved this rum. I dare say you might quite like it as well. At this price and value for money it's a real no-brainer for me. 4.5 stars - thefatrumpirate.com
...It's a quite dry rum, a touch peppery on the nose, with a clear hogo edge and ample notes of dried tropical fruits. Some brown banana and a bit of spice make their presence known in time. The palate finds an enduring dryness interrupted modestly by notes of apple, brown sugar, and gingerbread. It isn't until the finish where a light sweetness finally makes its presence felt, evoking banana bread and a spray of baking spices. Legacy may lack the effusive depth of, say, Chairman's Forgotten Casks bottling, but it's a solid, mixable, old-school rum no matter which way you look at it. - drinkhacker.com
Notes from the producers... Mahogany hue in the glass. Pineapple, banana, and vanilla on the nose. Intense grilled tropical fruit and spice on the palate persist throughout a long wonderful finish.