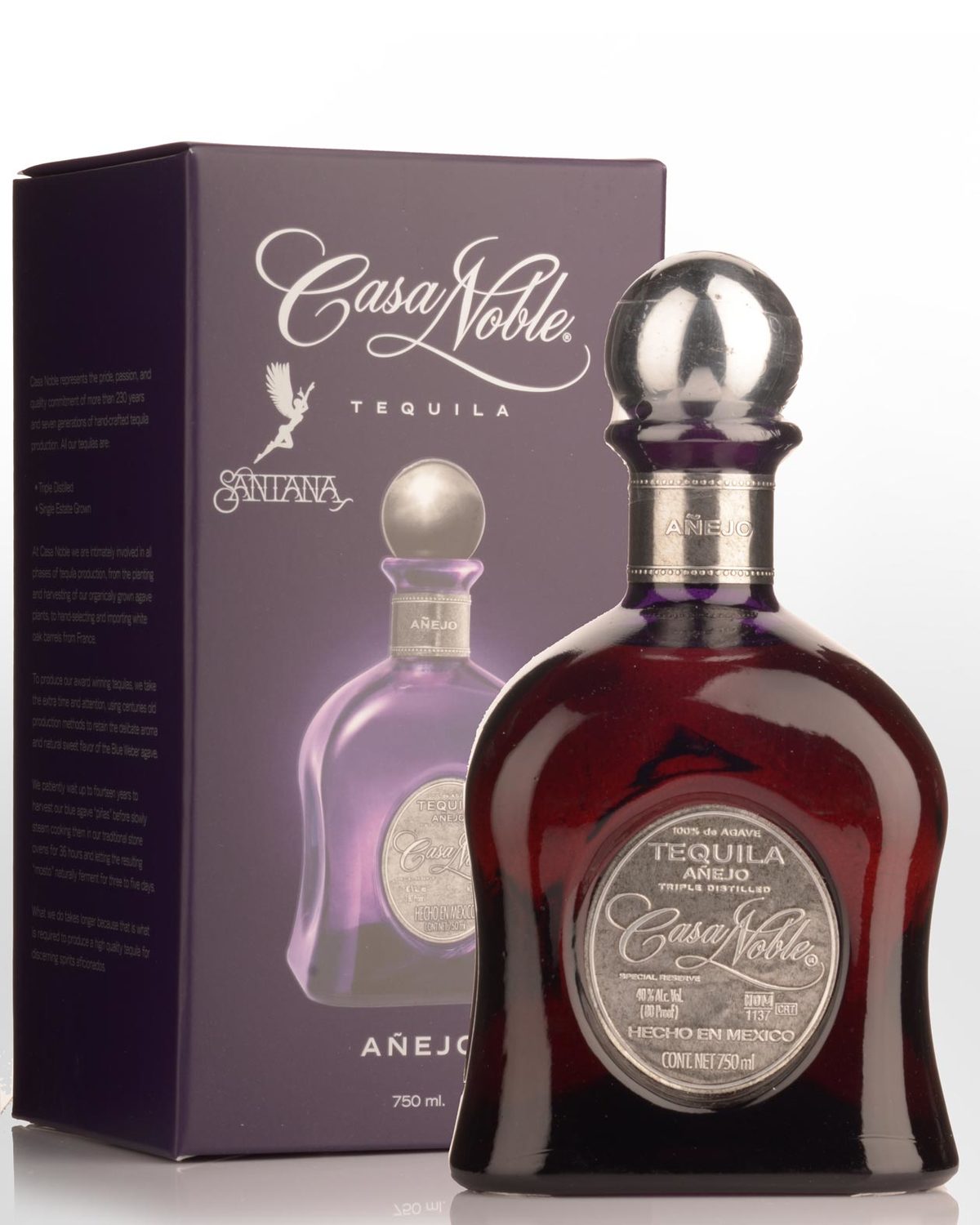 Casa Noble Anejo 100% Blue Agave Tequila (750ml)
Casa Noble's Liquid Gold. First class.

Matured in lightly toasted French Limousin oak for two years, this is Mexico's answer to Single Malt Scotch or Cognac. While some of the natural vibrancy and exotic agave character is lost with extended time in barrel, what you gain is a luxurious mouthfeel and sweet, buttery notes. Packaged in a beautiful dark glass decanter, production is limited to approximately 2,000 cases annually.
Tasting note: Pale gold. A superb anejo bouquet that retains blanco complexity and vitality with discreet barrel input, the richer notes from the latter emphasised with time in the glass. Medium dry, butter-textured with lively agave, menthol, pepper and cough lozenge flavours and measured oaky sweetness at the finish. Fades salty, elegant, long. The latent spirit shines through at every stage. First class. 40% Alc./Vol.
Double Gold
San Francisco World Spirits Competition.
Other reviews...
Pale copper. Sweet pickling spice, olive, pimento, and cedar aromas with a touch of musk oil. Medium-bodied with toasted oak, caramel, olive, and sweet pepper flavors. A subtle cola nut, peppery spice, and perfume finish. Interesting, give this a little time to open up.
International Review of Spirits Award: Gold Medal
90 points (Exceptional)
- www.tastings.com
... the nose at opening is rich, almost brandy-like, and oaky with time in the glass, the aroma becomes a bouquet as the oak influence is joined by a mild vegetal component and a background pepperiness the third sniffing pass reveals a soft brininess that complements the pillowy oakiness in the fourth and final whiff, the delicate, perfumy scents of oak resin and vanilla, mature agave, and nut butter unite to form an atypically biscuity tequila bouquet while I actually prefer the nose of the reposado, this one is very pleasing and well-structured; the palate entry is mildly sweet and oaky, but then the midpalate stage explodes with firm, meaty tastes of nut butter, pepper, and light caramel; the finish is long, spirity, and elegant; very nice indeed.
XXXX/5 Stars
– F. Paul Pacult Spirits Journal.