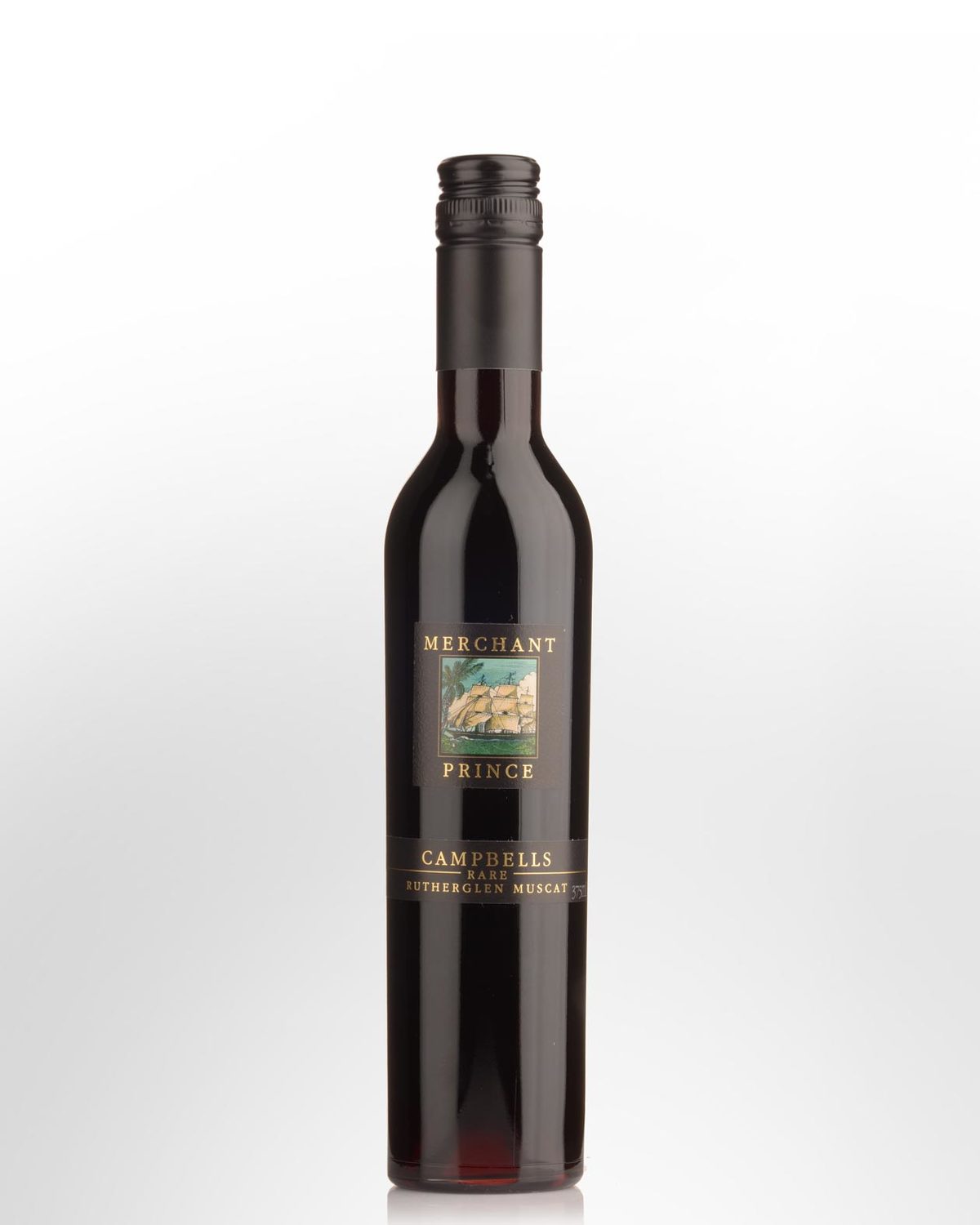 Campbells Merchant Prince Rare Muscat (375ml)
Rutherglen, Victoria,
AUSTRALIA
Several years ago, a voluntary classification of Rutherglen Muscats and Tokays was implemented. Each wine is classified in ascending order of quality with the average age stipulations for each descriptor graded as follows: for 'Rutherglen', two to five years old; for 'Classic', five to 12 years old; for 'Grand', 12 to 20 years old, and for 'Rare', 20 years or more. Naturally, there's an enormous difference in the concentration and complexity of wines distinguished by these grades - not to mention price. When compared with first growth Sauternes or a Pedro Ximenez Sherry of similar age, purchasing a bottle or two of these amazing fortifieds will seem less like blatant hedonism and more like carefully considered insurance against the chance of an extended winter.
The highly regarded 'Wine Spectator' magazine of New York recently awarded 100 points to Campbells Merchant Prince Rare Muscat.

The magazine has reviewed more than 11,000 Australian wines over the past 30 years, but this is the first time it has reviewed a 'perfect Australian wine'.


Other reviews...
The Rare cuvee is pure nectar. My favorite of this quartet is the virtually perfect non-vintage Rare Muscat Merchant Prince. Its dark amber color is accompanied by an extraordinary perfume of toffee, caramels, prunes, and raisins with hints of maple syrup and soy. Although its viscosity is reminiscent of motor oil, the wine is not cloyingly sweet because of good underlying acidity as well as surprising tannin that frames this enormously endowed, sweet elixir. This stunning offering is one of Australia's treasures. Justifiably renowned for their tremendous dessert wines, Campbell's four cuvees all performed impressively well, making one wonder if the price difference between the regular and rare offerings is really worth it. Certainly there is a bit more complexity and intensity to the Rare Tokay and Rare Muscat, which emerge from a solera system averaging 60 years of age. In any event, the tasting notes for all four wines are nearly identical to any of the great Australian fortifieds, such as Buller, Chambers Rosewood, etc
99 points
Wine Advocate #148 (Aug 2003) Robert Parker