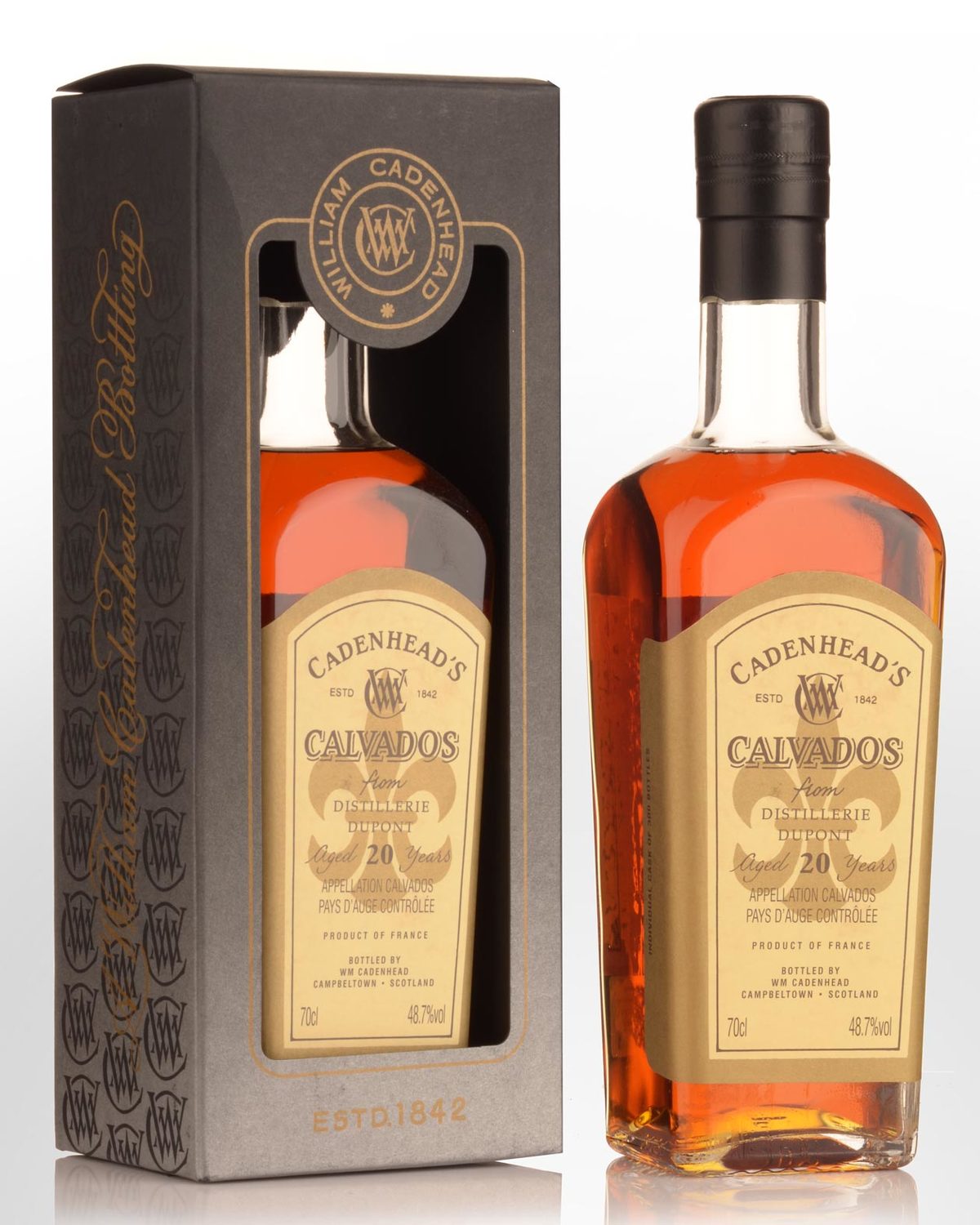 Cadenheads Distillery Dupont 20 Year Old Pays d'Auge Calvados (700ml)
Cadenheads continue to explore new spirits, this time adding apple brandies to their portfolio. A couple of bottlings are from the Domaine Dupont Distillery and include a youthful, vibrant and fruity 13 year old and a richer, more wood driven 20 year old. The Domaine dates back to 1887 when Jules Dupont arrived at La Vigannerie (the old name of the current estate) as a tenant farmer. He began producing cider and calvados, and through the sale of these he was able to purchase the estate in 1916. The distillery has diligently focused on high quality instead of big volumes, in part through the manual sorting of apples at the estate (which is very rarely seen in the making of cider nowadays) to the bottling of natural strength calvados.
Mitch Graham, writing for Cadenheads offers his thoughts on how best to enjoy these spirits:
"I have always said that I will never tell anyone how to drink their whisky, and this is the same with any spirit really. A lot of you will have been drinking a lot longer than I have, so I wouldn't want to insult you – so to answer the question, drink it how you like! Calvados tends to be served as an aperitif or digestif during long meals. It also goes well with desserts. Some will also serve calvados mixed with coffee at the end of a meal. It can also be used in the making of some lovely cocktails too, like the apple old fashioned – a nice autumnal twist on a classic!"
Notes from Cadenheads... Here we discover just how rich and very enjoyable a great aged Calvados can be. Nose: very different to any we have tried tonight! Some Apple for sure but the overlay of woody notes is interesting, with a little spice and maybe damson jam, soft creamy vanilla ice cream. Palate to Finish: Almost rum like for a moment with a big hit of toffee and cinnamon buns with vanilla cream filling! (Who needs a dessert) Apple and coffee froth add another amazing layer to this dram. Truly outstanding Calvados so drink this one slowly sit back and relax as you find layer upon layer in this single cask vintage.