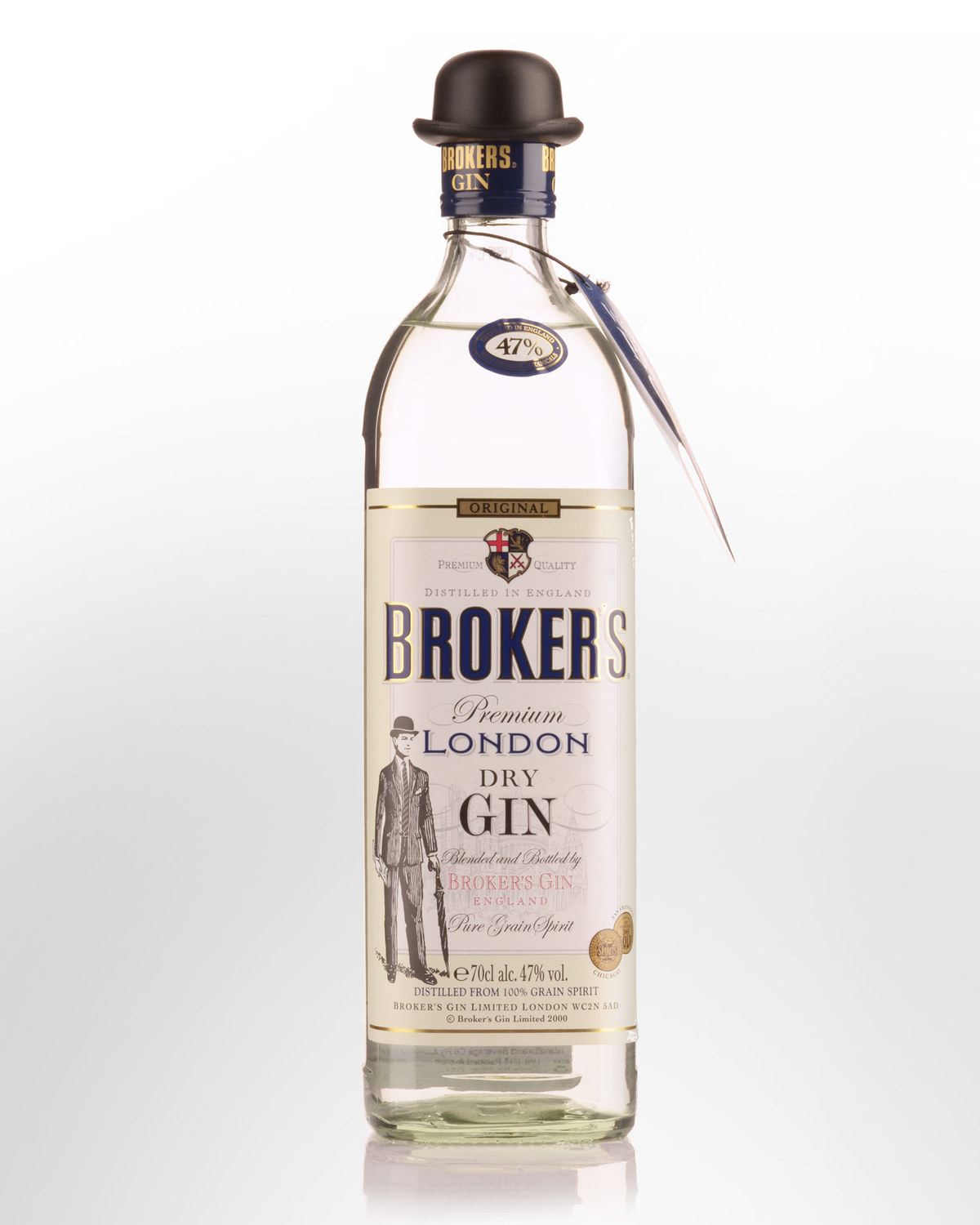 Brokers 47% London Dry Gin (700ml)
Birmingham, London,
UNITED KINGDOM
Broker's Gin was created by Martin and Andy Dawson, two English brothers who saw an opportunity for a new premium brand, and combined seriously good gin with an element of English humour. This light-hearted approach has proved successful and today Brokers is not only distributed all over the world, but has become the gin of choice at No.10 Downing Street and the London Stock Exchange. (The special bottle design with the familiar bowler hat is worn in honour of London stockbrokers, and led to the companies tag line, "Don't Forget Your Hat!")
The distillery is located near Birmingham, England and is over 200 years old with an underground spring beneath the building providing a source of soft, pure water. There had previously been a brewery on the site, but this was converted to a distillery at a time when gin-making became more profitable than beer-making. Broker's use only traditional pot stills manufactured by John Dore & Co, (recognised as the finest still-maker in the world), rather than column stills. Pot stills better extract maximum flavour from the botanicals. The base for Broker's Gin is triple-distilled pure grain spirit made from English wheat. Flavour is provided by ten natural botanicals, the primary one of which is juniper berries. Other dried botanicals including Coriander seed, Orris root Nutmeg, Cassia bark, Cinnamon, Liquorice, Orange peel, Lemon peel and Angelica root are sourced from all over the world and shipped to the distillery in sacks. The botanicals are steeped (soaked ) in the base spirit in the still for 24 hours. This is the first part of the flavour-infusion process. The still is then fired up for the final, fourth distillation, completing the process.
Amongst many other commendations, Broker's Gin received a Gold Medal at the San Francisco World Spirits Competition in 2005 and the Platinum Award at the World Beverage Competition in 2006.
Tasting note: Crystal clear. Generous, round and very appealing opening bouquet of lemon sorbet over ripe juniper, hints of pine cone and pencil shavings. More sap like and piney with further air contact; hints of eucalyptus alternate with fresh citrus zest. A great gin sniff. Super clean, wonderfully controlled delivery shows exceptional softness and poise, with a supple, juniper, lemon and herb profile and a pepper accented fade showing solid length. Finish is fresh, zesty, citrussy and moreish. Outstanding. 47% Alc./Vol.
Other reviews...
Scents of lemon zest, coriander and orris root. In the mouth, it has the proper level of alcohol for gin, 94 proof; by midpalate, the firmly focused flavor profile features lemon zest and coriander, all buttressed by a buttery, creamy texture. Finishes long, semisweet, tangy and luscious.
47% Alc./Vol.
Rating: 90-95 points
- www.wineenthusiast.com
size>
 Click here to learn more about Gin.