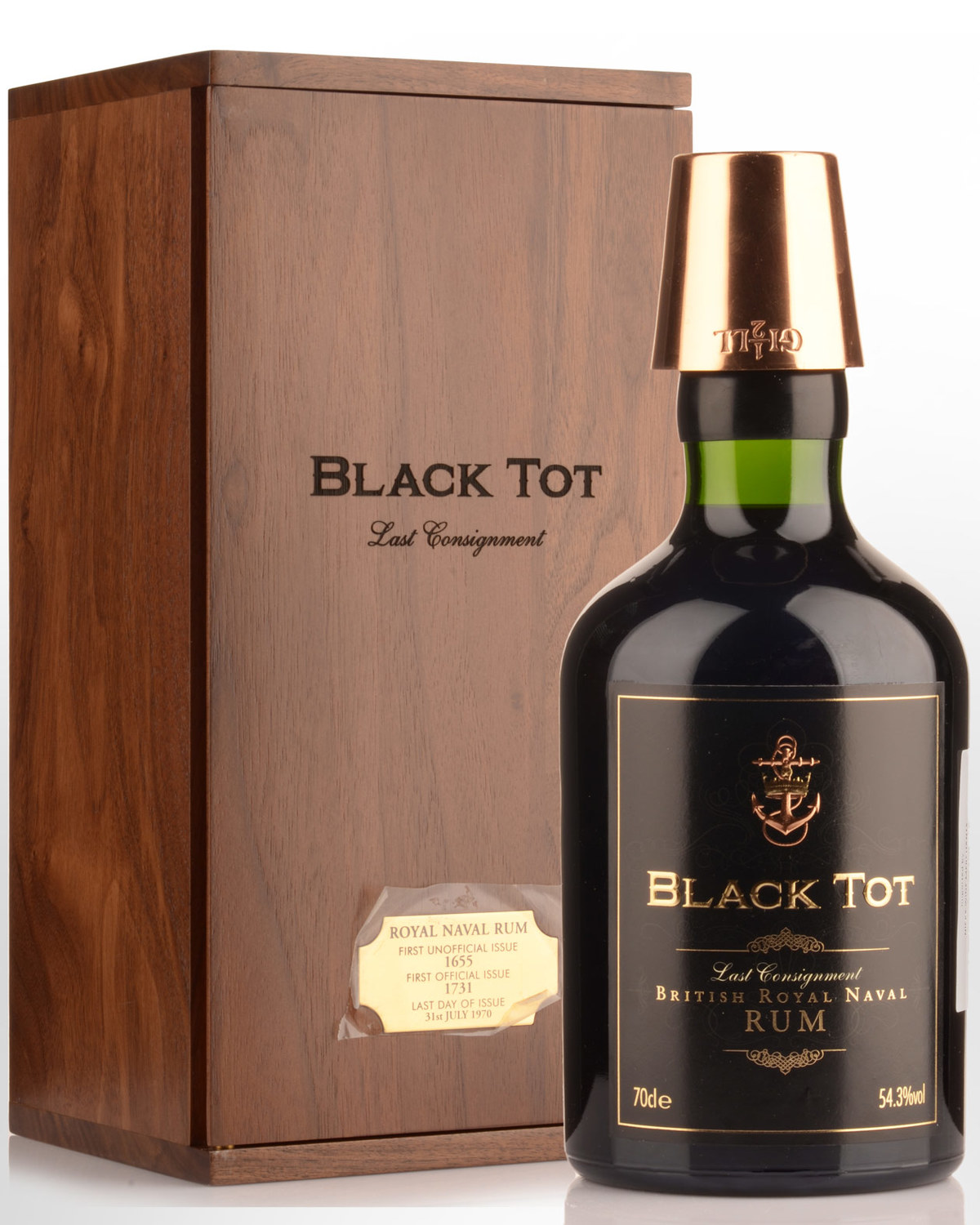 Black Tot The Last Consignment British Royal Naval Rum (700ml)
315 Years of British Naval History
On July 31st 1970 a 300 year-old Royal Naval tradition ended at precisely 6 bells in the forenoon watch (11am) when the last rum ration was issued aboard ships of the Royal Navy - a day to be forever remembered as Black Tot Day.
With the withdrawal of the rum ration, the Royal Navy had little use for the remaining rum stocks which were filled into wicker clad stone flagons and transferred to HM bonded warehouses where it remained undisturbed, being only broached for use on State Occasions and Royal Weddings until now.
The precise makeup or age of the rum cannot be specified but records support that it was probably distilled in the 1950's and was imported from the West Indies. Nevertheless, a slice of history is up for grabs, the likes of which we couldn't imagine ever being seen again!
Tasting note: Pours a deep copper/mahogany colour with some minor sediment evident. Perfumed aromatics exude layers of molasses, brown sugar, liquorice all sorts and new leather. Entry is semi sweet and soft, building with exceptional concentration. Mid palate is off dry with a momentary burst of date and raisin, becoming dry, spicy and fruit cake like. Stunning length as the flavours repeat in waves. Finish is progressively drier as delicate, powdery tannins enter. Impeccable balance. Concludes super fine and dry with notes of charry oak, sarsaparilla and cigar box. The persistence of flavour is nothing short of remarkable as the aftertaste reverberates in the mouth for ten minutes plus. An exhilarating rum experience. 54.3% Alc./Vol.
Other reviews... The Colour - Bright, yet deep mahogany cut with flashes of ruby.
The Nose - Initial treacle notes precede dark chocolate with super-ripe black fruits, muscovado sugar and walnuts. A drop of water releases notes of black banana, liquorice root, tamarind paste with and exotic edge of balsamic.
The Palate - Starts off thick and sweet, becoming light and oaky before a burst of cassis / creme de mures then espresso & cacao.
The Finish - Very long with light scented wood, black fruits and cigar tobacco.
The Strength - Remarkably, after 40 years Black Tot will be introduced at 54.3% (94.2° proof), almost exactly original issuing strength." - David Broom
Click here to learn more about Rum