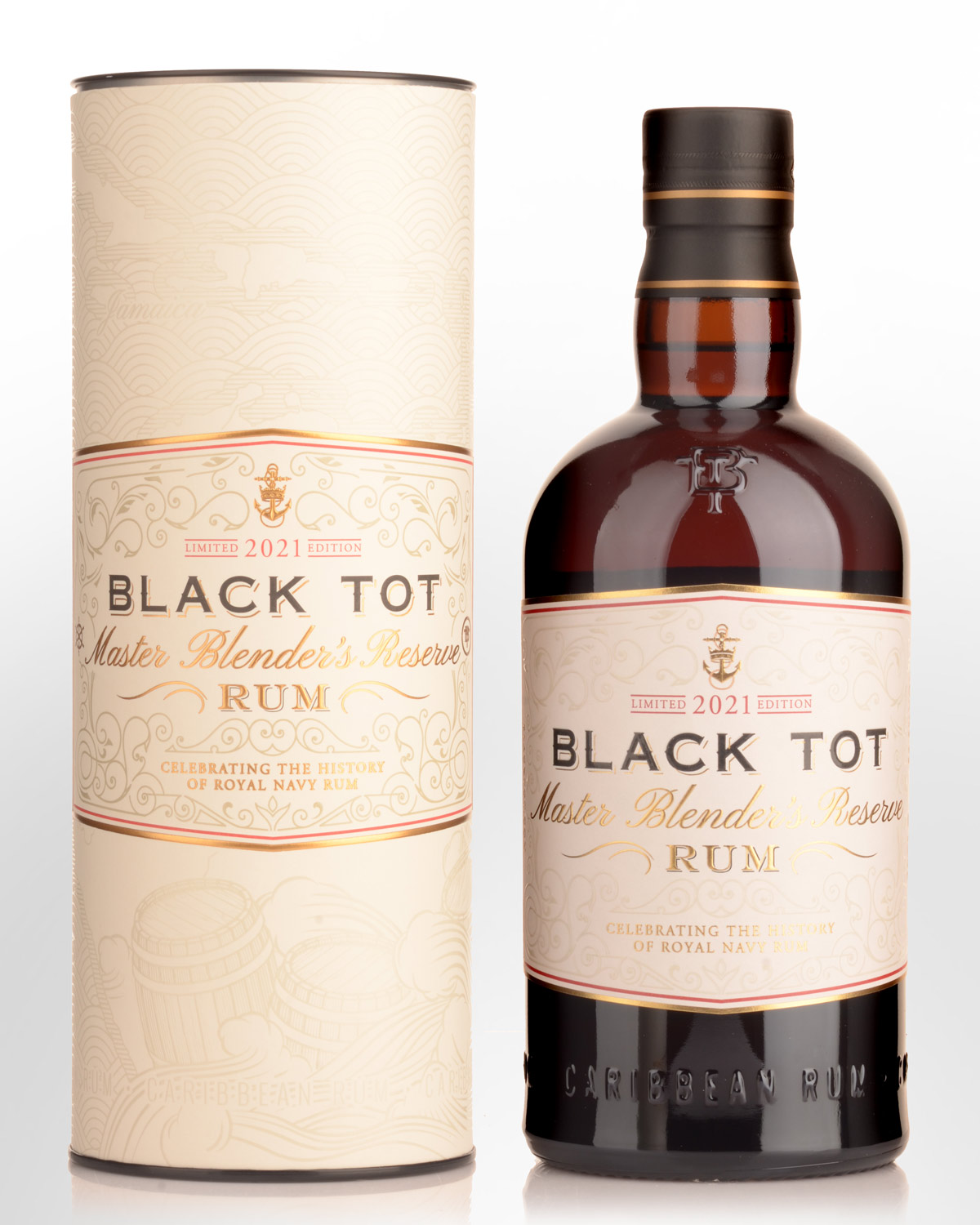 Black Tot Master Blender's Reserve Cask Strength Rum (700ml) - 2021 Limited Edition
Another first class blending achievement, this time with an Australian twist.
While comparisons with the inaugural release are inevitable, the Master Blender's Reserve is not simply a slightly older version of last year's 50th Anniversary rum, but a different composition altogether. Different countries, still types and ages have contributed with Head Blender, Oliver Chilton opting for a 'fruitier' expression. It also celebrates the 100th Anniversary of the last rum ration given to the Australian Navy after separating from the Royal Navy, although Australians serving on British ships could still receive rum - in 1921 this was also forbidden. Adding substance to the sentiment, 6.7% of the blend is from Beenleigh Distillery (ten years aged in Queensland and four years continentally).
At its heart is the 'perpetual' base spirit (14% of last year's 50th Anniversary release), re-casked into ex-sherry butts and blended with rums between 9 and 24 years old from Guyana, Barbados, Trinidad, Jamaica. These make up the majority of the blend. Even from a 20ml sample they come through powerfully on the nose which has a drier, well-aged Demerara-like feel, developing dense aromas of fruit cake, bush honey and zesty peel matched by nutmeg, vanilla, ginger and cinnamon. Stay with it longer and you'll discover even more. The early palate stages are a little understated - call it elegant (this is anything but an overly-sweet contemporary style). Off-dry flavours of liquorice, roast nut, coffee, brown sugar, dried banana, leather and spice dovetail into a long, fanning flourish of intense, estery complexity. That sensational late burst seems to be Chilton's signature, and it unfolds in slow motion, drawn out with molasses cake, warming cinnamon and bittersweet dark chocolate as well as hints of exotic fruits. The alcohol is less and less discernible with each sip, inverse to the stunning persistence of flavour. 6000 bottles are available globally, however Australia's allocation will be closer to several hundred. Decanted from the casks with zero added sugar and no chill filtration, for full transparency, refer to the details and ratios of the blend below. 54.5% Alc./Vol.
The Blend
21.1% - 11YO Trinidad Distillers, Trinidad (Column Still)
18.5% - 10YO Trinidad Distillers, Trinidad (Column Still)
17.7% - 10YO Foursquare, Barbados (Pot / Column Still)
14.1% - Black Tot 50th Anniversary (Perpetual Blend)
13.5% - 17YO Demerara Distillers, Guyana (Column Still)
6.7% - 14YO Beenleigh, Australia (Pot Still)
5.3% - 9YO Hampden, Jamaica (Pot Still)
2.8% - 24YO Trinidad Distillers, Trinidad (Column Still)
0.3% - Original Royal Navy Blend (Perpetual Blend 1800 - 1970)
Other reviews... I'm always finding it rather moving when very altruistic distillers and master blenders accept to part with their own reserves. By the way, for the first time distinguished Master Blender Oliver Chilton has added some Australian rum to the Black Tot composition; could that be Beenleigh? Other than that, it's all a 'British' rum with Guyana, Jamaica, Barbados and Trinidad. Colour: gold. Nose: you would almost believe you could read through this one on the nose, finding the Jamaican(s), Trinidadian, Bajan… It's pretty estery, diesely, with some meatiness (bacon) and quite some liquorice and star anise, then overripe bananas and fermenting pineapples. Touches of olives, which I always find very Jamaican (although I've never checked if they were growing olives in Jamaica) and a handful of raisins. With water: gets drier, on many herbal teas and even more liquorice (sticks). Very fresh allspice mix. Mouth (neat): ultra-classic rich British-style rum, with heavy liquorice, petrol and rotting topical fruits, and a spiciness that may stem from the Australian. Just a very wild and silly guess. With water: very good, a notch lighter perhaps (Barbados?) with those raisins coming to the front and a few violet sweets in the background. But liquorice keeps running the show. Finish: rather long and quite salty. A little more pipe tobacco, molasses, prunes and raisins. Comments: excellently constructed and very 'British Navy' indeed. Why not also do a French Marine Nationale rhum, one of these days? 87 points - whiskyfun.com
...The length on the finish is just right and the flavours linger for long after the liquid has evaporated. As mentioned already this is quite an intense rum so you will probably take time between each sip to savour the finish. I certainly have anyway. As is often the way my previous years bottling is long gone. So I can't do a head to head comparison. I do know that this is definitely in the same league as the 50th Anniversary and I really have no hesitation in giving a rum as good as this full marks. Another great addition to the Black Tot cannon. Great stuff. 5 stars - thefatrumpirate.com
Notes from the bottlers... Cinnamon sticks, cooking in brown butter, with nutmeg and cloves. Overripe mangoes and baked bananas, with dusty dark chocolate. More citrus notes build in the glass - satsumas and freshly squeezed navel oranges blend with juicy nectarine and cooked honey. In the background, a dense oily note complements the zesty flavours and merges with herbaceous notes of mint and lemon thyme. Taste: At first, a huge hit of concentrated orange and mango juice, with fresh mint and golden brown caster sugar. The sweetness evolves into milk chocolate and salted caramel, while the fruit seems to become denser, bringing in flavours of guava and passion fruit. Another sip brings orange blossom, balanced by runny honey. Finish: Clementine and mandarin make up a citrus salad, evolving with a pleasing dryness reminiscent of thyme and oregano. Right at the very end, a hint of diesel oil.