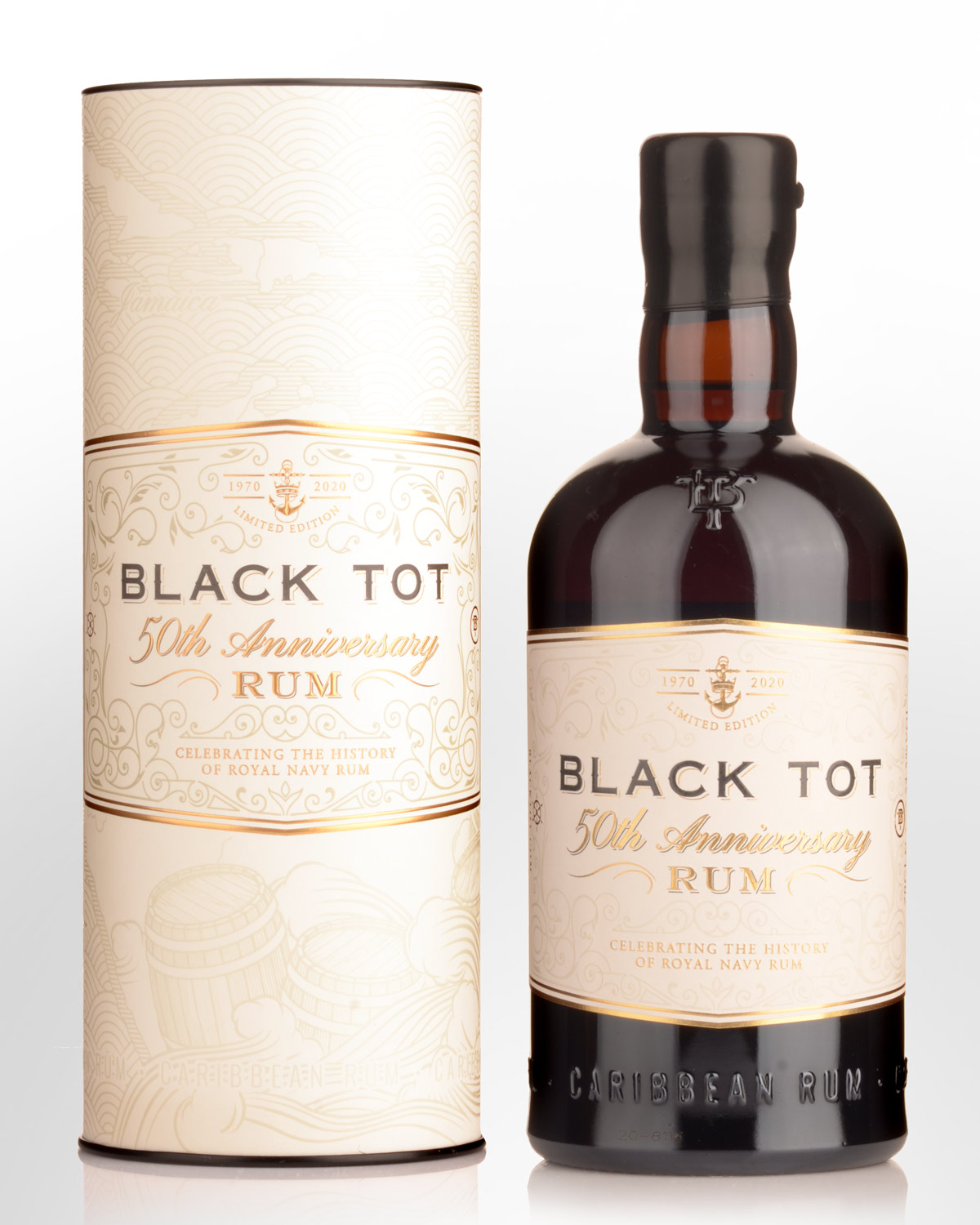 Black Tot 50th Anniversary Cask Strength Rum (700ml)
Stepping away from whisky for a moment - possibly the only other wood-aged spirit capable of arousing the same passions comes from 'the reed which brings forth honey' (without the help of bees)– mainly because it's capable of a similar dizzying complexity and diversity that whisky achieves.
Here's one that comes with a strong "buy now", and for more than one reason.
This is the fourth instalment from Elixir Distillers under the Black Tot label and marks the 50th Anniversary of the abolition of the Royal Navy's daily rum ration. To commemorate "Black Tot Day", Head Blender, Oliver Chilton together with co-founder Sukhinder Singhhas created a limited edition Caribbean rum and bottled it at navy strength. It includes some incredibly old and genuinely rare stocks, noted marques for the (majority) Guyanese rums, including distillates from a wooden pot still to a multi-column still with age statements from 9 to 42 years. A splash of the original Royal Navy rum, continuously blended in wooden vats from the early 1800s through to 1970 has been thrown in for good measure.
Here's the full breakdown:
28% 12 year Guyana – Demerara Distillers – Savalle still
27% 9 year Guyana – Demerara Distillers – Savalle still
15% 11 year Barbados – Foursquare – pot/column still
11% 10 year Trinidad – Trinidad Distillers – column still
8% 9 year Jamaica – Hampden – pot still
6% 10 year Guyana – Demerara Distillers – Port Mourant still
4% 23 year Trinidad – Caroni – column still. CLOSED DISTILLERY.
0.5% 42 year Guyana – Uitvlugt – Port Mourant still. CLOSED DISTILLERY.
0.5% Original Royal Navy Rum – world blend

The vision wasn't to make a replica of the original navy rum or copy new Caribbean expressions, but to create something that sat in between. Also, Sukhinder prefers older and richer old-school navy style rums while Chilton likes fresher and funkier modern rum. They started with the four pillars of Royal Naval rum – the islands of Jamaica, Barbados, Guyana and Trinidad. Samples were then pulled from casks and rums were blended.

Two thirds of the liquid went into glass – the rest went back into casks. This will be an ongoing project with a new rum each year, each starting from the previous year's blend. But as much as we look forward to tasting those bottlings, deep down, the rum lover and collector in us knows this is the one to get (besides, it's not guaranteed you'll see the same proportions of now semi-mythical Caroni and Uitvlugt in later iterations). Flavour wise, it's streets away from industrial-scale saccharine rums. If you prefer 'adult' rums to 'drinkable' but overly-sweet and monotonous modern styles, this will be worth every cent. 5000 bottles are on offer globally. Get in before everyone else wakes up.
Tasting note: Mahogany colour. Brooding depths to the layered nose: Molasses cake and liquorice strap. Plantain and drier vanillas. Fruit cake, cinnamon, nutmeg and bitter cocoa. The sugars are evenly matched against the funk and freshness. Unravels with stunning length as the alcohol pulsates the taste buds. Sweet and dry, old and new, wrangle together; liquorice strap meets grassier / fruitier notes. Raisin cake meets bitter dark chocolate. Rancio and resiny oak give an hors d'age Armagnac feel to the finish, followed by walnut slice, dried banana, cinnamon and ginger bread. Rebounds with mocha, dried fruits (raisin / date) and brandy cream sauce and lasts for minutes. A contemporary rum with an old soul that demonstrates Chilton and his blending team are at the top of their game. 54.5% Alc./Vol. Non chill filtered. Zero sugar added. 5000 bottles.
Other reviews... I'll be entirely honest and say this has ticked every box for me. Whether is it a faithful recreation of the rum drank pre-1970, I'm really not that bothered to be honest. It's a fantastic blended rum. 5 Stars - thefatrumpirate.com
Official tasting notes... Nose : We are greeted with cinnamon sticks, sprinkled with nutmeg, toasting in the oven. Then a deep richness, akin to caramel-glazed apple tart, with some citrus elements rolling in. There is also barbecued pineapple and grapefruit zest, balanced by notes of melting chocolate raisins and freshly ground Jamaican blue mountain coffee. With more time, a hint of well-aged spirit emerges, reminiscent of dusty books in a historic library. Palate : From the first sip, the palate is almost overrun with the combination of liquorice sticks and vanilla bean paste. As the flavours coat the mouth, lime juice married with 80% cocoa dark chocolate appears, which slowly deepens to brandy-poached pears. A backbone of dried mint and tarragon is married with natural sweetness and a touch of nuttiness, in the form of bananas and walnuts. Finish : Long and lingering, with flavours of mint chocolate chip ice cream and soft liquorice, dipped in sherbet. The rich flavours of a whole-milk latte topped with cream dissipate to leave a pleasant dryness, leading to another sip.