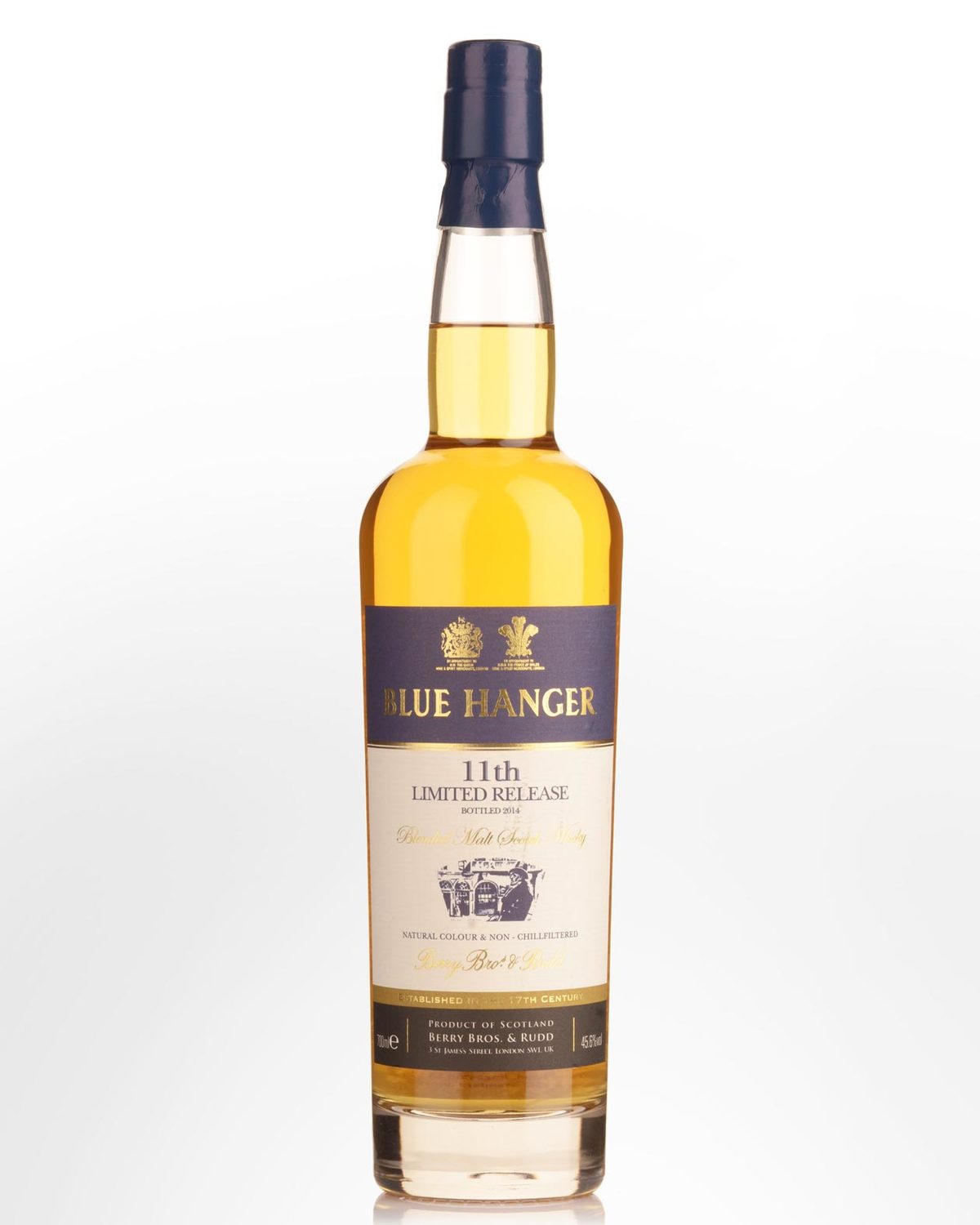 Berry Brothers & Rudd Blue Hanger 11th Limited Release Blended Malt Scotch Whisky (700ml)
SCOTLAND
Awarded 'Blended Malt of the Year' by Whisky Advocate Magazine in 2016.
Final shipment.
The Blue Hanger releases were originally reserved for the diplomatic market in the 1930s but faded into history until being revived in 2003 by Doug McIvor, Master of Cask Selection at Berry Bros & Rudd. The first edition was a sublime marriage of Glenlivet and Glen Grant which produced just 723 bottles from a total of 4 hogsheads. It sold out almost immediately upon release, and its success was repeated by many subsequent expressions. Creation of a new edition only takes place when Doug feels they've secured the right casks to create a complimentary addition to the range.
And the name? It's a tribute to one of Berry's early customers, so called because of the shade of clothes he wore. William 'Blue' Hanger, aka 'Lord Coleraine', was a loyal regular of the Wine Shop at the end of the 18th century and considered "one of the best dressed men of his day."
Tasting note: [15ml sample] Another outstanding vatted malt from BBR. The 11th in the series is a sultry combination of eight casks – four hogsheads, three butts and a puncheon, including both peated and unpeated Bunnahabhain. Very light / pale gold. A semblance of Johnnie Walker Green to this (as it was a few decades back); the same seamless integration of fruit, vanilla-laced malt and menthol-freshness overlaid by a delicate blanket of oily peat. The smokiness is slightly more evident in the flavour but kept in check by the vibrant, salivating malt, orange spice cake and peel freshness. Spot on balance. Beautifully rounded and very moreish. Non-chill filtered. 45.6% Alc./Vol.
Other reviews...
It's the intensity of flavor that just grabbed me by the lapels and spun me round. It harbors intense tangelo juiciness; that unparalleled concentration of deep citrus skillfully mingled with dark vanilla, dried apricots, and gentle smoke. This goes the distance, delivering wave after delicious wave: peach juice, mandarin, pineapple cubes, and lemon zest. A firm, unctuous finish shows a little charred wood and dark sugar cloaked in fine smoke. Tongue pleasing and very special indeed.
92 points
- maltadvocate.com (Spring 2015) Reviewed by: Jonny McCormick