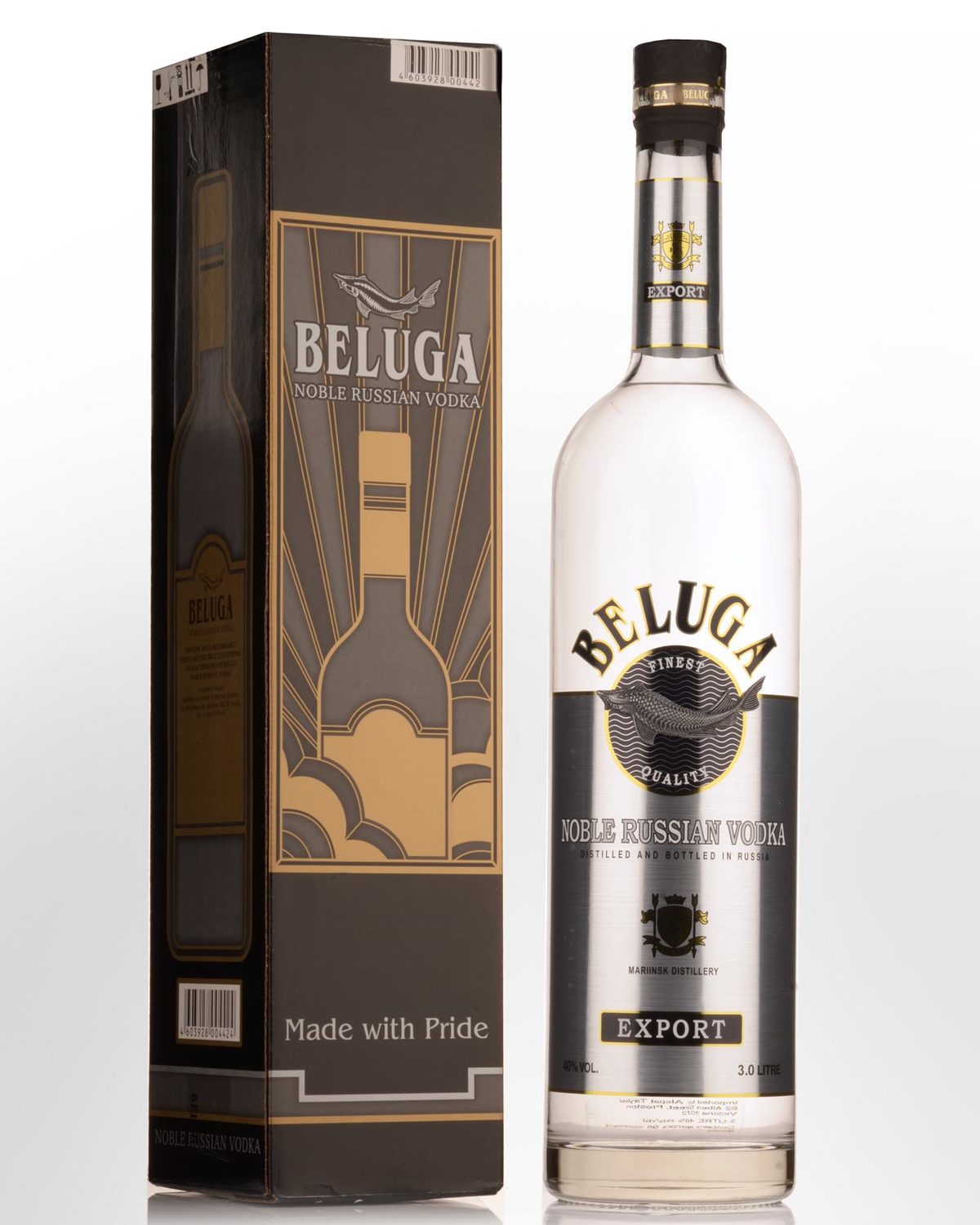 Beluga Noble Vodka (3000ml)
RUSSIAN FEDERATION
Highly polished. Everything about it screams luxury.
If it were true that all vodkas tasted alike, there'd be no reason to favour a $70 bottle over a $25 bottle. Each brand has a unique, though subtle, aroma, taste, texture and burn. In fact, depending on the source ingredient and production method, vodka's can be remarkably diverse.
The highly desirable Beluga brand is produced on the outskirts of Siberia, 300 km from the nearest settlement. Named after the prized caviar, it's created on a foundation of wheat and malt spirit which undergoes quartz filtration and post-sand filtration. A resting period of around thirty days in stainless steel helps to neutralize the aroma and enhance the mouth feel. While it's technically a straight vodka, it also includes tiny proportions of honey, oat extract and Silybum marianum extract (aka milk thistle), and the final product is cut back with a last key ingredient - artesian Siberian water. As one of a handful of affordable, must-try Russian vodkas currently exported, Beluga comes with a premium presentation to match its contents. Everything about it screams luxury. Bloggers and drinks writers frequently rank 'Noble' with the best of the best, however 'Gold Line' raises the bar again: It's a superbly pure, ethereal spirit and a highlight in its category. Both win on all sensory accounts, depending on what you are willing to spend.
Tasting notes: Crystal clear. Almost neutral aromatics reveal nuances of cream and meringue followed by a touch of white pepper. Super smooth, satiny entry leads into an off dry profile with a texture verging on creamy, followed by hints of wet stone, talc and meringue. Finishes with a delicate pepper burst. Aftertaste is silky, gently warming, dry and super clean. Highly polished. 40% Alc./Vol.
Other reviews...
There's something slightly savoury about this Russian vodka, which is made with water drawn from the Siberian bedrock. Triple-filtered and then "rested" for 30 days, the finished product is light, but flavourful, with some subtle oat notes, and a kick of spice that cuts through. There's also a little citrus sweetness and even a little honey. But it's the lingering, smooth endnote we love. It's sippable on its own of course, but we think the fiery heat of a ginger ale brings out the flavours perfectly.
Six Best Russian Vodkas
- UK Independent 2017
4.5 Stars
- diffordsguide.com