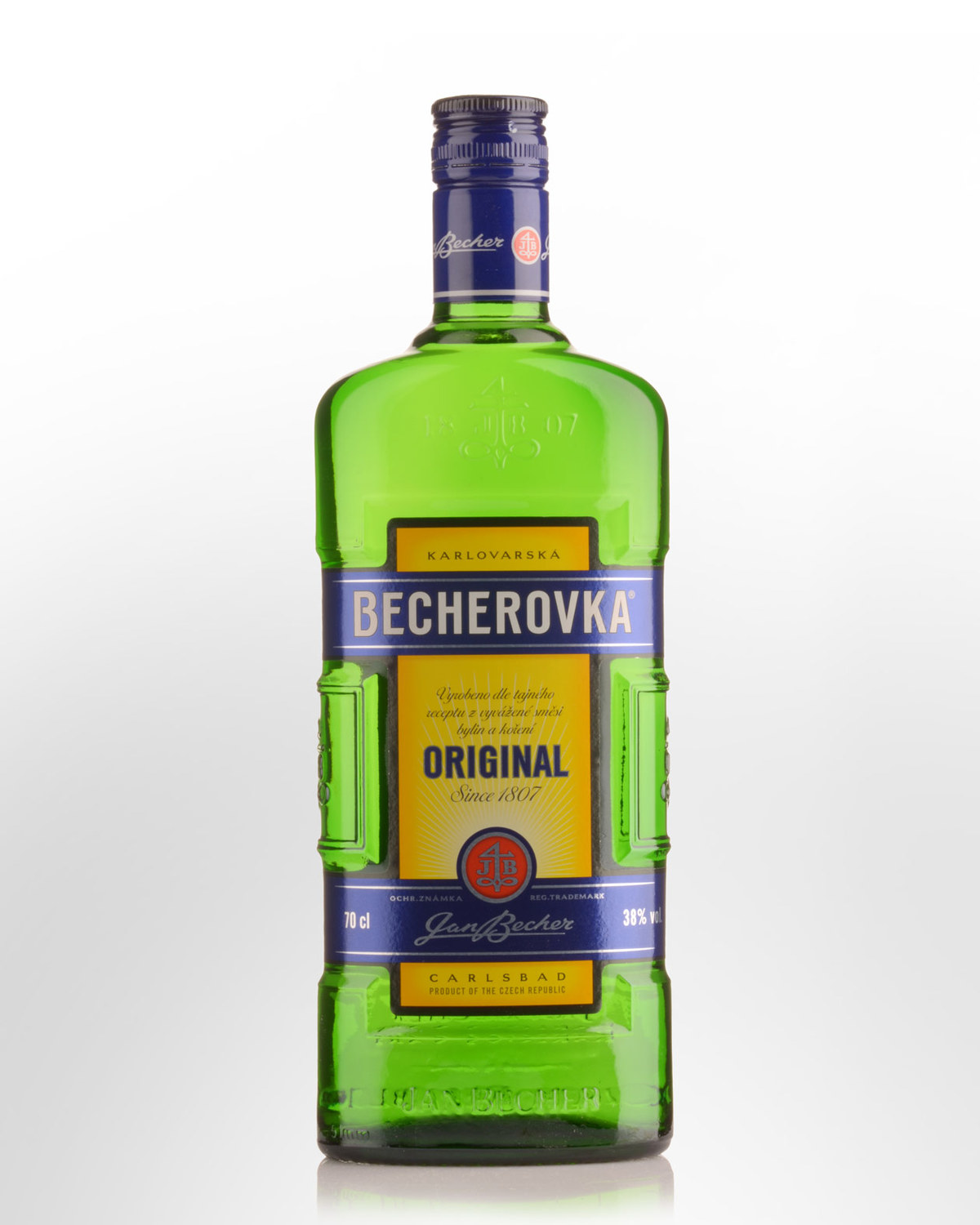 Becherovka Liqueur (700ml)
Becherovka will be well known amongst visitors to Eastern Europe. Now this Czech specialty has arrived in Australia. Made to a secret herbal recipe reputed to be of ancient origins, this delicious aperitif is served in restaurants and bars in Prague and across Europe.
Josef Becher began producing the liquor in his pharmacy in 1807, selling it as digestive drops under the name of Carlsbader English Bitter. Just before his death, Josef entrusted the recipe for the beverage's production to his son and heir, Johann. Johann Becher soon proved to be a guardian for the recipe but also an excellent businessman. He built a new factory, equipped it with modern machines and, in 1876, commissioned his brother-in-law Karel Laub from Karlovy Vary to design flat bottles with their own labels which are used to this day. At that time, Becherovka was sold under the name of English Bitter or also Becher Bitter. At the end of the 19th century, Johann's son Gustav Becher unified the name and registered the trademark "Johann Becher", the brand being under threat from cheap and imperfect imitations.
Rudolf Becher, the next successor to the throne of the family empire, was responsible for the Becherovka repute reaching beyond the borders of the Austro-Hungarian Empire. During this period the drink's name settled on Becher Bitter, for the first time appearing on the familiar yellow-blue label. Thanks to its supplying the army with special military rations, Becherovka's popularity and production increased in World War I. The disintegration of the Austro-Hungarian monarchy in 1918 gave birth to an independent Czechoslovakia – and with it the birth of "Becherovka." Between the wars, the market again blossomed and Becherovka survived World War II. In 1945 the family company was nationalized and remained in the state's hands until 1997. Today, the Jan Becher company and its flagship Becherovka are part of Pernod Ricard, the world's third-largest producer of distilled liquors and wine.
Today, only two persons at the Karlovy Vary factory know the whole secret of Becherovka production. Once a week, they prepare the mixture from many kinds of herbs and spices. About three fourths of the herbs and spices come from abroad; some selected kinds grow in the vicinity of Karlovy Vary. The finished mixture is placed into sacks made from natural material and immersed in alcohol for one week. Becherovka matures in the barrels for about two months. Then the contents of the barrels are put together and blended before bottling.
Becherovka is typically mixed with tonic water and a squeeze of lime, tasting something like bitters in tonic water, but, of course, more alcoholic. On its own, chilled over ice, the prominent flavour is cinnamon which lingers with excellent length. While being sweet, Becherovka is not cloying and finishes clean and fresh. 38%Alc./Vol.
No tasting notes available.
 Click here to learn more about Liqueurs.

 Click here for Classic Cocktails.