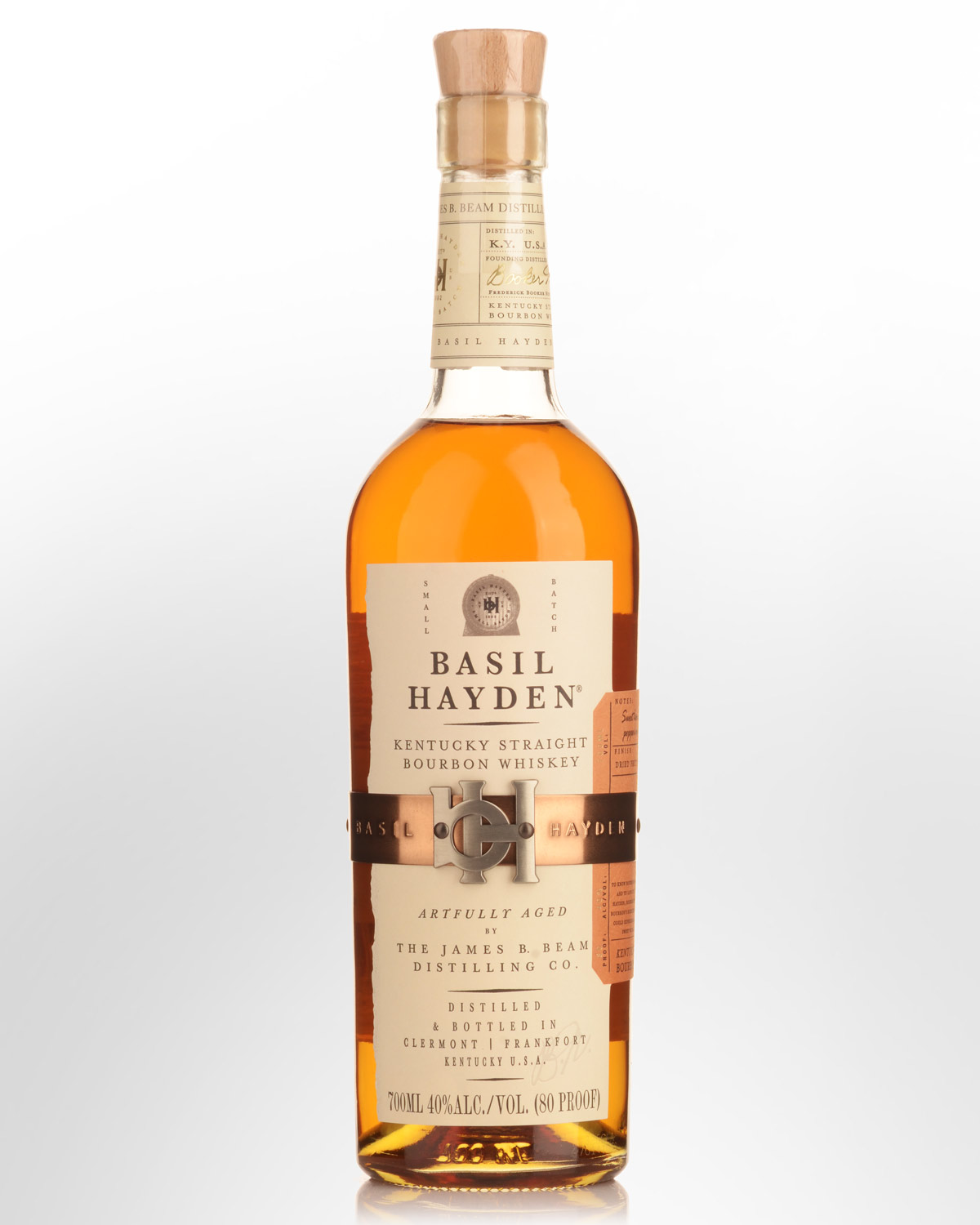 Basil Haydens Bourbon Whiskey (700ml)
The recipe for this Bourbon dates back to 1796, when Basil Hayden himself was a Master Distiller. Hayden was born and raised in Maryland, where he learned to make whisky from rye. When he came to Kentucky, Hayden began using a base of corn, but added a higher percentage of rye than other distillers, resulting in a smooth, mild bourbon that was distinctly his own. Nowadays Beam employ a mash bill of 63% corn, 27% rye and 10% malted barley, which is reportedly very close to the original.
Other reviews... Light amber color. Sweet corn, toffee, nuts and charred wood aromas have a lean edge. Round, vibrant entry leads to a dry medium-to full-bodied palate with somewhat lean oak, corn, and caramel flavors. Finishes with a warm wave of toffee, spice, and drying wood. 88 points - tastings.com
...Interesting that the label says "Artfully Aged," yet there's no actual age statement. Lively nose, good rye snap and spice, a bit of mint and oaky edge. Not hot, well-behaved on the tongue, and happily gives back everything taken on the nose. Sweet, spicy, and easy to like, this is whiskey without flaw, well-done and tasty, if not overly ambitious or challenging. 85 points - whiskyadvocate.com, reviewed by: Lew Bryson (Fall 2014)
...Pretty old gold/amber color; superb purity. First whiffs encounter small measures of dusty dry cereal grains and black pepper; another six minutes of air contact unleash slightly grander aromas of saddle leather, toasted marshmallow and cooking spice (tarragon, parsley). Entry is gentlemanly, clean, understated and off-dry; midpalate offers moderately generous tastes of oak resin, English toffee/saltwater taffy and light, fresh honey. Concludes light as a feather and agreeably simple. While I think that this latest incarnation shows some fleeting character and stuffing, I recommend BH solely for bourbon newcomers and NOT for old hand bourbon drinkers who are used to big-hearted, rip-snortin' whiskey. Veteran bourbon devotees won't care for it, thinking it feeble. I understand that it was designed specifically for novices and the three people in the U.S. who appreciate ethereal bourbon, which by its nature is meant to be robust. - spiritjournal.com
Classic Cocktail: The Old Fashioned. The first use of the specific name 'Old Fashioned' was for a Bourbon whiskey cocktail in the 1880s, at the Pendennis Club, a gentlemen's club in Louisville, Kentucky. The recipe is said to have been invented by a bartender at that club, and popularized by a club member and bourbon distiller, Colonel James E. Pepper, who brought it to the Waldorf-Astoria Hotel bar in New York City. When properly made, this cocktail can represent the pinnacle of the bartenders trade. When done improperly, which is more often the case, it can be a disaster of mediocrity. One of the oldest recipes known going by the name of Old Fashioned, comes from 'Modern American Drinks' by George J. Kappeler, published in 1895: "Dissolve a small lump of sugar with a little water in a whiskey-glass; add two dashes Angostura bitters, a small piece ice, a piece lemon-peel, one jigger whiskey. Mix with small bar-spoon and serve, leaving spoon in glass". This very closely resembles the recipe which you should be served by a modern day bartender, but for reasons that are just a little unclear, you will generally be served something totally different.
1/2 Orange Slice, 1 cube of sugar, 2 dashes of Angostura Bitters, 60ml Basil Hayden's Bourbon whiskey (or Rye Whiskey)
Method: Muddle orange, sugar, bitters together until the sugar is mostly dissolved. Fill glass with ice, then add the whiskey. Garnish with a marachino cherry, and perhaps an additional orange slice. Serve with a swizzle stick and/or straw. - notes partially sourced from www.drinkboy.com