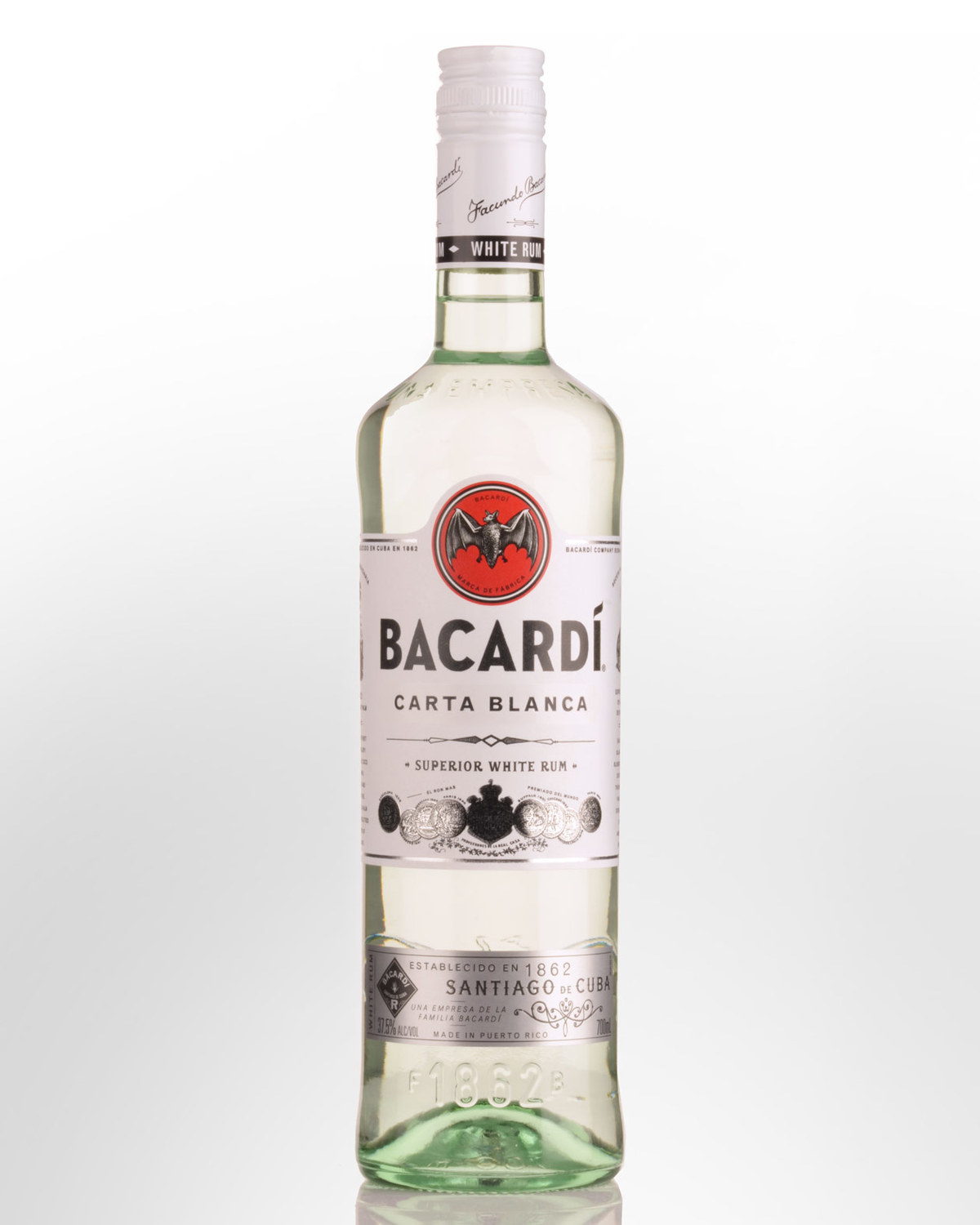 Bacardi White Rum (700ml)
PUERTO RICO
Claimed to be the first refined rum, Bacardi is double filtered through charcoal for smoothness and aged in natural white oak for character. This is low in aromatics with a dry flavour and finish. Best mixed when a dry result is required. 37.5% alc./vol.
Enjoy straight or beat the blues with a "Gloom Chaser":
In shaker: a teaspoon of Curacao,

the juice of one quarter lemon,

one half glass of Bacardi,

shake well and serve.
The Bacardi Bat Device...
The Bacardi Bat Device appears on every label of every product carrying the Bacardi family name. According to Family lore, it originated in 1862 when Don Facundo's wife, Dona Amalia Lucía Victoria Moreau, suggested employing the Bat as the trademark for their new rum. Upon entering the first Bacardi distillery, Amalia noticed a colony of fruit bats living in the rafters. Bats had great significance in Dona Amalia's world. As a lover of the arts, she knew that Cuba's extinct native people, the Taínos, regarded bats as possessors of all cultural goods. And she knew from local lore that bats were popularly thought to bring good health, fortune and family unity.Her suggestion also was hardheaded and pragmatic. Because of the high rate of illiteracy in the 19th century, a product needed a memorable graphic logo -- a trademark -- to become identifiable and sell. Reports quickly flew across Cuba of Don Facundo's choice new charcoal-mellowed rums: the carefully aged, rich, dark sipping rums and a miraculous new light rum that was smooth, civilized and astonishingly drinkable. But the bat mythology also helped. Word of Don Facundo's Bat spread side-by-side with word of his smooth rums. The Bat, local storytellers attested, brought good fortune and added magical powers to his rum. Today, the Bacardi Bat is a welcome character in more than 170 countries around the world where Bacardi rum is enjoyed. Clearly, Don Facundo's exclusive formula, proprietary charcoal-mellowing, and aging processes give Bacardi rum its superior quality and premium smoothness. But with the Bat as the trademark, the rums have continued to raise the Company's fortunes to new heights!
Classic Cocktail: The Daiquiri Strawberry
The Daiquiri is a family of cocktails whose main ingredients have traditionally been rum and lime juice. There are several versions however, with some like the Strawberry Daiquiri having a texture similar to a smoothie. Originally the drink was served in a tall glass packed with cracked ice. A teaspoon of sugar was poured over the ice and the juice of one or two limes was squeezed over the sugar. Two or three ounces of rum completed the mixture. The glass was then frosted by stirring with a long-handled spoon.
40 ml White Rum
20 ml strawberry liqueur
3-4 strawberries (depending on their size)
40-60 ml lemon juice
a cup of crushed ice