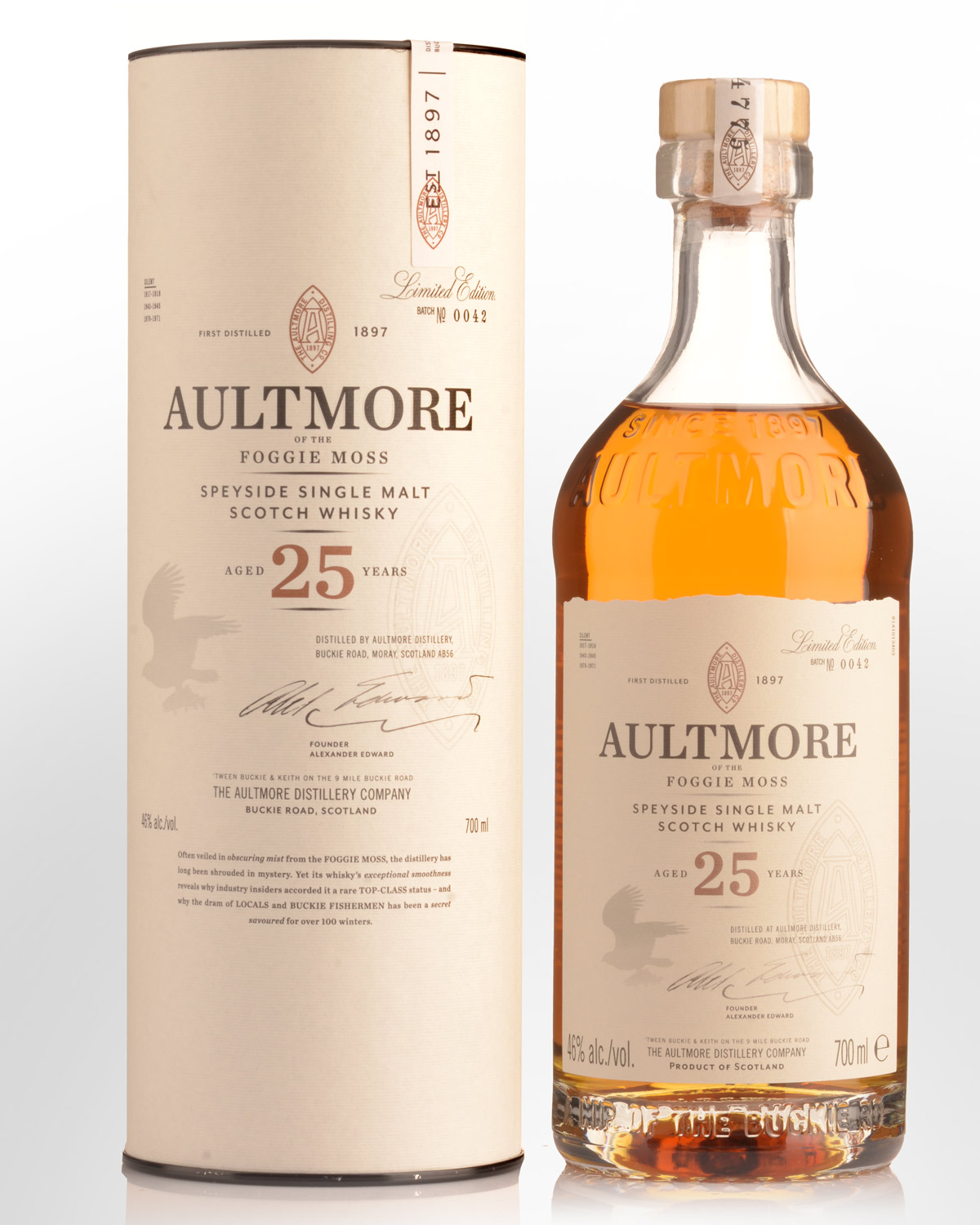 Aultmore 25 Year Old Single Malt Scotch Whisky (700ml)
Speyside, Highlands,
SCOTLAND
A long time blend-filler, it's said that the malt created here was considered so good that current owners Bacardi, refused any deal that did not include it when they were buying the other distilleries historically owned by Dewar's in 1998. So jealously have they been guarding Aultmore, that it wasn't until 2014 that it was taken to market as a brand in its own right. This saw the release of a new core range of expressions, including a 12 Year Old, 25 Year Old, a 30 Year Old as well as a smattering of duty free exclusives. Much of the collection were released to critical acclaim, with the 25 a deemed a highpoint for many. 46% Alc./Vol.
Other reviews... A stunning packaging again, rather 'elite', and maybe just a wee tad 'Balvenie'. Well, probably not. And it's great that they haven't used fake decimals for the ABV, as is customary elsewhere. You know, 45.9%, 46.1%... Having said that, it's very pricey whisky (420€) so it better be good. Colour: full gold. Nose: yes! Artisan ales, cigars, smoky teas (lapsang stuff), roasted malt and nuts, a little burnt oak, apples from last year, brown toasts, Van Houten's cocoa powder, dried porcinis… It's a big style, very malty and 'burnt', which is absolutely great on the nose but that may suggest a palate that could be 'too big'. Yes that's possible, let's see… Mouth: indeed it starts a little burnt and 'stouty', with some brownies, chocolate cookies, toasts, roasted pecans, a lot of malt and quite some artisan chocolate. I know some officials who would have added a lot of caramel to make this one mahogany in colour, which would have perfectly fitted this profile. But they didn't, kudos to them. Burnt cake, leather, burnt oak, a little marmalade. I like this really a lot, it's supremely malty whisky. Finish: long, perfectly bitter and malty, and yet balanced and spicy. It's only now that a little obvious oak comes into play. And coffee. Comments: very high quality composition, with a distillate that's maybe not the most characterful ever. I say greatly done. 89 points - whiskyfun.com
...A wild aromatic opening — anise, sweet cicely, even a hint of wormwood — with more oak than the 21 year old, but not in a dominating fashion, rather just a framing device. Still fresh and acidic, with touches of a bridal bouquet, freshly baked warm sponge cake, walnut flesh, and, with water, a little bread-and-butter pudding. The acidity gives it a zippy, clean palate zestiness with cumin and angelica. Beautifully balanced. 88 points - whiskyadvocate.com, reviewed by: Dave Broom 2014