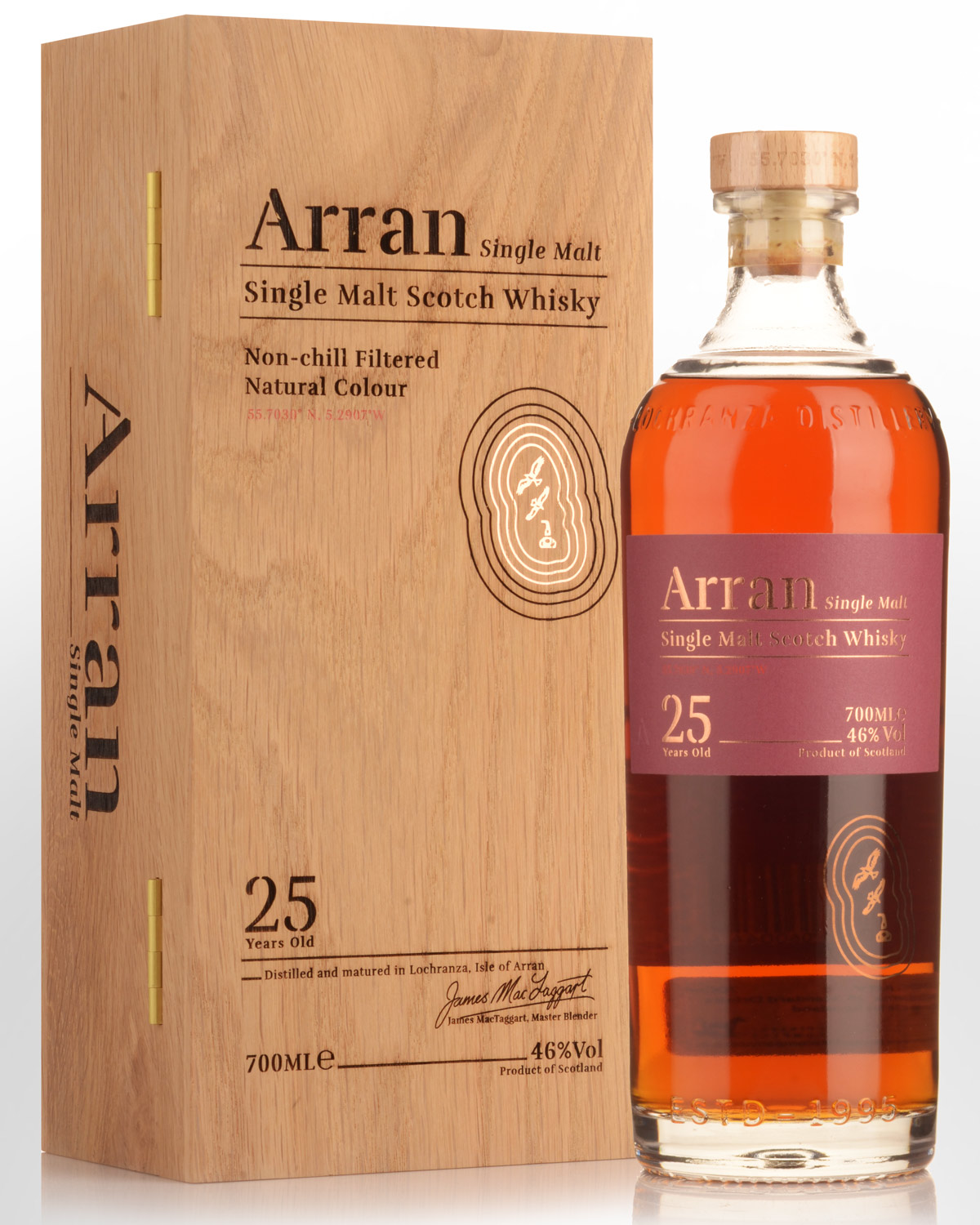 Arran 25 Year Old Single Malt Scotch Whisky (700ml)
The oldest Arran to date. Now sold out at the distillery.
Arran are one of the first of the 'new wave' of Scottish distilleries to reach maturity. To mark that watershed, they've released 3000 bottles of their oldest expression to date. Now sold out at the distillery, it has been eagerly anticipated by those already enamoured with the superb 18 & 21. And if you're surprised by the price, consider the massive hikes for similar age statements from Macallan, Highland Park, Ardbeg or Balblair et al. and it actually compares very favourably. The 25 year old is set to become an annual offering, although outturns will remain minimal (no doubt they're reserving a portion for even older releases in the future). Impressively housed in a timber presentation case, it comes matured in 35% ex-sherry and 65% ex-bourbon casks, but was also allocated twelve months in first-fill and refill sherry hogsheads. Like most other Arrans, it's bottled at 46% without chill filtration or the addition of any colouring. One small introductory allocation only.
Notes from the bottlers... Nose – Rich oak with a gentle nutmeg note. Sweeter aromas of baked ripe figs, sultanas and black cherries. Palate – Fruit cake with toasted almonds and cinnamon. The juicy zestiness of oranges and mandarins mellows perfectly with manuka honey, muscovado sugar, baked apricots and an interesting white pepper note that provides even more complexity. Finish – Creamy and spicy with dark chocolate, walnuts and dark fruits compote.
Other reviews... The bottle is superb, the price maybe a little less so. This is a combination of bourbon and oloroso, further married for one year in sherry hogsheads. What's sure is that this is the oldest Arran I've ever tasted. Colour: copper/amber. Nose: starts with a bowl of sour cherries and a clear vinosity, on old barriques and a little balsamico. I'm also finding many red berries, which come totally unexpected, raspberries, mulberries, also rosehip, dried pears, whiffs of dunnage, blood oranges, drops of fino… This is not what I was expecting, on the other hand I think it worked, it's just, well, very singular, with obvious wine impact. Mouth: cherry clafoutis, once again, cherries in kirsch, then mead and triple-sec, elderberry syrup, and a feeling of arrak. Then more blood oranges, more eglantine tea, and just preserved morellos. Are we sure this has never met with a single dollop of pinot noir? Finish: medium, with a little more malt and raisins, café latte, butterscotch… I short, it fell in line. A salty touch in the aftertaste. Comments: let's keep an open mind, this is not what we were expecting from a new 25 yo, but it's not lacking courage and opinion. The idea was strange but it was well executed. 86 points - whiskyfun.com