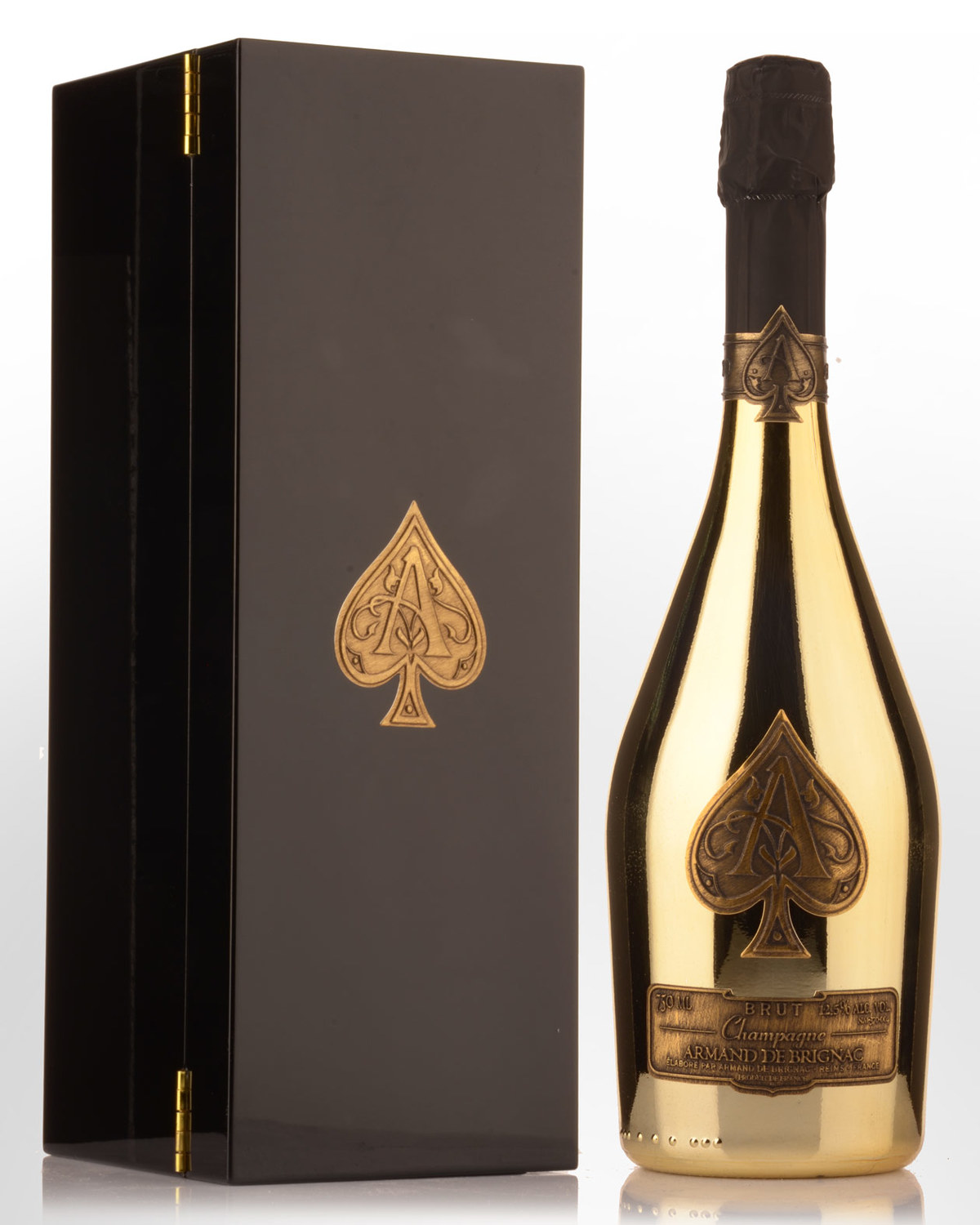 Armand de Brignac Brut Gold Champagne
New technology, changing consumer values and a willingness to abandon tradition has not only multiplied the creative options available to wine label designers, but has frequently led to 'over-packaging'.
The extravagant presentation of Armand de Brignac has given some critics pause for reflection, one commenting "...the luxuriousness of the package made me afraid I'd subconsciously find the Champagne amazing simply because of its bottle."
Produced by Champagne Cattier, the brand's first bottling was introduced in 2006 and is identifiable by its distinctive gold bottle with pewter Ace of Spades labels. Like Krug, the Brignac's Brut Gold is a multi-vintage style sourcing fruit from both Premier and Grand Cru vineyards. Two other cuvées, a Rosé and a Blanc de Blancs were released in 2008. An appearance in the Jay-Z music video of "Show Me What You Got" prior to the launch of the Armand de Brignac brand sparked wide discussion on sites covering hip-hop and popular culture, following Jay-Z's public fallout with the makers of Cristal Champagne. As a result, Mr. Cattier's brand received more publicity in two weeks than it had in two decades. "I would have never imagined a few months ago that we'd become part of this mysterious and exclusive rap world," he said. "Jay-Z is a remarkable man. I'd like to invite him here to visit the winery."
Subsequent tastings by international wine critics have acknowledged Armand de Brignac as one of the world's top Champagnes, though it comes with a price to match.
No tasting notes available.
Please note: Due to the cost and status of this product it is company policy that payment be made using either PayPal or via Bank Transfer. Payment by credit card will attract additional security procedures and delay dispatch.