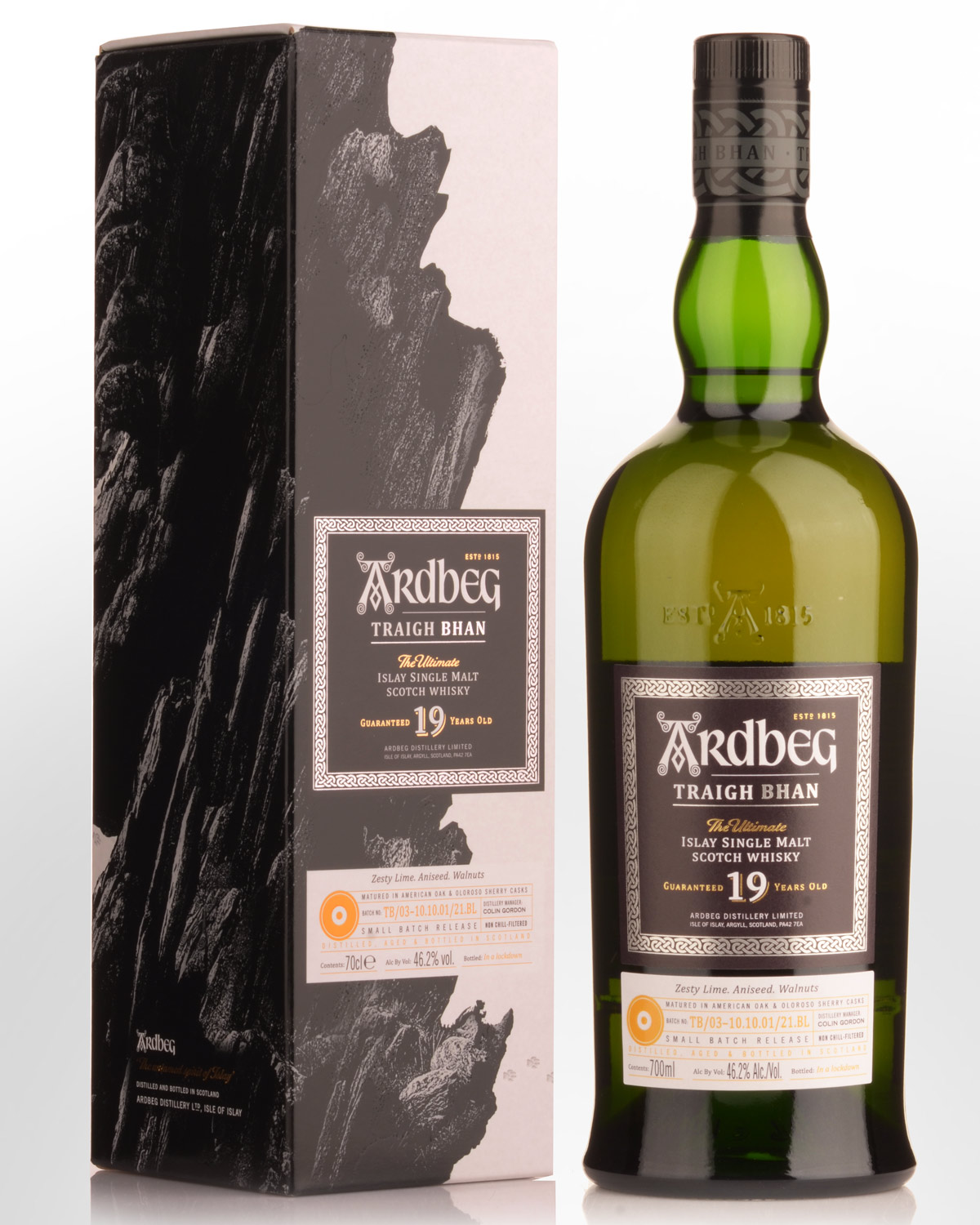 Ardbeg Traigh Bhan 19 Year Old Single Malt Scotch Whisky (700ml) - Batch 3
Already on the secondary market for well over AU$600 in the UK, this will go fast.
Last year's release was summed up by Head Whisky Creator Dr. Bill Lumsden as "The epitome of Ardbeg". Batch 3 continues that theme, with a lengthy maturation in a combination of American oak and oloroso sherry casks. Bottled in much smaller quantities than the rest of the core range, Batch 3 is also the first in the series to be signed by new Distillery Manager, Colin Gordon since Mickey Head's recent retirement, and the first release in Ardbeg's history to be bottled "in a lockdown", as noted on the front label.
Traigh Bhan is now firmly in collector-land. Consequently, few tasting notes are available (with the exception of Angus from whiskyfun.com who confirms a high standard has been maintained. See below). If you're looking to add to your collection or just want to find out what well-aged Ardbeg tastes like, don't hesitate on this offer. For those new to the label, the name is a reference to the local Traigh Bhan beach on Islay, which is known as the 'Singing Sands'. Each batch is intended to be slightly different from the last due to minor changes in cask selection. Lumsden comments, "The main difference with Batch 3 is that it has been imbued with an altogether more fragrant, spicy character." Expect zesty lime and walnuts alongside bolder flavours of cayenne pepper and aniseed. 46.2% Alc./Vol. Non chill-filtered.
Other reviews... The latest batch I believe. Is it just me, or are these batch numbers are longer than Bill Lumsden's joke book? Colour: pale gold. Nose: a highly aromatic and scented type of peat smoke that feels quite wispy, soft and permeating with impressions of sandalwood, furniture polish and crushed sea shells. Also things like smoked tea, menthol tobacco, myrtle and heather beer. Even though I suppose this is early 2000s Glenmorangie produced batches now, it feels more reminiscent of the 1990s Allied style. Which is quite reassuring in many ways. Mouth: pepper, smoked olive oil, very tarry, a lot of hessian, smoked cereals and some struck flints and other rather punchy mineral touches. In time it evolves these big camphor aspects but also quite a lot of dried herbs, aniseed, dried lime peel and hardwood resins. Finish: medium and with this warming peppery and peaty side (which seems to be an increasing hallmark of these modern Ardbeg), leather, pine cones, wood smoke and a little more aniseed. Comments: excellent whisky, no doubt about it. But perhaps the 8 was a tad more impressive simply by virtue of its youthful zest. Anyway, we're splitting hairs - this is lovely. 90 points - whiskyfun.com
Notes from Ardbeg.... Nose: In this whisky, faint waves of scented woodsmoke mingle with sea spray and pine resin. Wisps of aniseed toffee and sweet lilies follow on the breeze while fresh citrus zest laps over notes of cayenne pepper. With a splash of water, waxy notes and charcoal flow into droplets of classic Sherry and linseed oil. Palate: A rush of rich, sappy textures is followed moments later by classic sweet smokiness. Tarry rope and treacle toffee plunge the palate into a second wave of soot and aniseed twists. Smoke bobs on the horizon, while smoked brown sugar, walnuts and spices gently dissolve away. Finish: A long, unhurried finish carries bitter almonds and clove in its wake, before slowly drifting away.