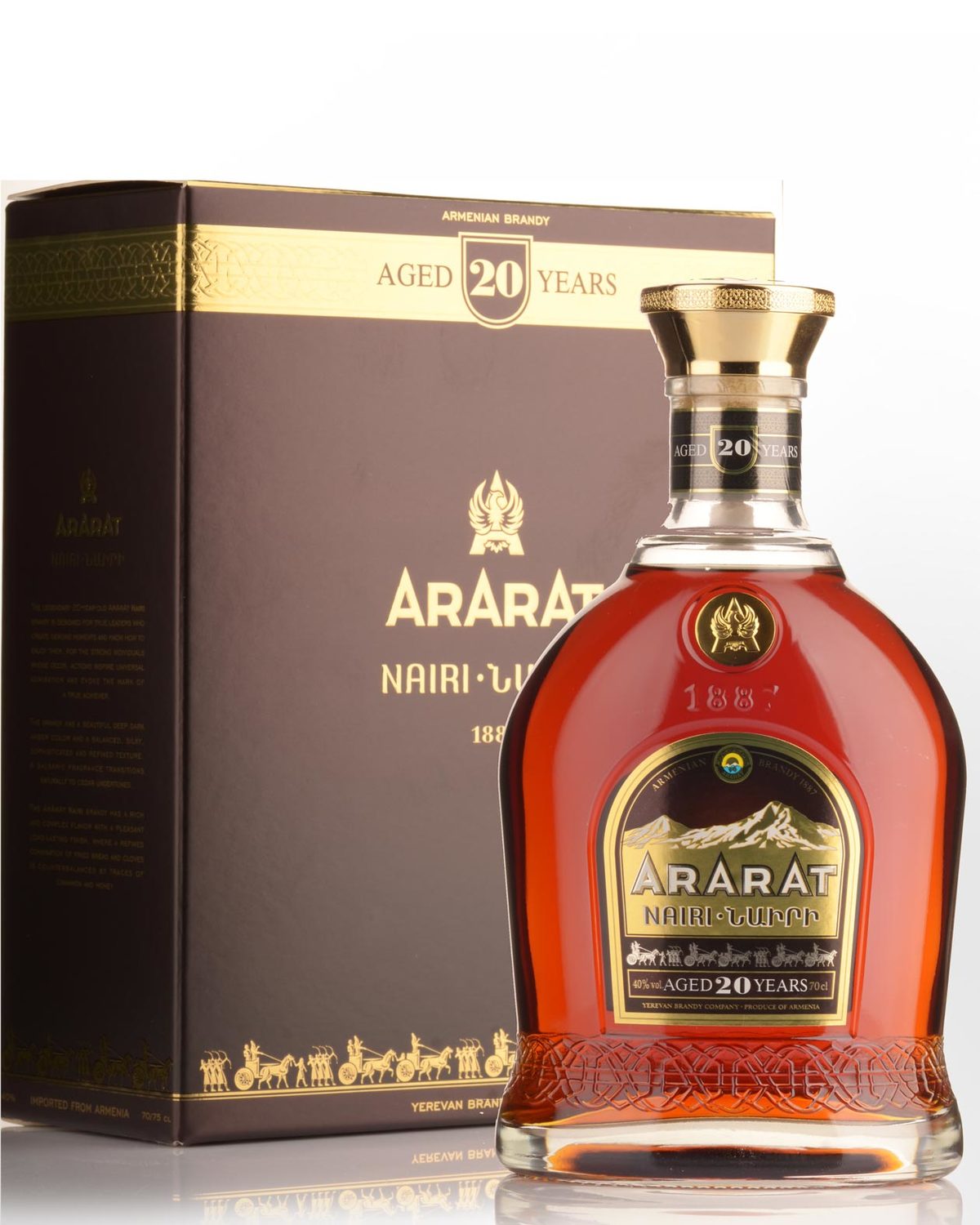 Ararat Nairi 20 Year Old Brandy (700ml)
ARMENIA
At the Yalta conference at the end of the Second World War, Winston Churchill was so impressed with an Armenian brandy given to him by Stalin, that he asked for 400 bottles of it to be sent to him each year. Churchill was not the only one to enthuse about this jewel of the Caucasus. Agatha Christie and Frank Sinatra were also fans. It impressed the French so much during a blind tasting, they bestowed it with the Gran-prix award at the International Exhibition in Paris in 1900, and even permitted the company to call the product "Cognac" instead of brandy - a designation that's otherwise jealously guarded. The accolade was all the more significant when one considers that Brandy production in Armenia covers a fraction of Cognac's history.
It began in 1887, when the Yerevan Brandy Company (YBC) was founded by a merchant, Nerses Tairyan, with the help of his cousin Vasily Tayrov. They began distilling using classical French equipment at a winery they'd founded earlier inside the former fortress of Yerevan. In 1899, a Russian company, "N.L. Shustov and Sons", a well-known vodka and liqueur producer purchased YBC.Their brandy soon became the preferred beverage at the Russian Imperial Court. Since then, just like the legendary Mount Ararat, the local specialty has become a symbol of national pride. Indeed, in a country with few natural resources and less than three million people with a per capita incomes around $600 a year, any success seems magnified. After the Soviet system was established in Armenia, the YBC was nationalised and entered a new stage of development. Production expanded considerably. More recently, in 1999, the company became a part of the French drinks conglomerate, Pernod Ricard. It was a move that wasn't at first welcomed by the locals, but when they realised Pernod were in for the long haul, attitudes soon became more accepting. Foreign investment has been scarce in the country. Pernod Ricard's rare success has been cause to celebrate. Armenian brandy remains a product made from Armenian varietals following a regulated production method. Only local grape varieties are used based on the unique microclimate of the Ararat Valley. These include special endemic varietals that are no longer planted outside of Armenia (survivors of the phylloxera epidemics). In all, there are about 13 such varieties, with the main ones being Voskehat, Garan Dmak and Kangun. Once harvested, the grapes are loaded in special horizontal screw presses where berries are pressed in a very gentle way to avoid causing damage to seeds. Different varieties do not get mixed. Double steam distillation preserves the flavour and aroma of the grapes, while the ageing of the brandies is done exclusively in oak barrels. In 2002 the factory rebuilt its own cooperage. The local Armenian oak species which is used has a rather tight grain and is virtually devoid of pores. The trees are at least 70 years old when they're harvested, and only the middle part of the tree is used. The oak imparts its natural flavours and aromas of dried fruits, spices, vanilla and chocolate. Filtered spring water from the Katnakhpiur source is used during blending. Just prior to bottling the brandy is chilled and then filtered twice. YBC possesses approximately 90% of the total reserve of genuine brandy in Armenia. Several YBC brands are inaccessible to the retail network and can only be obtained at factory's shop: "Erebuni" - 25 years, "Kilikia" - 30 years, "Sparapet" - 40 years and "Noah's Ark" - 70 years of ageing in wooden casks.
We're pleased to announce the arrival of these world class brandies into Australia.
The 20 Year Old is labelled after the legendary Nairi people who inhabited the Kingdom of Urartu that stretched along the shores of Lake Van. The "Country of Rivers", a rival of the Assyrian Empire, consisted of 23 affluent regions. One of the most powerful ones was the "Land of Nairi", the forerunner of today's Armenia, renowned for its impregnable capital Tushpa. To ensure adequate supplies of fresh water the city had a 70-kilometer long canal, which allowed it to withstand many long sieges.
Tasting note:
Copper colour with pale gold hue. The nose is quite elegant and at first reminiscent of a good Cognac, yielding aromas of dried fruits, spice and vanillan oak. Very warming palate entry, with a full, ripe body. Gently prickling spirit, with spicy plum pudding / raisin flavours, taking an unexpected turn from the nose. Excellent balance. Persistent aftertaste of dried fruits and vanilla oak. This could easily be mistaken for XO Australian brandy. Different, certainly, but a spirit that would make for an exotic alternative to XO Cognac.
41.5% Alc./Vol.
Other reviews...
Deep amber copper color. Elegant, well integrated aromas of wood spice, butter roasted nuts, and dried autumn and berry fruits follow through on a supple, slightly tannic entry to a dry-yet-fruity medium body with pencil shavings, almond butter, and pepper notes. Finishes with a lingering dry, lingering mineral, cedar, and spice fade. Great use of oak with a pure, resonant and fruity brandy core that is reminiscent of fine Spanish brandy.
International Review of Spirits Award: Gold Medal
90 points (Exceptional)
- www.tastings.com