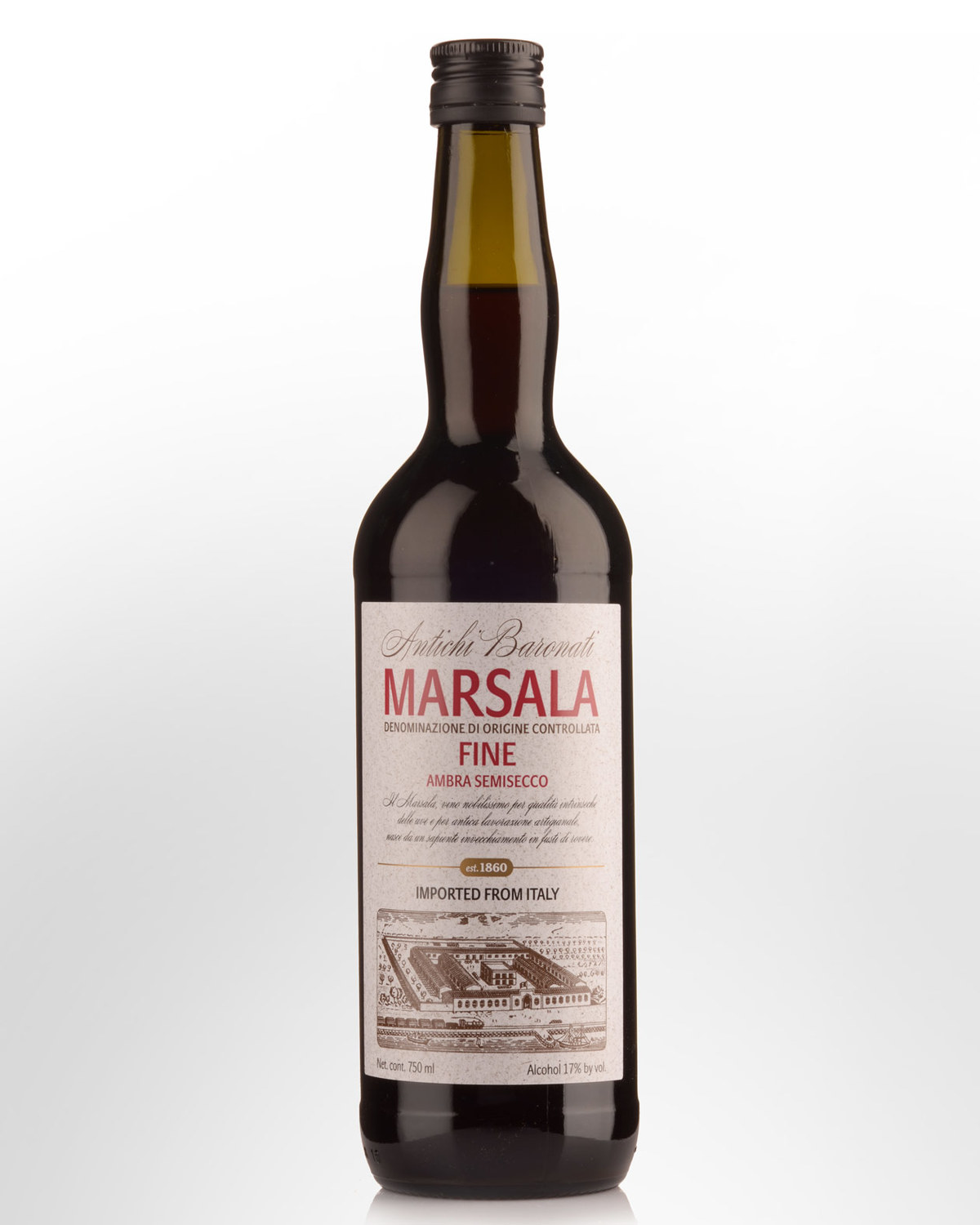 Antichi Baronati Fine Ambra Semisecco Marsala (750ml)
Produced by one of the oldest wineries in Sicily, Antichi Baronati brings the oldest traditions to today's kitchens and wine glasses. Winemaker, Gaspare La Vela-Fabrizio Vella employs Grillo, Insolia and Catarratto grapes grown on clayey soils. The Semisecco bottling is considered a perfect 'cooking' Marsala, offering strong characteristics of vanilla and toasted almond. It also makes an excellent dessert wine with dried fruits, almond and pear pastries and ice cream. No tasting notes available. 17% Alc./Vol.
More about Marsala... Marsala is Italy's most famous version of fortified wine, hailing from Italy's sunny southern region of Sicily and the ancient coastal city of Marsala. Like its other fortified cousins - Port, Sherry and Madeira, Marsala is a higher alcohol fortified wine (usually around 17- 20%) that is available in both sweet and dry versions.
The three levels of sweetness are secco (with a maximum 40 grams of residual sugar per litre), semisecco' (41-100 g/L) and sweet (over 100 g/L). The color and ageing classifications for this Marsala are as follows: Ambra has an amber color where the coloring comes from the mosto cotto sweetener added to the wine. Fine has minimal ageing, typically less than a year.
Marsala wine is frequently used in cooking. A typical Marsala sauce, for example, involves reducing the wine almost to a syrup with onions or shallots, then adding mushrooms and herbs. One of the most popular Marsala recipes is chicken marsala, in which flour-coated pounded chicken breast halves are braised in a mixture of Marsala, butter, olive oil, mushrooms, and spices. Marsala is also used in some risotto recipes, and is used to produce rich Italian desserts such as zabaglione, tiramisu and shortcake.