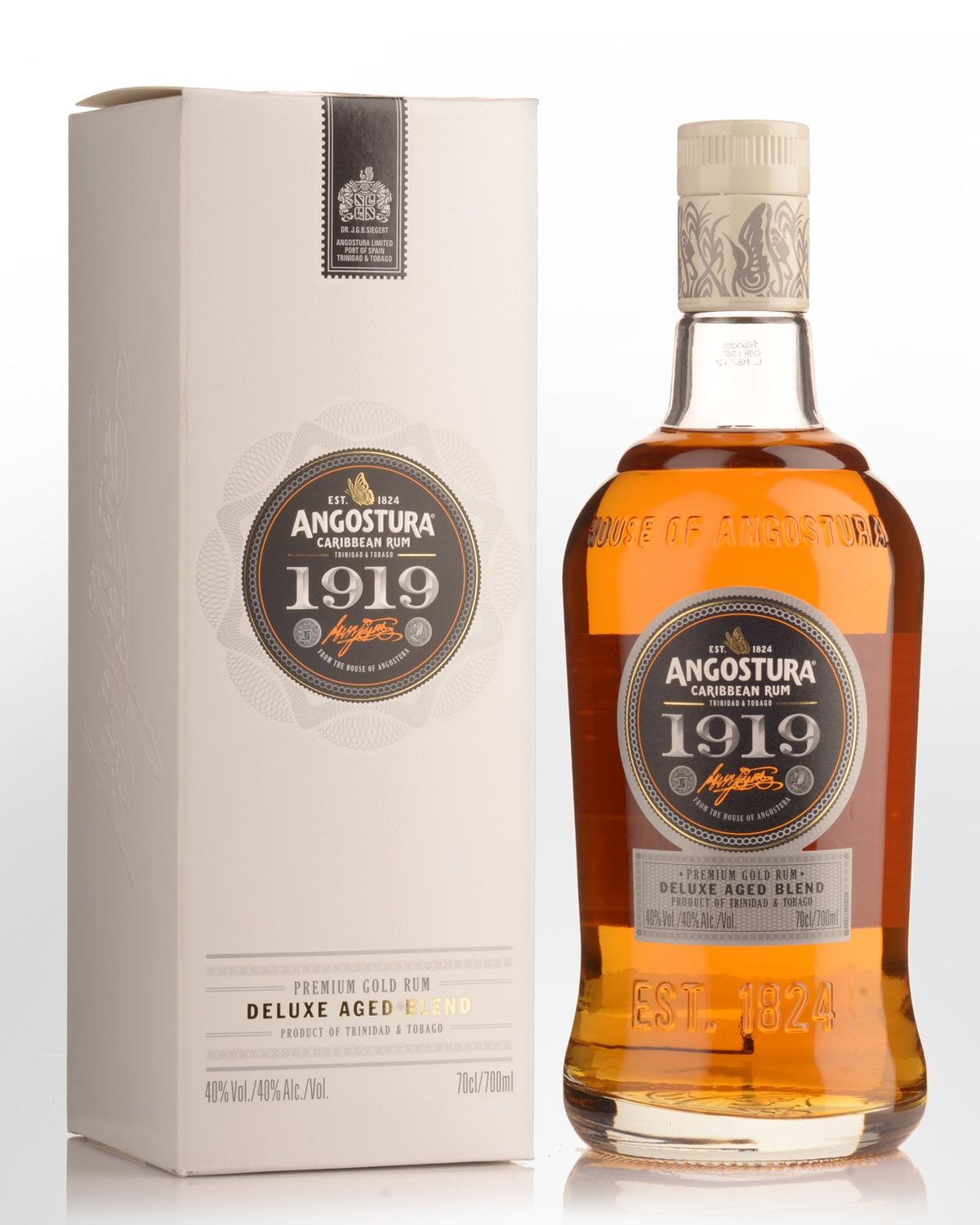 Angostura 1919 Deluxe Aged Blend Premium Gold Rum (700ml)
TRINIDAD AND TOBAGO
By the turn of the century Angostura had ventured into the rum market, at first just in bottling bulk rum from other distillers. After years of intensive research into fermentation and distillation processes, the Company installed a state-of-the-art distillery in 1945 heralding its entry into the production of rum on a major scale. By the end of 1960, the Company had extended distribution of its products to over 140 countries across the world, becoming well known internationally for its high quality rums in addition to the now world famous Angostura aromatic bitters. This is a marvelous anejo (aged) rum made from a blend of light and heavy molasses-based rums aged in charred American oak bourbon barrels. Angostura 1919 rum possesses a rich, golden-amber hue with excellent clarity. The rum exudes a complex bouquet brimming over with aromas of cocoa, molasses, caramel and vanilla. It is remarkably soft and well rounded as the rum glides over the plate without a hint of harshness or biting edge. Within moments it opens up, revealing a generous and long-lasting array of toasty flavours.

Tasting note: Pale gold with pale straw hue. The moderately aromatic nose delivers a complex sniff with very ripe banana, brown sugar and honeycomb first evident followed by some heavier undertones of molasses, dark chocolate and liquorice strap. Luxurious palate entry kicks off a silky, off dry flavour wave of spice, boiled lollies, honeycomb and toasty oak. Superb balance. Long, subtle aftertaste of vanilla bean, dates and mocha.
Other reviews... Rich old gold color. Sweet caramel, vanilla, coconut cream pie and mild phenolic aromas. A soft round entry leads to an off-dry medium-bodied palate with caramel, dark roasted nuts, peppery spice, and smoky flavors. Finishes with a long, sweet , toffee, nut, and brown spice fade with a deft touch of smoky woodiness. A smooth, elegant, lightly-styled sipping rum. 40% Alc./Vol.
International Review of Spirits Award: Gold Medal
RATED: 91 points (Exceptional) - www.tastings.com

Click here to learn more about Rum.