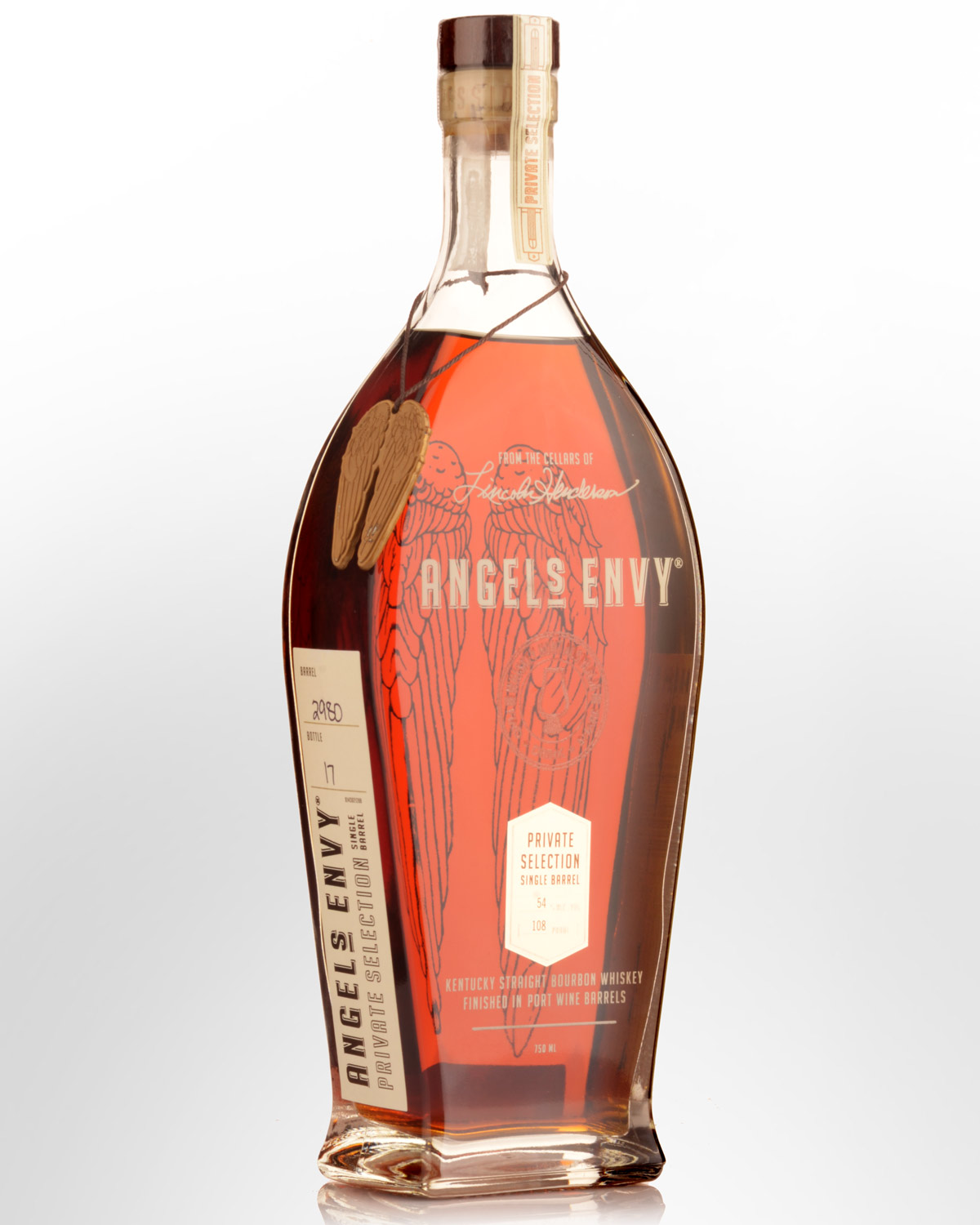 Angel's Envy Private Selection Single Barrel 2980 Kentucky Straight Bourbon Whiskey (750ml)
This is the first ever Angel's Envy Private Select for Australia, bought about by a collaboration between the Bourbon Brothers and The Prime Barrel. According to the importers, Barrel #2980 stood out for several reasons: "First, its incredible nose - it just blew other samples we tasted away right from the get-go. Second, the very bold flavour. Even though this is a manageable 108 Proof (by single barrel standards), it does drink a lot bolder than that." Like the regular Angel's Envy release, it comes finished in port wine barrels. We received a 50ml sample. Initially reticent, the ten minute plus nose requires wading though plenty of pepper, oak and shellac before releasing finer notes, including cinnamon, brown sugar, vanilla bean as well as hints of orange zest and liquorice. One of the most full bodied, masculine Australian barrel picks to date, 18% rye adds discreet freshness, but overall the profile leans towards an oily, corn-heavy Bourbon, packed with wood spices. It's also slightly off-key, with moments of (almost) overbearing bittersweet oak, punctuated by tingling pepper heat. High cocoa chocolate and underlying vanillas add a pleasing richness which lingers through the aftertaste, but it may not be enough to satisfy those whose preference is for sweeter contemporary styles. Regardless, this is a fascinating Bourbon that grows on you. The demand for patience to fully experience its slow unfolding is part of the appeal. Nicknamed "Cupid's Share", ninety bottles are available for Australia only. Distilled from a mash bill of 72% corn, 18% rye and 10% malted barley. 54% Alc./Vol. Collectable.
Notes from the importer... Nose: Superb and complex. Port influence is very much there, and you also get distinct notes of maraschino cherries, raisinets, caramelized banana, marzipan. If you are a Starbucks drinker, you'll get notes of their banana nut bread. Palate: Spice bomb! You'll get allspice, dry orange peel/zest, white pepper, cocoa bibbs, and even bold espresso flavor. Finish: Medium to long. That spice stays with you for a minute.