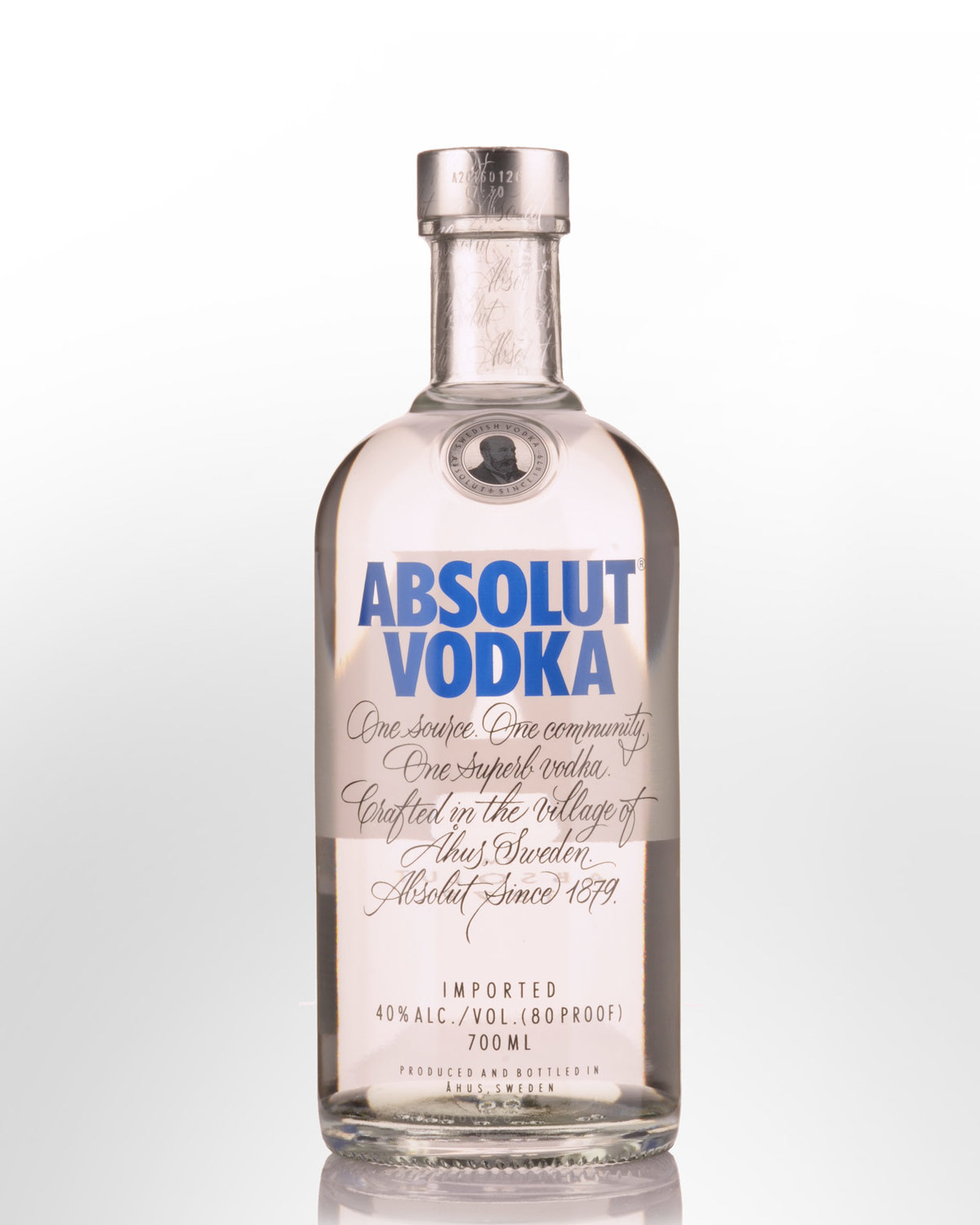 Absolut Vodka (700ml)
Everybody knows that the Russian and Polish national spirit, made from rye malt and often potato starch, is vodka. However, one of the most popular premium vodkas on todays market actually comes from Sweden, first appearing in 1979. Distilled from grain grown in the fields of Southern Sweden, Absolut was conceived as a pure product with its own peculiar Swedish identity. The distinctive bottle design was inspired by an antique medicine bottle, while the minimalist logo and absolutely clear glass emphasise the simplicity and purity of the product. The brands advertising has become as iconic as Coca-Cola's. Fourty percent of imported vodka bought by Americans is Absolut of some variety. Still, the recent explosion of premium vodkas has resulted in something of a fragmented market and weakened Absolut's stranglehold. The conclusion most seem to be drawing is that Absolut is fine for mixing, but if you're drinking shots, there are many other superior choices.
To produce Absolut, an alcoholic base is made from locally grown grain, then continuously distilled to produce a high strength spirit. The spirit is then filtered and finally diluted with pure water to 40% alcohol before bottling.
Tasting note: 'Very neutral on the nose with just a touch of cereal aroma and a hint of alcohol. Very good mouth feel, dryish in style but with some very light hints of caramelization. Just touches of needle from the alcohol. Sweetish but rather short on the finish. I maintain that this makes one of the finest vodka tonics in the world, perhaps because the mouth feel of the vodka lends a bit more weight to the mixture that other, lighter vodkas. Alternatively, put it in the freezer to drink ice-chilled when it becomes thick in texture, smooth, and very dry. 40% alc./vol.' - Desmond Begg, The Vodka Companion.
Other reviews… Aroma is vaguely grainy, fresh and pleasing in the initial sniffs; further aeration brings out a mildly oily scent. Palate entry is simple, fundamentally sound and intensely dry and grainy; by midpalate, a shy, kernel-like, bittersweet taste enters the picture, then fades quickly. Ends meek and ethereal.
Rating: 80-84 - tasting note sourced from www.wineenthusiast.com
Classic Cocktail: The Bloody Mary

This is one of the few cocktails traditionally served in the morning, along with the Screwdriver. The name Bloody Mary is used to refer to the blood-like colour of the cocktail, but may have also been derived from "Bloody" Mary Tudor, Queen of England. The order of preparation can be crucial, and many bartenders guard secret recipes for the drink.
Fernand Petiot claims to have created the Bloody Mary as we know it today and describes in The New Yorker, 18 July 1964, the manner in which he made it: "George Jessel said he created it", says Fernand, "but it was really nothing but vodka and tomato juice when I took it over. I cover the bottom of the shaker with four large dashes of salt, two dashes of black pepper, two dashes of cayenne pepper, and a layer of Worcestershire sauce; I then add a dash of lemon juice and some cracked ice, put in two ounces of vodka and two ounces of thick tomato juice, shake, strain, and pour. We serve a hundred to a hundred and fifty Bloody Marys a day here in the King Cole Room and in the other restaurants and the banquet rooms."
Absolut Vodka have launched a flavoured vodka, "Absolut Peppar", which works well as a base for this drink.
60ml Vodka
a few dashes of worcestershire sauce
a few dashes of tabasco (to taste)
salt
lemon
tomato juice

Method:
Stir or shake the vodka with the sauces and the spices. Fill up with tomato juice in a highball glass with ice. Garnish with a celery stick, if you like it and want to add some vitamins. If you don't have any fresh celery at home add celery salt.
- notes partially sourced from www.drinkboy.com
 Click here to learn more about Vodka.