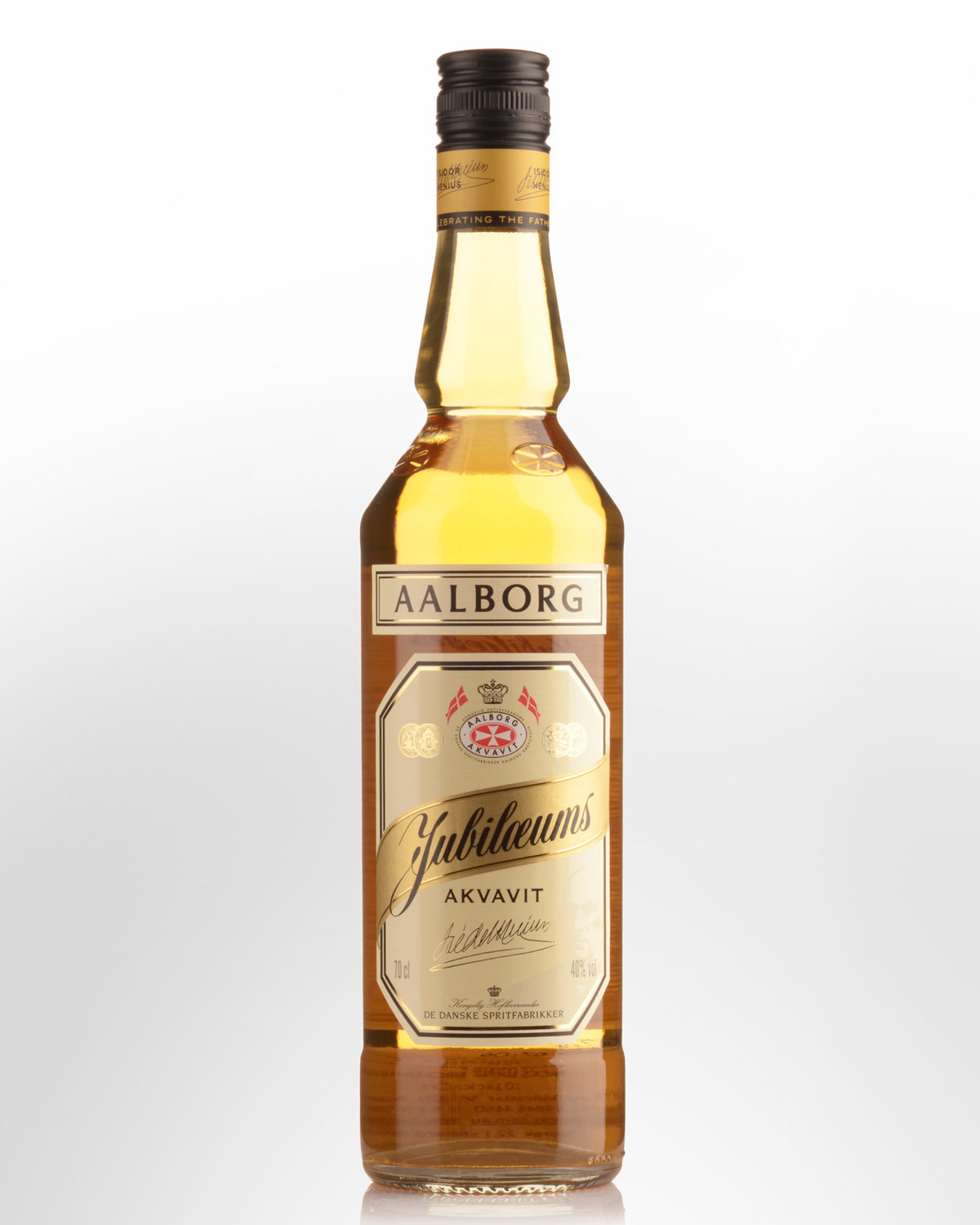 Aalborg Jubilaeums Aquavit (700ml)
Aquavit(or Akvavit), literally translated as "water of life", is a traditional pale grape or grain spirit first distilled centuries ago in the pastoral regions of Northern Italy, France, Sweden, Iceland and Denmark. The best known brands are the Swedish O.P. Anderson , the Norweigian Gambol of Linie and the Danish Aarlborg. The drink, traditionally made with carraway and an arak spirit base was supposedly discovered by alchemists searching for the secret of eternal youth and beauty. The akvavit produced for the first two hundred years or so was not particularly attractive however - in fact, it was actually a bit cloudy and coarse. But ever since Aalborg began production in 1840, the golden, crystal-clear drops of this particular beverage have been a pleasure both to look at and to taste. To be at its best, Aquavit should be served in small aquavit glasses and chilled. We discovered this enthusiastic description of how Aquavit should be imbibed in an old Norweigan cook book:
"There is solemnity in the ceremony of drinking aquavit. One lifts one's glass and holds it with loving patience, while joining with the others in a bacchanal hymn, ending on as high a note as one's voice will reach.Then one makes an all-inclusive sweep with eye and glass, drinks the aquavit in one gulp, finishes the song on an even higher "tra-la-la," and then bites into the herring previously placed on a piece of bread. The second glass is usually served only half filled but is drunk with the same profound ceremony and there is a promise in the song of a third glass."
Aalborg Jubilæums Akvavit is a fine example of the spirit. It was created in 1946 to celebrate the centenary of AALBORG TAFFEL Akvavit. Golden in colour Aalborg Jubilæums Akvavit posesses simple, elegant aromas. The characteristic flavour of this clean and fruity akvavit is dill in combination with coriander with a trace of star aniseed and citrus. Like most Aquavit, it is perfect for fish - preferably oily fish fried in the pan. Duck and chicken with a light gravy also make a perfect match. Best served chilled. 40% Alc./Vol - Notes partly sourced from www.northerner.com