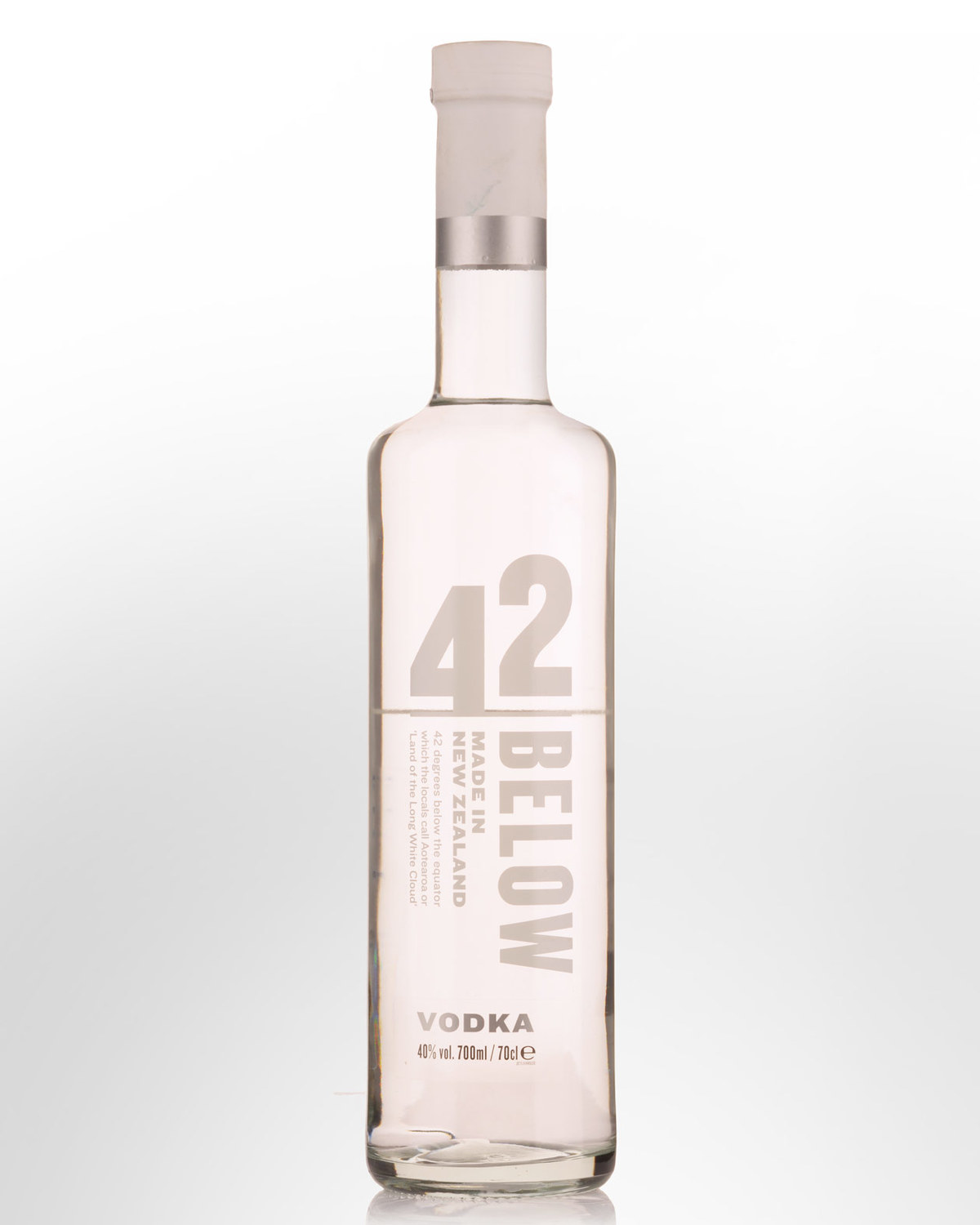 42 Below Vodka (700ml)
A New Zealand spirit which began as a hobby conceived in a garage on a few misspent weekends, 42 BELOW was the brainchild of an ex-advertising man who sought to harness New Zealand's global reputation for cleanliness and freshness, and encapsulate this in a vodka with the same qualities.
Made in the Scandinavian style, 42 Below is distilled for purity rather than over powering flavour. However, there is still the weight associated with Slavic spirits, but without the polarising heat. The raw material is wheat from the Canterbury Plains, which is then distilled twice, before being 'washed' with spring water, achieving a saturation level that brings a level of purity and freshness to the spirit. 42 BELOW is then distilled a third time, before being charged with charcoal to remove any last impurities and filtered ready for dilution with spring water. All vodkas, regardless of the quality attained in the distillation, will stand and fall on the water source, which contributes so much to the finished product. In this sense, 42 BELOW, like Grey Goose, is distinguished by a water source of astonishing quality. The vodka is diluted with water which springs from deep beneath the volcanic plateau in the centre of New Zealand's North Island. This spring has been graded 'Aa' by W.H.O., the global body responsible for measuring water quality across the planet, signifying water of unparalleled cleanliness and purity.
Tasting note: Smells of wet cement or damp stones in the initial minutes before the aromas shift gears, offering toasty, ash-like, smoky scents of tobacco leaf, roasted cereals, pencil eraser and vegetable oil. Palate entry shows an oily texture and tastes of charcoal and mildly sweet grain; midpalate displays well-structured flavors of lead pencil, off-dry grain and licorice. Finishes full in the mouth, acceptably fiery and off-dry. Rating: 90-95 points. 42%Alc./Vol. - www.wineenthusiast.com
Other reviews... Clear. warm creme anglaise and anise cookie aromas and peppercorn aromas. A round entry leads to a creamy, sweetish medium-bodied palate with sweet creamy vanilla, dried orchard fruit, and mild spice flavors. Finishes with a fruity, pink peppercorn fade. A fruity, creamy vodka for tropical cocktails. 42% Alc./Vol.  International Review of Spirits Award: Silver Medal
RATED: 87 points (Highly Recommended)- tasting note sourced from www.tastings.com
 Click here to learn more about Vodka.