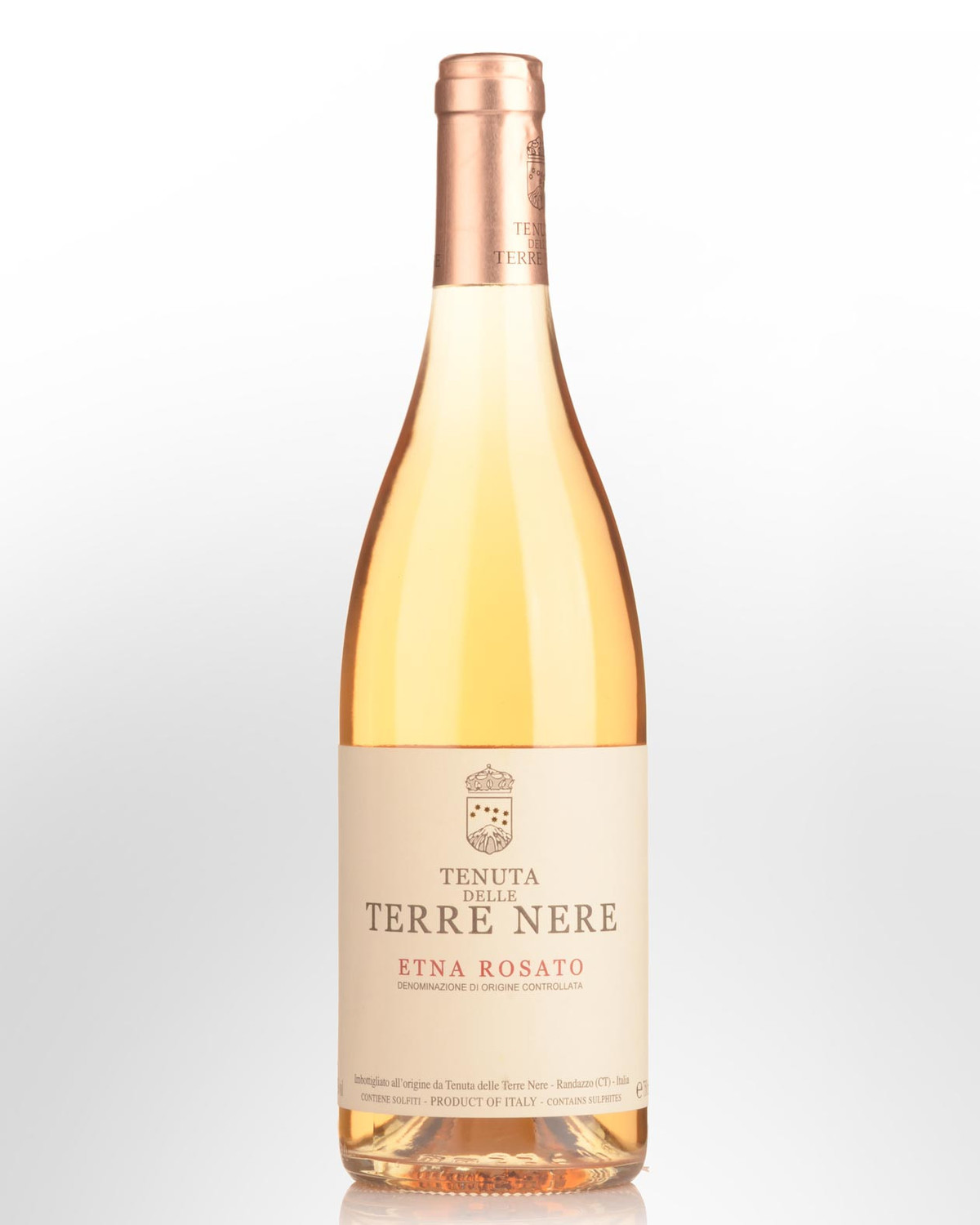 2020 Tenuta Delle Terre Nere Etna Rosato
It's hard to underestimate the impact the wines of Mount Etna have had over the last 10 years. From near obscurity, to now being some of the most highly sought after wines of Italy, led in part from producers such as Tenuta delle Terre Nere. The winery is owned by the widely acclaimed Marco De Grazia who is one of the winemakers responsible for bringing the wines of Etna to prominence on the world stage.
The red wines of Etna, produced from predominantly Nerello Mascalese, are often compared to a variety marrying the traits of Nebbiolo and Pinot Noir. Terre Nere take their wines a step further than most, and highlight the cru vineyards of the region with wines made at varying altitudes, along with vines planted on the pure Ellittico lava flow terroir. These delicate, perfumed, and intense wines translate the soil and season like few other wines in the world, and with demand far outweighing supply they are now increasingly hard to secure.
Made primarily with Nerello Mascalese and a tiny percentage of Nerello Mantellato, when enjoyed as young wines these premium Sicilian Roses are wonderfully fresh styles. Expect light red berry aromas and flavours along with hints of dried herbs.
Other Reviews....
The 2020 Etna Rosato lifts up wonderfully fresh and perfumed, offering notes of sweet peach and white smoke backed by honeyed florals and wedges of candied lime. It's silky-smooth and round yet spry, washing nuances of ripe pear and nectarine across a core of saturating saline-minerality. There's simply so much going on here for a Rosato as the 2020 punches well above its class, finishing incredibly long yet juicy, and fizzling out to hints of sour citrus and cheek-puckering green apple. Drink 2021 - 2022.
91 points
Eric Guido - Vinous
A delicate and refreshing wine for a Mediterranean rosé with plenty of nectarine character and subtle wild-herb notes. Beautiful balance on the medium-bodied palate, then a bone-dry finish with pronounced mineral freshness. From organically grown grapes. Drink now.
92 points
Stuart Pigott - JamesSuckling.com
Lightly hued, this refined, onion-colored rosato, made with organically grown Nerello Mascalese grapes, has delicate aromas suggesting Mediterranean scrub and wild berries. The dry, savory palate offers pomegranate, peach and citrus before a tangy mineral finish suggesting oyster shell.
92 points
Kerin O'Keefe - Wine Enthusiast