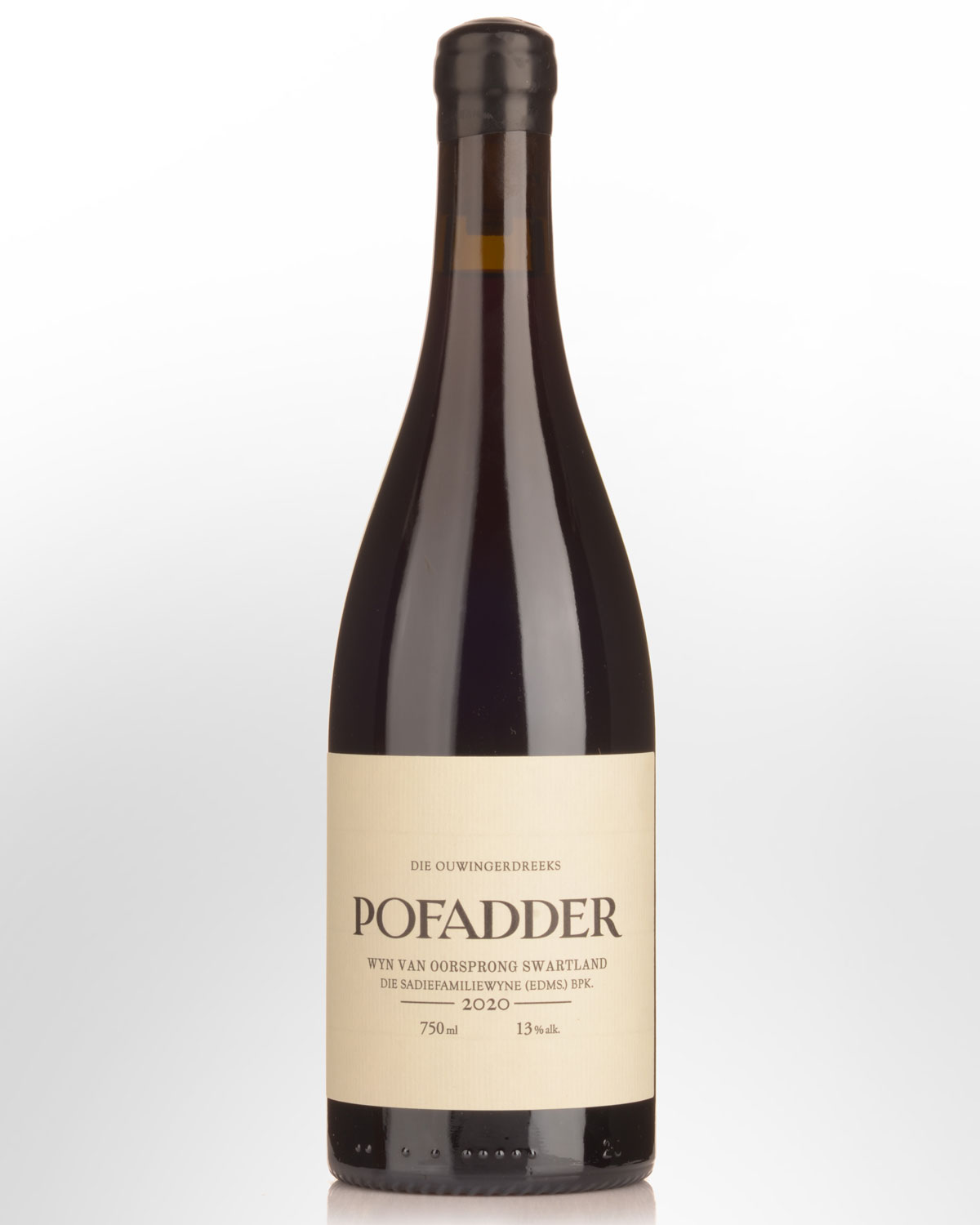 2020 Sadie Family Swartland Pofadder
The Sadie Family team work with roughly 30-hectares of vines, one-third of which are estate, with the other vines farmed entirely under their control. This is a considerable undertaking when you consider, at their furthest point, the vineyards lie some 250 miles apart and are spread across 53 separate parcels. Then consider that everything is dry grown and organically farmed and that each parcel, having different geologies, aspects and often grape varieties, will require different management. These vines lie mostly on the high altitude slopes of Swartland's Atlantic-influenced mountains, one hour north of Cape Town on the Western Cape.
In the 1920's Cinsault was the most planted black grape in South Africa. However, as one of the fickler varieties to work with, it suffered a fall from grace post WW2. It's only very recently that — with growers such as Eben Sadie and Chris Alheit leading the charge— the 'Pinot Noir of Swartland' has been reborn. The results are revelatory. This is a variety that is being planted more and more by some top growers in the south of France. Wines like this show you why.
Pofadder is a pure Cinsault, cropped from a parcel on the Kasteelberg Mountain (west of Malmesbury) planted in 1973. Here the soils are composed of slate and decomposed shale. Pofadder is Afrikaans for a puff adder—a type of snake that is known in these parts—and indeed, a puff adder claimed the life of a vineyard worker in the 1940s: hence the name.
Sadie is a champion for old vine Cinsault on the cape, but he concedes that this is the vineyard, and the wine, which needs the most care. Controlling yields, sorting bunches and berries and then protection from oxidation in the cellar are all vital. Eighty percent whole bunches were placed in an old wooden, open-top fermenter, with one or two gentle foot stomps each day to release enough juice to keep the fermentation ticking over. After a month on skins the grapes were then transferred to a tiny basket-press and pressed directly to an old wooden cask for aging. The resulting wine is a gloriously textured yet vibrant ode to both variety and region.
Other Reviews....
Beginning with a lighter and lifted nose, the 2020 Old Vine Series Pofadder offers Pinot Noire-like aromas with hints of potpourri and red spice before ripe, dusty cherry skin flows out of the glass with a kiss of green herbs. Medium-bodied, the palate delivers a just-ripe fruit quality with flavors of tart cherries and wild strawberries and fine mineral tension. The wine has a balanced structure yet concludes with a slightly tannic and drying finish. Give it one more year of bottle age, then drink through 2038. Drink 2023 - 2038.
92+ points
Anthony Mueller - Wine Advocate (Jun 2022)
Like Soldaat, Pofadder was fermented with fewer whole bunches in 2020, giving the wine more fruit purity and focus. Beautifully framed and complete, it's an old-vine Cinsault that combines focus with depth. Black cherry, raspberry and sweet spice notes play out across the palate with a lovely stony undertone.
96 points
Tim Atkin MW - South Africa Special Report 2021