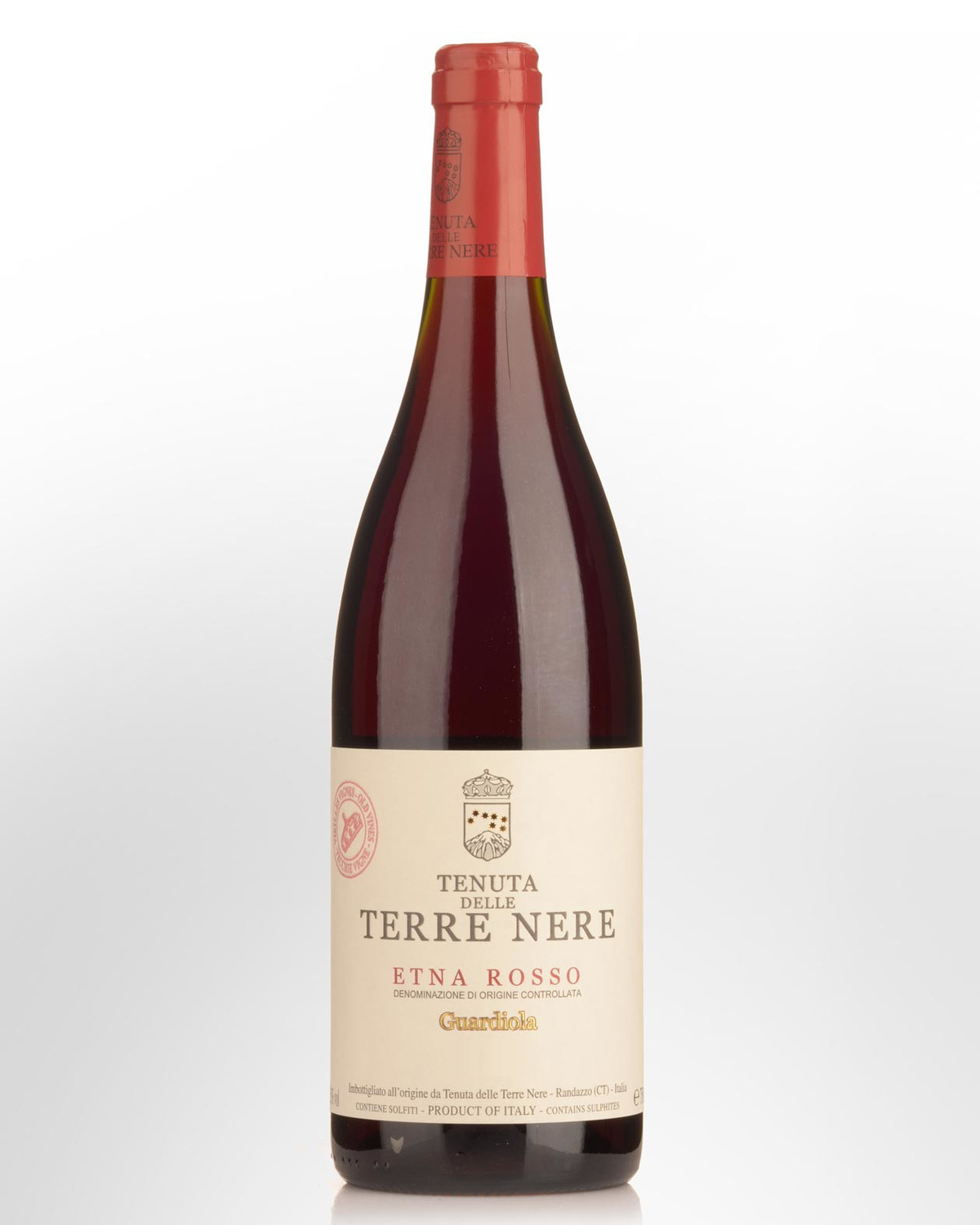 2019 Tenuta Delle Terre Nere Guardiola Etna Rosso
It's hard to underestimate the impact the wines of Mount Etna have had over the last 10 years. From near obscurity, to now being some of the most highly sought after wines of Italy, led in part from producers such as Tenuta delle Terre Nere. The winery is owned by the widely acclaimed Marco De Grazia who is one of the winemakers responsible for bringing the wines of Etna to prominence on the world stage.
The red wines of Etna, produced from predominantly Nerello Mascalese, are often compared to a variety marrying the traits of Nebbiolo and Pinot Noir. Terre Nere take their wines a step further than most, and highlight the cru vineyards of the region with wines made at varying altitudes, along with vines planted on the pure Ellittico lava flow terroir. These delicate, perfumed, and intense wines translate the soil and season like few other wines in the world, and with demand far outweighing supply they are now increasingly hard to secure.
Of all the vineyard crus that Tenuta Delle Terre Nere own, Guardiola is the highest in elevation ranging from 800 to almost 1,000 metres in altitude. The altitude drives the acidity in the wine, while the lean soil accentuates the tannins, and ripening is therefore of critical importance. Guardiola is uniquely high-toned, with almost stony aromatics, while the palate often shows an attractive purity and character. Of all crus it is the one requiring more time to release and relax.
Other Reviews....
The first impression on the nose is of a dead ringer for a top Gevrey-Chambertin, even one of the Grand-Cru communes! However, alongside the ripe red fruit and earthy character, there's a firm structure that combines warm and cool elements in the unique way that only Etna reds can achieve. Impressive depth and energy at the very finish. From organically grown grapes. Built for long aging. Drinkable now, but best from 2024.
95 points
Stuart Pigott - JamesSuckling.com