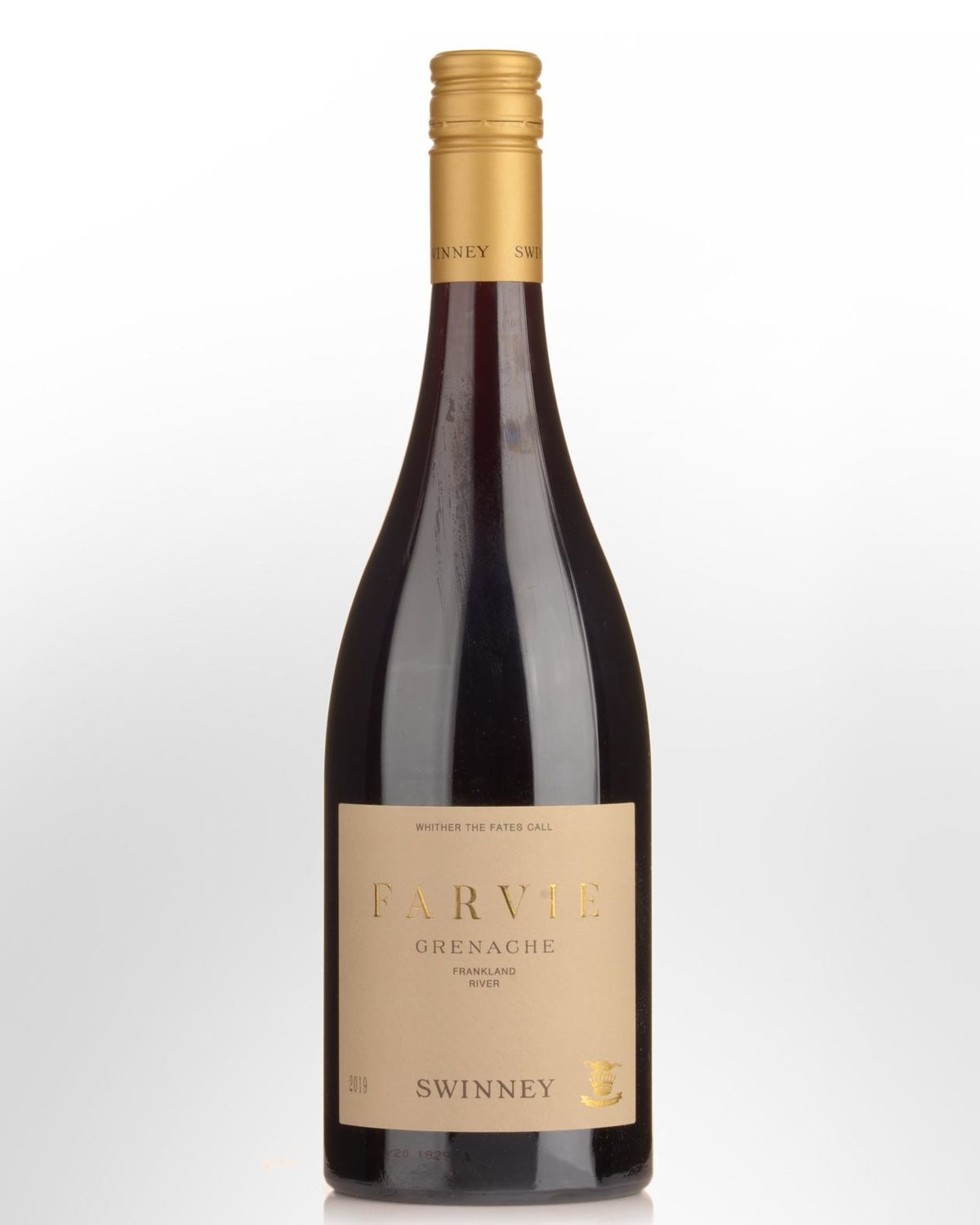 2019 Swinney Farvie Grenache
Frankland River, Western Australia,
AUSTRALIA
In the late 1990's Grenache was hardly known in Western Australia, let alone in Great Southern. But inspired by the great wines of France and Spain, and in the belief that Grenache could do well in a region already building a reputation for high quality Syrah, Matt Swinney ignored the experts (who said Grenache would never ripen in the cool climate of Frankland River) and planted the region's first bush vine Grenache vineyard. Today these vines produce two remarkable and completely original Grenache-based wines, with a quality that can be traced directly to the unique site and Swinney's farming philosophy. Indeed, Rob Mann, who has considerable history with the variety, has noted that he has never seen Grenache fruit like it.
The Farvie Grenache is cropped from vines planted in 2004, in deep gravelly ironstone over clay sub-soils on the Estate's upper northeast-facing hillside crest. Each of these vines is picked over multiple passes, with only the very best bunches from each vine—those that are perfectly ripe—set aside for Farvie.
The bunches for the 2019 were further sorted in the winery, then gravity-fed to a 1600-litre French oak vat and two upright demi-muids for natural fermentation, incorporating 20% whole bunches. 12% Mourvèdre was included in the ferment. The wine spent 10 days on skins prior to basket-pressing directly to fine-grained, large format, seasoned French oak for 11 months maturation on gross lees. The wine was made with minimum effective sulphites and bottled unfined.
Other Reviews....
88/12% grenache/mourvèdre. Hand-picked fruit from an established block of bush vines. 8% of grenache was whole bunches, the rest whole berries sorted and gravity-fed to a single large French oak vat (1600L). Wild ferment. 10 days on skins prior to basket pressing direct to seasoned French oak for 11 months. Harvested 8/4/2019, pH 3.55, TA 5.1, RS 0.3g/L, 176 cases produced. What sets hearts on fire the world over for Châteauneuf-du-Pape is the muscular, ferrous, salty raspberry humbug and minerally hutzpah. It sets the high-tide mark for grenache. We grenache drinkers yearn for it. And here it is. The strength of Frankland River is its ability to marry sweet (glossy) red fruit to savoury, gravelly earth. The 2018 was a staggering showpiece, this is more restrained, cooler and finer, yet equally long. Choose your weapon.
98 points
Erin Larkin - James Halliday's Wine Companion
What a follow-up to the remarkable 2018 debut. The high perfumed notes strike immediately and almost define what is to follow. It's a very pretty wine with more seductive perfumed notes than the 2018, most likely a result of the slightly cooler vintage. There is about 12 per cent Mourvèdre in the blend and all the fruit comes off the Swinney bush vines. Only large-format seasoned oak has been used. A striking wine of refinement and power that delivers with an effortless deft touch. This is a modern grenache with a distinctive Frankland stamp.
98 points
Ray Jordan - The West Australian
Tightly wound, seriously structured red. Tannins are, as Swinney vineyard seems to give us, exceptional, taut and long, providing strict boundaries and dragging the wine into the distance. The perfume is quiet, a mottled affair of wet logs, dark cherry, anise, mushroom, the by-word is savoury, but it's on mute. Generous flavours, again, cherry, mushroom, but more spicy, almost tactile spice, ferrous things too. The coda really is about those tannins. So superb. The wine is great though you could say a touch rigid right now.
93+ points
Mike Bennie - The Wine Front