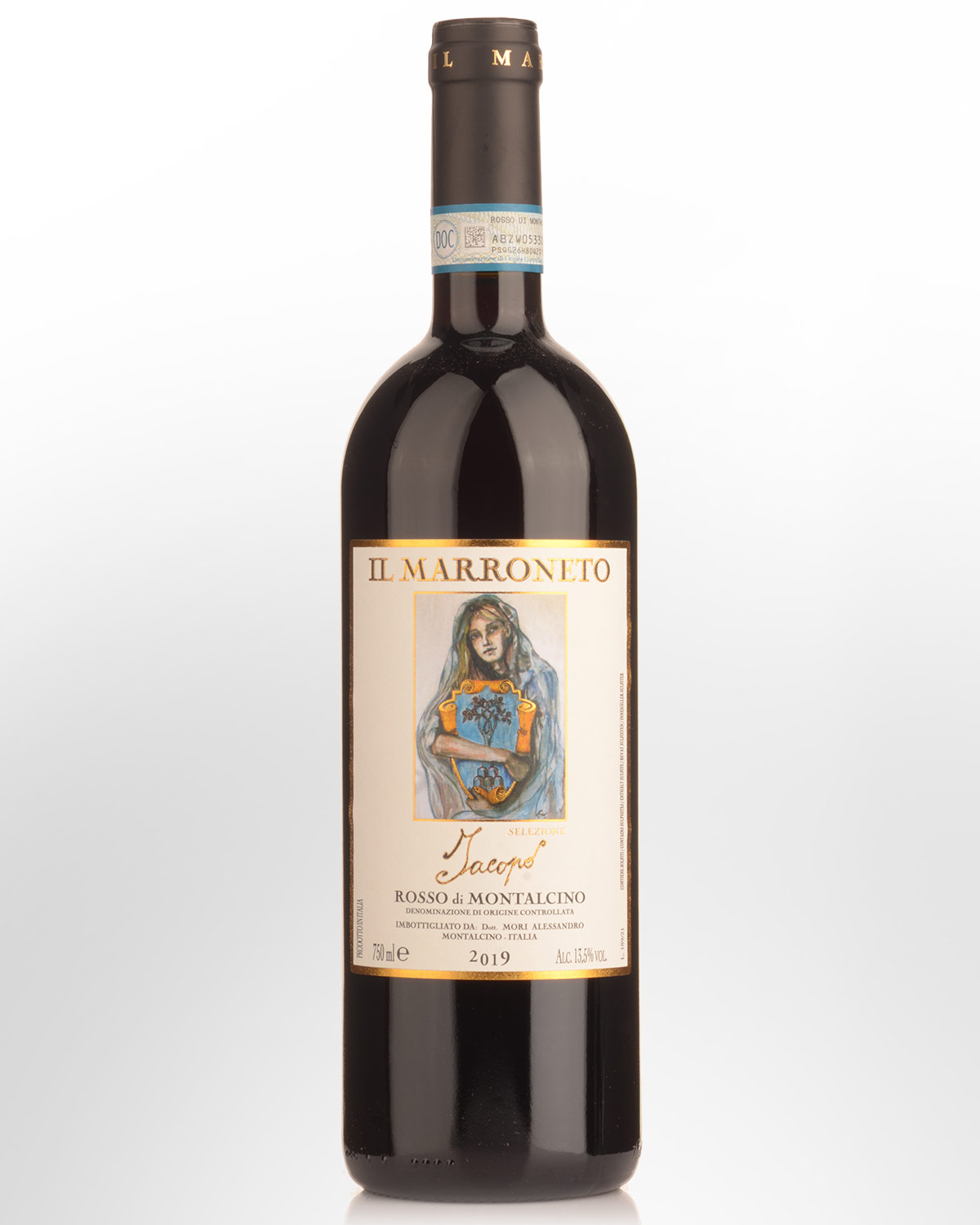 2019 Il Marroneto Selezione Iacopo Rosso di Montalcino
Il Marroneto produce some of the purest and most perfumed expressions of Sangiovese made anywhere. Part of the secret lies in their prime location within Brunello's traditional top class territory, situated at 450m above sea level with a cool northern exposure. Combined with the much lauded talents of gifted winemaker Alessandro Mori, and it's clear to see why Il Marroneto are so highly coveted by Brunello fans worldwide.
Alessandro Mori has always adopted a traditional approach, aiming for elegance and purity, without sacrificing depth or impact in his wines. Organic practices have been used in the vineyards since 1988, while natural fermentation occurs and there is neither fining nor filtration before bottling.
In 2019 Alessandro Mori produced a special version of his Rosso di Montalcino, dedicated to his son Iacopo who has worked closely in the cellar with his father for years. This 2019 vintage made Iacopo's addition to the team official and Alessandro wanted to commemorate this union in bottle and thus encouraged Iacopo to create his own wine with access to all the fruit parcels from the Madonna delle Grazie vineyard. Like the 'Ignaccio' Rosso di Montalcino, 'Iacopo' il Marroneto is a baby Brunello in that was grown with the intention of becoming so. A pure Sangiovese that was aged for a few months in large oak barrels, this wine is an exciting new project that cements and displays Iacopo's understanding of the vineyards.
Other Reviews....
A perfumed and dazzling display of rose buds and violets with wild strawberry, blueberry skins and nuances of white smoke defines the 2019 Rosso di Montalcino Selezione Iacopo. There's a pleasant inner sweetness that greets the senses, as elegant textures wash red and blue-toned berries across the palate under an air of purple-tinged florals. For all of its delicate beauty, this leaves a coating of primary fruits and lavender tones, as sweet tannins frame the expression throughout the long and lightly structured finale. The word "wow" does not do this justice, and there are depths yet unseen, that will only come forward over time. In celebration of Iacopo Mori officially joining his father at Il Marroneto, Alessandro Mori gave him full control over creating his own blend of the barrels of 2019 Brunello from the Madonna delle Grazie vineyard. In the end, he chose barrel number five as its base, with parts of 20 and 23. The wine spent 26-27 months refining in wood prior to bottling, and there will only be a little over 3,300 bottles to go around. In the end, no fan of Il Marroneto should turn down the chance to experience this absolutely stunning wine. Drink 2023 - 2030.
94 points
Eric Guido - Vinous
Classic Sangiovese aromas including wild berry, blue flower, truffle and leather are front and center on this vibrant, savory red. The youthful, elegant palate features juicy, ripe red cherry, strawberry compote and baking spice set against taut, refined tannins. A fantastic Rosso to enjoy now or hold for several years. Drink through 2029.
94 points
Kerin O'Keefe - Wine Enthusiast