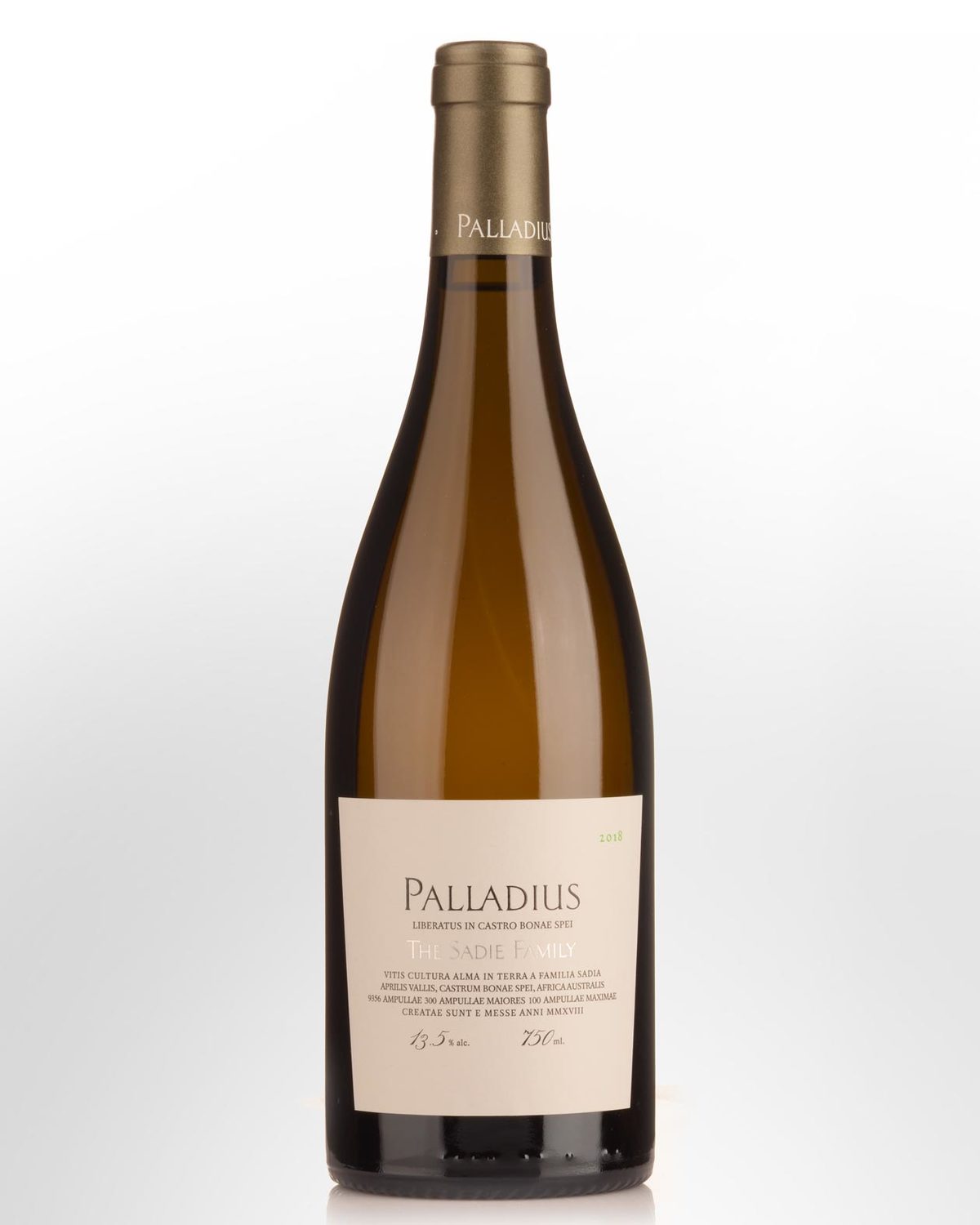 2018 Sadie Family Swartland Palladius
The Sadie Family team work with roughly 30-hectares of vines, one-third of which are estate, with the other vines farmed entirely under their control. This is a considerable undertaking when you consider, at their furthest point, the vineyards lie some 250 miles apart and are spread across 53 separate parcels. Then consider that everything is dry grown and organically farmed and that each parcel, having different geologies, aspects and often grape varieties, will require different management. These vines lie mostly on the high altitude slopes of Swartland's Atlantic-influenced mountains, one hour north of Cape Town on the Western Cape.
Sadie's signature white is a blend of all 11 of Swartland's official white varieties, with old, bush-vine Chenin Blanc playing the principal role. The idea is to produce a great white that represents the overall terroir of Swartland (as much as this is possible) and to use all the permitted varieties. As a result, this is harvested from 17 separate vineyard sites, with the full list of grapes taking in Grenache Blanc, Clairette Blanche, Viognier, Verdelho, Roussanne, Marsanne, Semillon Blanc, Palomino and Colombard, as well as the hyper-rare Semillon Gris (which plays a key role in Sadie's Kokerboom and 'T Voetpad old vine cuvées). Scattered thought the Swartland, most of the vineyards are rooted in decomposed Paardeberg granite (although four parcels lie on sandstone) and qualify for old vine status (35-plus years with the oldest vines planted in 1935). The younger fruit comes from Sadie's own plantings, although even here the yields max out at 22 hl/ha.
As for the winemaking, the fruit was sorted and pressed in a traditional basket, directly into clay amphoras and six concrete eggs. The wine finished fermenting in its own time (which can take up to 20 months) after which it went to large wooden foudre for maturation before being bottled unfined and unfiltered. Throughout the season, Sadie's major goal is to "try and get the maximum volume of compact fruit and texture together with the best potential volume of acidity and freshness." That's something he has unquestionably achieved here, with the breadth and texture setting Palladius apart from the from his old vine series whites. Unlike those wines, this relies less on the acidity, instead harnessing a deep phenolic freshness that structures the wine. Sadie continues, "Over the past five years Palladius has been the wine that gained most in quality and refinement and much of this has to do with the addition of more vineyards and the improvement of their viticulture."
Other Reviews....
The 2018 Palladius is pale gold in color with an impressive meniscus that clings to the glass. The nose is youthful with a significant underlying mineral essence beneath aromas of waxy citrus blossom, Meyer lemon pith, raw honeycomb, wax melon and yellow apple skin. Medium-bodied, the 13.5% alcohol wine is majestic on the palate, displaying a tightly wound mineral tension, a waxy and textural mouthfeel and a kiss of phenolic bitterness to make this absolutely food-friendly and age-worthy. The wine continues to unfold and evolve on the palate, offering complex terroir expressions. Concluding with a long, drawn-out and persistent finish, flavors of dusty citrus linger for more than a minute. There's no wonder why these wines are so highly allocated and sought after. I just had a daydream about how tertiary and nutty this bottle will be in 15 years. Simply stunning! Wow.
94 points
Anthony Mueller - Wine Advocate (Feb 2021)
The 2018 Palladius is a blend of 12 grape varieties, whole-cluster-pressed and matured in clay and concrete amphorae. Only Eben Sadie can take a gallimaufry of grape varieties and create a wine of this caliber. It has a clean, pure bouquet of wax resin, pine needles, greengage plum and light chamomile scents that gain intensity with aeration. The palate is bright and vivacious on the entry and displays a wonderful waxy texture; peach skin, hazelnut and saline notes appear toward the finish. It's all about the umami.
94 points
Neal Martin - Vinous
Space prevents me from listing all of them, but this remarkable Swartland white is made from 11 different varieties, including Chenin Blanc, Grenache Blanc, Verdelho, Palomino, Marsanne and Roussanne, spread across 17 different sites. Peach, pear and lime flavours are beautifully melded on this more-than-the-sum-of-its-parts white, with gentle oak spice and a thread of acidity that runs through the wine like a cool underground stream.
97 points
Tim Atkin MW - South Africa Special Report 2020