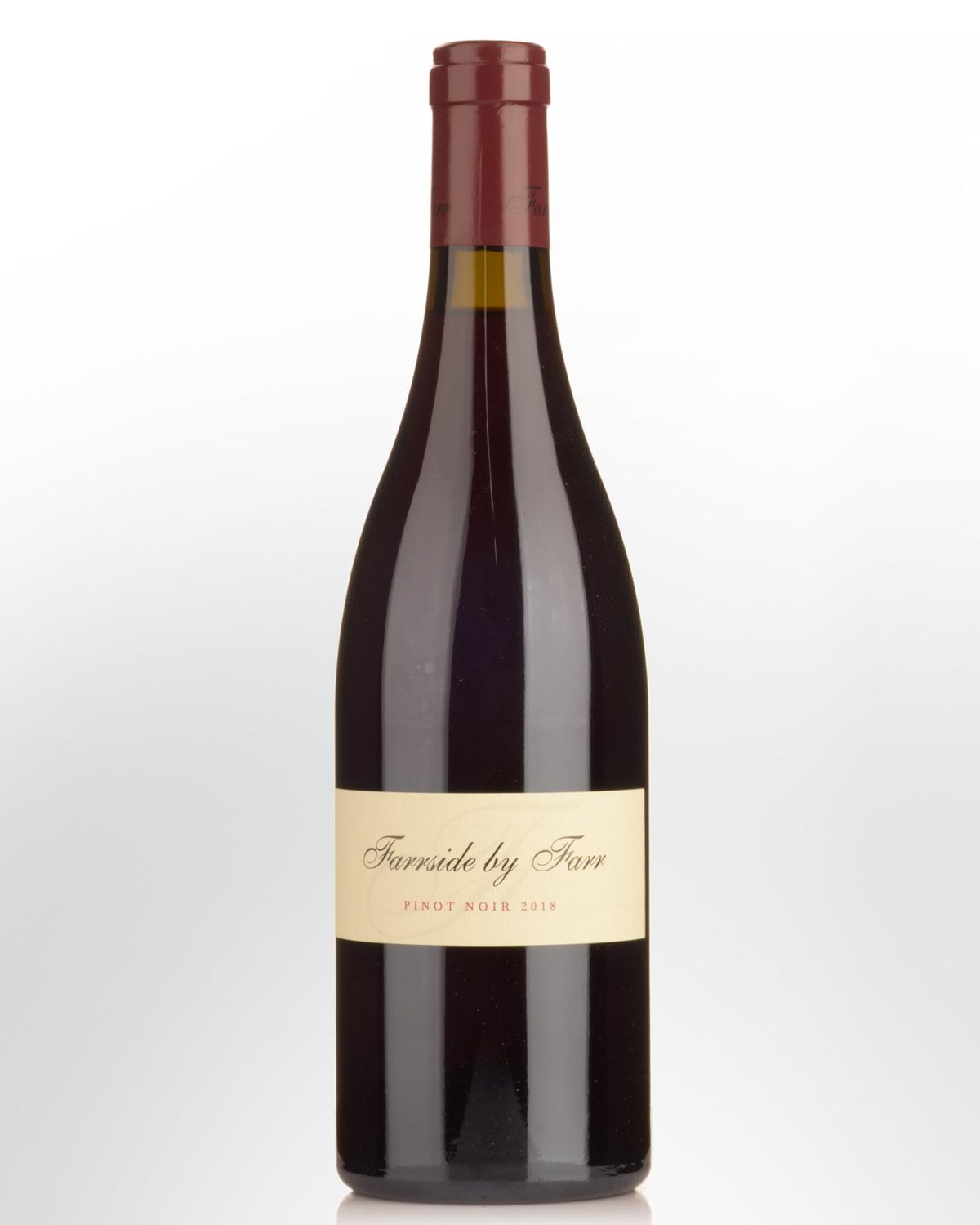 2018 Farrside By Farr Pinot Noir
Geelong, Victoria,
AUSTRALIA
Cellar:
Drink now - 10 Years (2020-2030)
The Farrside vineyard consists of black volcanic soil over limestone on a northeast- facing slope. The vine rows run east to west to shade the fruit from over exposure. It's a mixture of 114, 115, 777, 667 and MV6 clones. Although the Farrside and Sangreal vineyards are only 300m apart, the differing conditions mean that this vineyard is picked 10 to 12 days later. The fruit is hand-picked and sorted in the vineyard, then fermented in an open-top fermenter. Roughly 50% of the fruit will be destemmed and then cold soaked for four days. Winemaker Nick Farr uses only the natural yeast for the fermentation process, which takes roughly 12 days. Grape-stomping (known as pigeage) will occur two to three times a day depending on the amount of extraction required, and the wine is then placed in 50 to 60% new Allier barrels by gravity. It is racked by gas after secondary fermentation, then again at 18 months to be bottled.
If this wine was from Burgundy you'd happily pay 3-4 times the price without blinking an eye.
Bright dark red colour with subtle tinges of black around the outskirts and a light red hue. Showing a perfumed like intensity out of the glass are alluring scents of violets, red to dark cherries, strawberries and well integrated clove like notes. Spicy cedar, forest floor, hints of meatiness and dried herbs then ensue. Light on it's feet, refined and supple in its feel yet terrifically rich with an expansive peacock's tail of red to dark cherry and strawberry fruits flowing eloquently across the moreish palate. Subtle elements of clove, dried meats, forest floor, dried herb and lightly smoked cedar lie underneath. Velvet smooth tannins lead into an exceptionally long and harmonious finish. Outstanding.
Drink over the next 8-10 years.
Alc. 13.5%

Other Reviews….
It takes time in the glass for assertive cedar wood oak to settle into the fruit but at all steps along the way this wine oozes both quality and class. You're in the most skilled of hands here. Woodsmoke, assorted cherries, twiggy spice notes, flavour-infused acidity and fine-grained tannin. It's a truly beautiful wine. Drink by 2030.
97 points
Campbell Mattinson - James Halliday's The Wine Companion

Medium red colour with a trace of purple in the rim. The bouquet is pepper-spicy, stemmy and savoury, with a whiff of new kid leather, while the palate is elegantly structured and yet firm, tremendously intense, taut as a bow-string, and magnificently balanced. This is a stunning Pinot of a complex, bunchy style, already drinking well, with more held in reserve. Drink: 2020 to 2033.
97 points
Huon Hooke – The Real Review