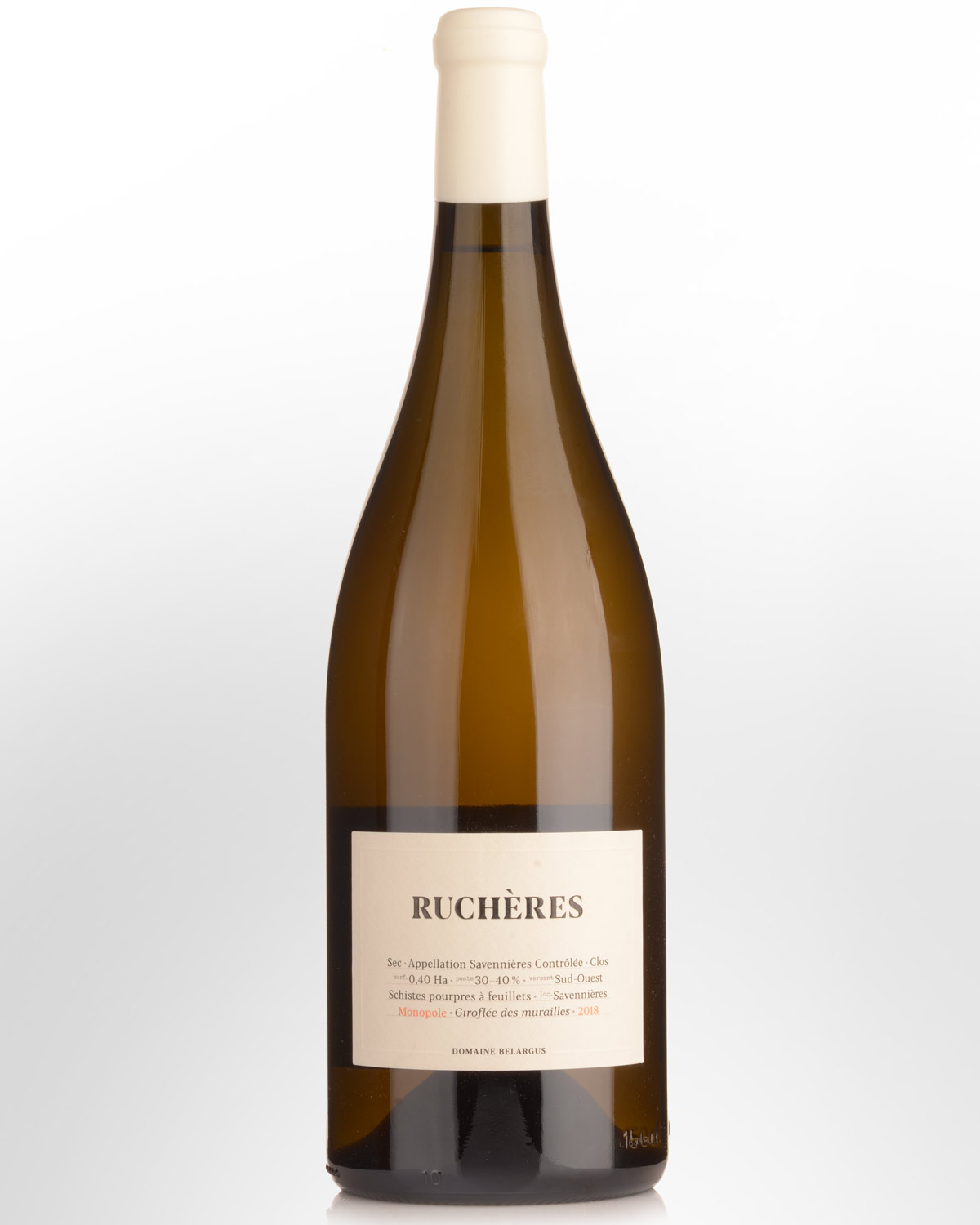 2018 Domaine Belargus Clos des Rucheres Savennieres Magnum (1500ml)
Domaine Belargus is the realisation of a dream by former Parisian investor Ivan Massonnat. While it was his love and respect for Burgundy that ignited his passion for wine, his family connection to Chinon opened his eyes to the potential of Chenin Blanc from the great terroirs of the Loire Valley. A chance encounter with retiring vigneron Jo Pithon lead the pair to meet at the foot of the legendary Coteau des Treilles vineyard one frosty morning, and the fate of each was sealed. Further acquisitions followed, including one quarter of Les Quarts in the historic heart of the Quarts-de-Chaume appellation, along with sites across the river in Savennières. This new estate is 100% dedicated to Chenin Blanc and celebrates the grape's versatility regarding terroirs and wine style. Ivan has installed a young team, and together they are currently converting to biodynamics, with a single-plot approach inspired by Ivan's first love: Burgundy.
Adapting their approach each vintage, the various plots are harvested at their optimum maturity at incredibly low yields of around 25 hectolitres per hectare. Fermentation occurs in barrel using indigenous yeasts, and can last from less than a month to more than a year, depending on each plot and the vintage characteristics. This is one of the most exciting new ventures in France today, and should appease lovers of high quality, terroir specific wines.
Located at the bottom of La Roche-aux-Moines, the "Clos des Ruchères" (Monopole) rests on a slope of purple schists, covered with a very thin layer of soil of only twenty centimetres. This tiny steep plot, worked like a garden, gives birth to a wine carried by a great mineral tension. Two years of maturation give it length and aromatic complexity, as well as a significant aging potential.
Other Reviews....
Located at the bottom of La Roche-aux-Moines, the steep, southwest-facing 0.4-hectare Clos des Ruchères monopole rests on a slope of purple schists, covered with a very thin layer of soil of only 20 centimeters. Aged two years on the lees, the 2018 Savennières Clos des Ruchères has a golden-yellow color and opens with an intense but also quite developed nose of ripe and stewed yellow fruits, whereas the crystalline, flinty schist notes remain in the background. Round, highly elegant and refined on the fruit-intense and aromatic palate, this is a crystalline, linear but also juicy and well-concentrated Ruchères with great mineral tension but most of all finesse. The finish is much fresher and purer than expected from the nose and very long and intense. Given the elegant and sustainable finish, the 2018 should have significant aging potential. Tasted in June 2021. Drink 2021 - 2045.
93 points
Stephan Reinhardt - Wine Advocate (July 2021)
Clos des Ruchères is a tiny plot, facing south-west. Chenin Blanc planted in 2008, and a terroir of loam and clay on purple schist. A nose of hazelnut, almond and perfectly integrated oak. After some swirling, the bouquet develops with aromas of spices, flowers and flint. Superb mouthfeel with a texture that is both fine-grained and fleshy. This wine has remarkable freshness, also some salinity while also leaving a slight sensation of tannins. A Savennières of crystalline clarity. Drinking Window 2025 - 2040.
94 points
Yohan Castaing - Decanter
Still in élevage, this cuvée is sourced from a tiny 0.4-hectare vineyard on degraded purple schist and clay. The total crop amounts to just three barrels, and this is a sample from one barrel rather than a blending, so not entirely representative. Compared to Gaudrets the nose offers a huge step up in character, showing a very pure schistose style, much more focused, and dressed with a fragrant floral minerality. This is very fine, but the palate is heavily marked by vanillin oak at the moment, all wrapped up in threads of stone and schist, along with very fresh acidity. Really focused, with a very fine-boned style, swirled with liquorice, vanilla and fennel from the oak. It is difficult to judge on this sample taken from one obviously new barrel. Nevertheless it feels evidently superior to Gaudrets.
92-94 points
Chris Kissack - Winedoctor