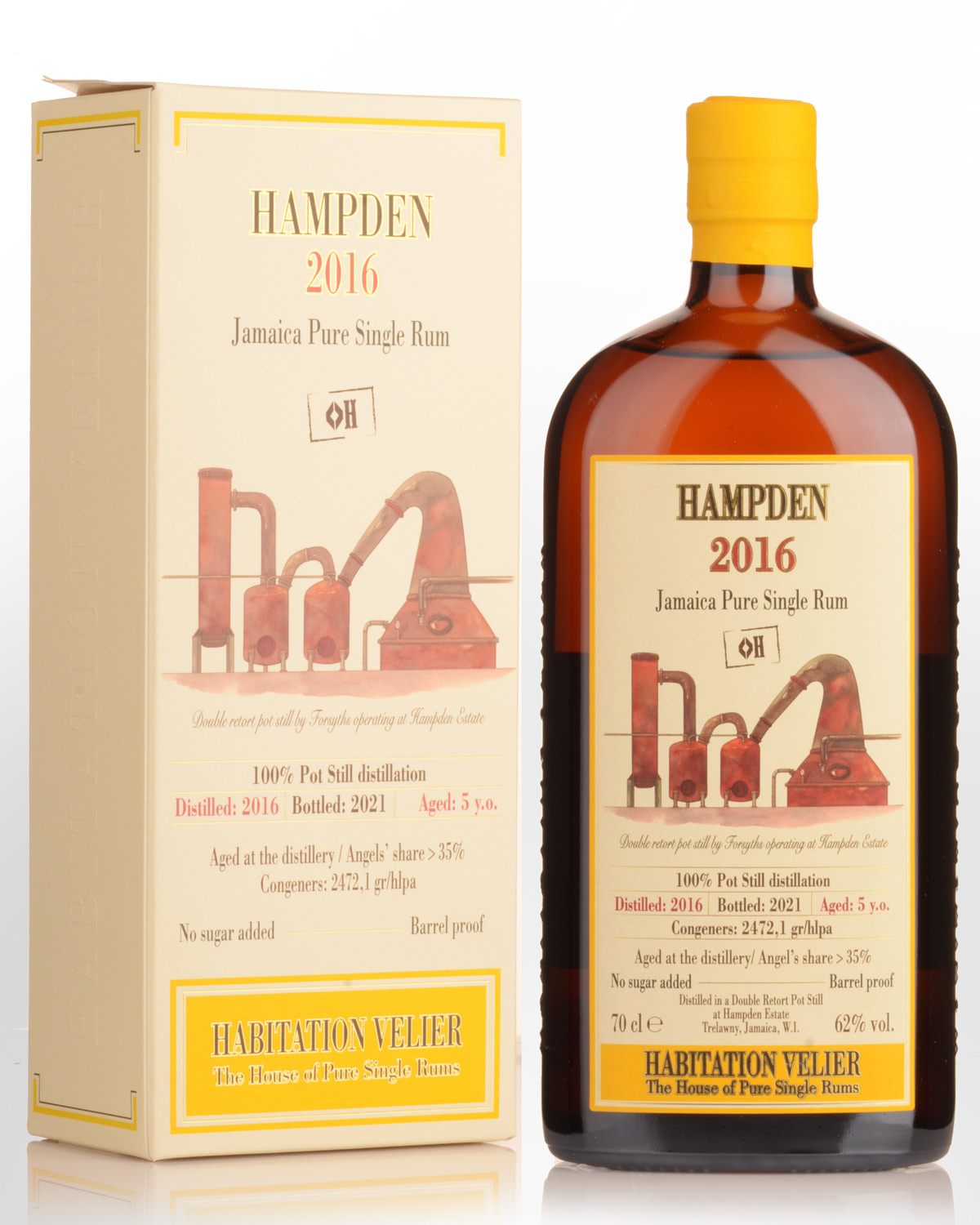 2016 Habitation Velier Hampden Diamond H Jamaica Cask Strength Pure Single Rum (700ml)
JAMAICA
Velier have released another Hampden marque in the series: 'Diamond H' (also noted as '<>H'). At 900 and 1000 gr/HLPA after distillation, this is a typical example of a high ester style , though less extreme compared to its predecessors HGML and C<>H. We tasted a 10ml sample alongside Hampden's 47% 'LROK'. This is almost twice as intense offering compelling aromas of shellac and funk giving way to fruit bread, pineapple pudding, icing sugar and plantain (amongst other notes). It boasts a super pure, high definition 'tropicality' with an almost sappy, briney, agave-like edge and bittersweet flavours of cocoa, semi-ripe mango and papaya continuing the theme at length. Aged entirely in Jamaica for five years in ex-bourbon barrels with an angel's share of 40%, it's another complex, powerful and evocative Hampden that will appeal to both rum purists and collectors. 62% Alc./Vol. Very limited stocks.
Notes from the bottlers...
Nose : Intense and concentrated. Pineapple, black olive, notes of star anis. Palate: Full-bodied and refined. Banana, almond paste, acetone. Overall : Empyreumatic and deep. Citrus fruit, notes of hydrocarbon.
The Velier company was founded by the Chaix family in 1947. From 1953 to 1983, this small traditional company located in the port of Gênes, specialised in the importation and distribution of wines, champagnes and spirits. In 1983, then aged 25, Luca Gargano acquired shares in Velier. Under his influence the company began specialising in the importation of exceptional spirits to be supplied to the most prestigious establishments in Italy. In the early 1990s, Luca Gargano heard rumours of a mythical, quasi-legendary stock of St James Rum that had supposedly been distilled at the end of the 19th century. Eventually he discovered proof that this stock, distilled in 1885 and bottled in 1952, did indeed exist. And in 1991, following lengthy discussions, Luca finally managed to acquire the entirety of this stock, which he then released on the Italian market. These selections of rums have since multiplied and led to a myriad of Velier selections.