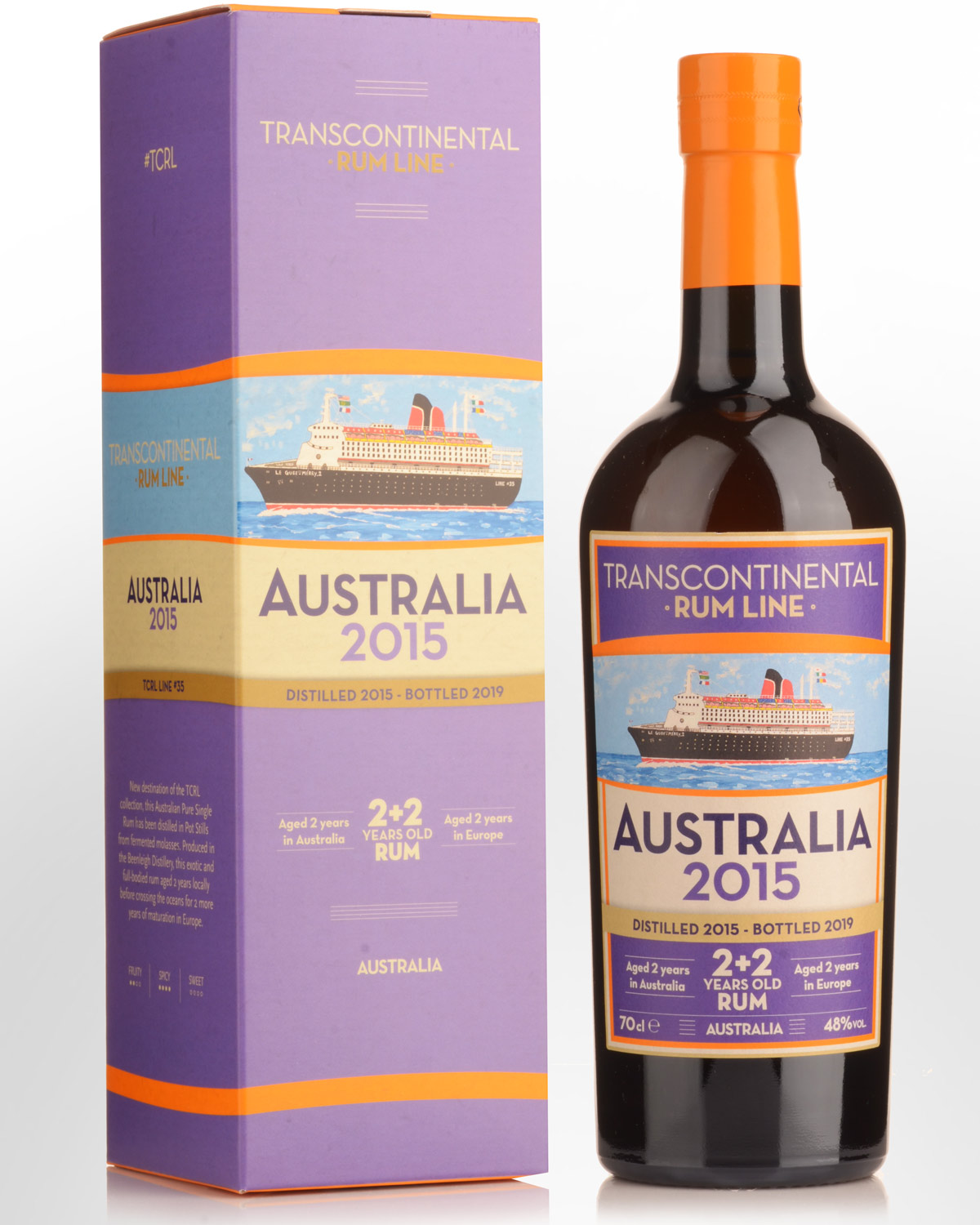 2015 Transcontinental Rum Line Australia (Beenleigh) 4 Year Old Australian Rum (700ml)
Queensland's Beenleigh Distillery is making a mark globally, having recently featured in several high profile rums, including the Black Tot Master's Reserve. This time it's a four year old pure single rum (one distillery, all pot still) produced via Beenlieigh's unique copper 'vat still' (the only one in Australia). Bottled in 2015 by the reputable 'Transcontinental Rum Line Co.', the rum was rested in historic wooden maturation vats that once held Australian Brandy, and then in a variety of used American oak casks at Beenleigh for two years, before it was transported to Europe for a further 24 months ageing. Purity is important for this label, so bottling with no added sugar and at a higher ABV comes as standard. The result smells like the tropics, the savoury oak is well-balanced with the fruity notes (melon, pineapple and a touch of raisin). The palate also has a lovely sweet/savoury balance and a voluptuous mouthfeel. The oak is also beautifully integrated here, providing nuts and spice rather than sweetness. The finish is long, dry, and laden with hazelnuts and just a whisper of vanilla. 48% Alc./Vol.
Transcontinental Rum Line is the creation of a partnership between venerable French independent bottler La Maison du Whisky and Velier (an Italy-based Rum innovator that developed its own Caribbean Rum line in the 1980s). Established in 2017, the project is inspired by the historic, cross-equatorial journeys made by Rum barrels from individual islands to the rest of the world during the spirit's golden age, at time when Rum was a major commodity. To date, TCRL has released over 30 limited edition bottlings and created quite a stir among Rum aficionados.
La Maison du Whisky was founded in 1956 and quickly established itself as an important and influential Whisky importer and bottler. In fact, founder Georges Bénitah was one of the original importers of Scotch Whisky into France. Naturally, since that time the business has (very successfully) diversified into other spirits. When it came to revamping their Rum offering, they turned to category pioneer and specialist Luca Gargano at Velier.
The inspiration for Transcontinental Rum Line lay in the age-old tradition of Island Rum being purchased in its youth and transported and matured on the European continent. The bottlers point out that continental-aged rums traditionally display richer and sweeter characters than the more ester-forward island expressions. So, the idea is that a combination of these two aging methods will produce something unique. Through an intensive selection process, Luca Gargano and Thierry Bénitah carefully select only the finest barrels they believe warrant the small-batch nature of their product. Less than 10 casks are chosen for each Rum, so batches rarely exceed 2000 bottles. The Rums complete their aging at LMDW's facility in Cognac.