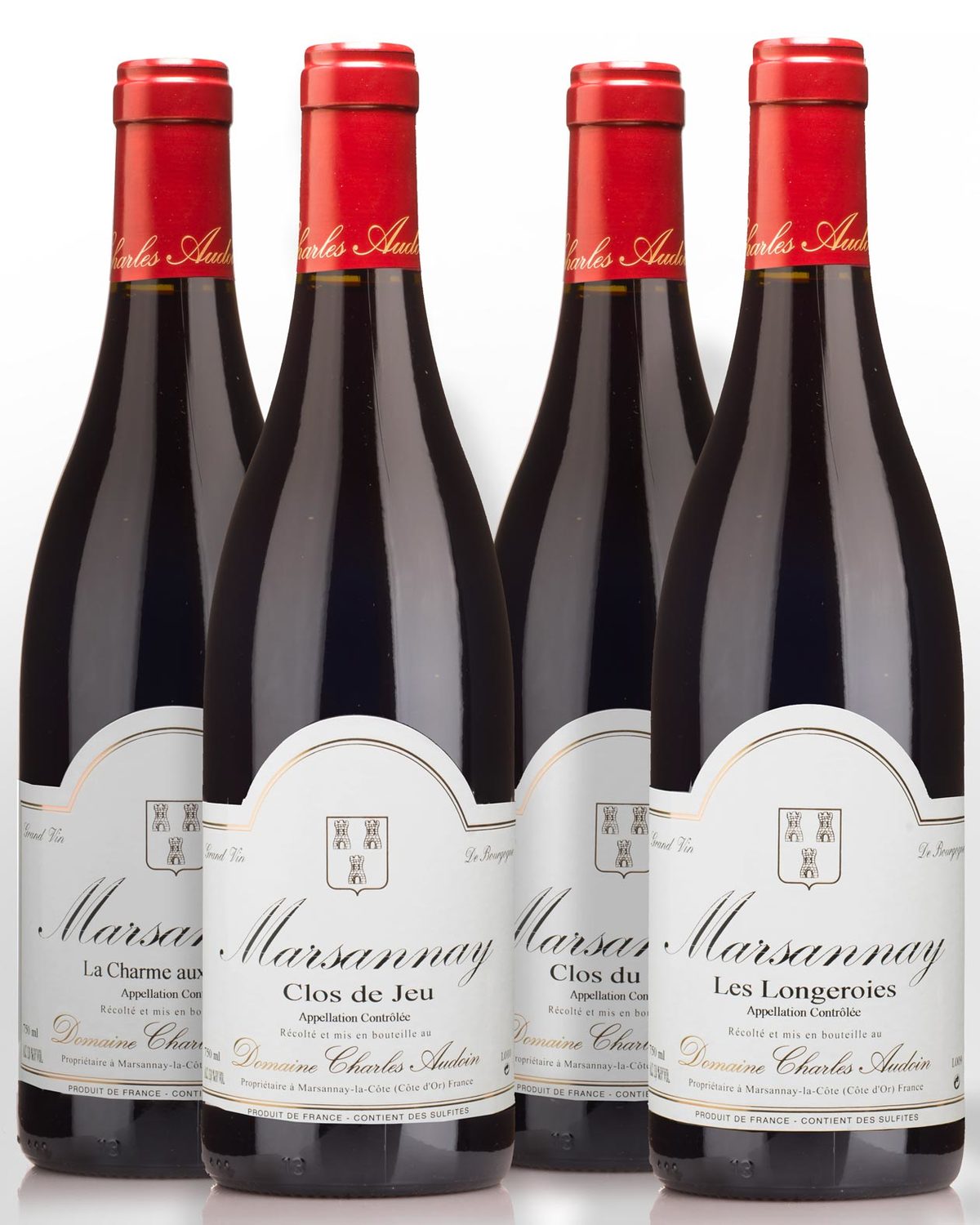 2015 Domaine Charles Audoin Marsannay (4-pack) Pre-Arrival Offer
"Audoin continues to belong on any short list of the Côte de Nuits' finest values, and savvy consumers are advised to take note." - William Kelley, Wine Advocate
Domaine Charles Audoin was formed in 1972 by Charles and his oenologist wife Marie-Francoise, starting with three hectares in Marsannay. Their holding has now grown to around 14 hectares that captures some of the best parcels in Marsannay. Their son Cyril joined his father in 2000, and is now in charge of both vineyard and winemaking activities for the Domaine. Cyril is increasingly focused on vineyard health, to deliver wines with pure varietal expression and a sense of place. They are among the most serious wines from the area, and while juicy and approachable young, have the capacity to age gracefully for many years.
Across the range there is a clear intent to showcase the various climats of Marsanny, as the six single vineyard wines each display a unique profile. In the north of the appellation are the Longeroies and Clos du Roy vineyards where the soils are lighter and produce softer, easier, and more forward wine styles. Further south the soils are deeper and give the wines from Clos de Jeu, Champ Salomon, and Favieres greater structure and a more compact style. Charme aux Pretres is a reddish brown gravel soil over a bed of limestone, and tends to produce an open knit wine with great structure. Many of these vineyards are destined to be reclassified premier cru status in the upcoming review.
This pack contains one bottle each of Domaine Audoin's 2015 single vineyard Marsannay wines; Clos du Roy, Les Longeroies, La Charme Aux Pretres, and Clos De Jeu. Many of Charles Audoin wines are destined to age well for many years, and this pack will give a good indication of this trajectory.
Only 12 packs available.
Four Pack Pre-Arrival Price $279.96 / Regular Price $359.96
Other Reviews....
2015 Domaine Charles Audoin Marsannay Clos du Roy
The 2015 Marsannay Clos du Roy is superb, unfurling in the glass with a youthful bouquet of ripe cherries, currants and incipient forest floor. On the palate, the wine is medium to full-bodied, ample and pure, with lovely depth and concentration, framed by fine, chalky tannins which assert themselves with light grip on the finish. This merits some time in the cellar, but it's an absolutely stellar Marsannay.
92 points
William Kelley - Wine Advocate (Apr 2018)
A discreet application of wood serves as a relatively subtle backdrop for the fresh, cool and ripe aromas of both red and dark currant, earth and soft floral nuances. I like the sense of underlying tension and punch to the mineral-driven medium-bodied flavors that deliver fine length on the saline-inflected, clean and focused finale.
89-92 points
Allen Meadows - Burghound

2015 Domaine Charles Audoin Marsannay Les Longeroies
There is a discreet application of oak that easily allows the ripe yet cool aromas of black raspberry, cherry, spice and violet scents to shine. The supple, round and solidly concentrated medium weight flavors possess fine volume before concluding in a succulent yet serious and mildly austere finish.
89-91 points
Allen Meadows - Burghound

2015 Domaine Charles Audoin Marsannay La Charme Aux Pretres
This is the first wine in the range to reflect any appreciable amount of reduction but it's enough to push the underlying fruit and wood scents to the background. Otherwise there is excellent detail and intensity to the concentrated and mouth coating medium-bodied flavors that terminate in an exceptionally rich finish that delivers sneaky good length. Again, moderate patience will be necessary.
89-92 points
Allen Meadows - Burghound

2015 Domaine Charles Audoin Marsannay Clos De Jeu
There is an exotic tea element to the spicy black cherry and smoked meat-scented nose. The rich, vibrant and suave middle weight flavors exude a fine bead of minerality onto the dusty, textured and beautifully long finish. This well-balanced effort is built-to-reward mid-term cellaring and will need at least a few years first.
89-92 points
Allen Meadows - Burghound
Conditions of Pre Arrival Offer:
There is no minimum order unless stated.
All wines are 750ml unless indicated otherwise.
Payment in full is required at time of order to secure these wines at the pre-arrival pricing.
The wines are being shipped in refrigerated containers and are due to arrive in July 2021.
Nicks Wine Merchants reserve the right to pass on any changes in Government duties and taxes and delivery charges from the date of order to the date of final delivery of the wine.
Errors and omissions excepted.
Delivery charges may apply - these can be determined by visiting the Freight Rates page.