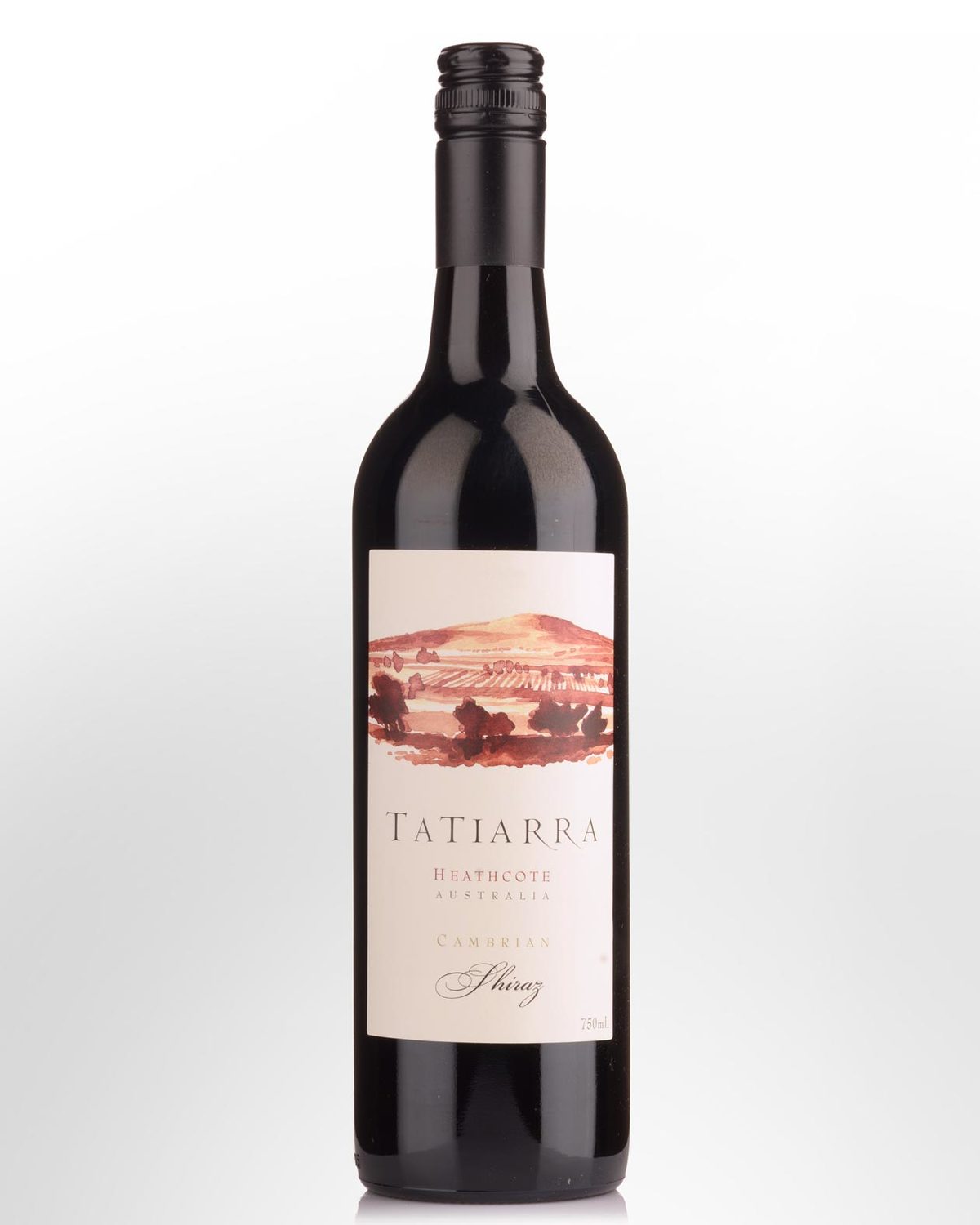 2013 Tatiarra Cambrian Shiraz
Heathcote, Victoria,
AUSTRALIA
Cellar:
Drink now - 10 Years (2018-2028)
The 2013 vintage was an outstanding one throughout Central and Northern Victoria with the Heathcote region being one of the standouts producing fruit of spectacular quality. At Tatiarra good Winter rains were followed by a period from September right through to harvest in which virtually no rainfall occurred. Summer temperatures were high throughout this period. As a result of these warmer conditions vintage started on the 5th March, roughly 1 week ahead of schedule.
Dropping of fruit began earlier than usual and the controlling of canopy cover resulted in excellent flavour development. The diligent use of the limited water resources at critical times by vineyard manager Bob Wilson during this dry period meant the vineyard flourished. There's no doubting that in years to come the 2013 wines will be considered to be up there with the best Tatiarra has produced if not the very best. Such has been the enthusiasm for these wines from the moment the fruit was picked that the anticipation of their release has been building by the month. Upon completion of tasting and compiling the final blends winemaker Ben Riggs commented…. "Wow and ouch. Wow because 2013 blends are crazy good and ouch cause geeze that's a hard tasting, so concentrated and awesome." But these are not just super concentrated fruit bombs, they also possesses an underlying structure that will see all of the wines have very long cellaring potentials.
Re-tasted March 2018:
Still possessing incredible colour density, the wine features a totally impenetrable inky black core with a very dark red black hue. Potent aromas of luscious ripe blackberries, liquorice and dark plum drive their way through the olfactory senses with hints of dark chocolate also evident over a back drop of vanillin oak, faint earthy leather and spice. Prodigiously rich, the explosive palate delivers almost out of this world decadence with waves of black cherry, liquorice and blackberry fruit cascading through the mouth over a back drop of crushed rock, spicy vanillin oak and traces of scorched earth. Finishes with a burst of blackpepper. A chiselled core of muscular tannins provide the backbone holding the opulence of fruit in check. Exceptionally powerful and fantastically long with a chewy aftertaste of ripe black cherries, liquorice, blackberries, crushed rock, spicy vanillin oak, subtle earthy leather and blackpepper.
Drink over the next 8-10 years plus.
Alc. 14.8%
Originally tasted March 2015:
Pours a superb saturated inky black purple colour with a very deep dark purple black hue. Alluring aromatics of liquorice, blackberries and black cherries arise from the glass over a background of lightly toasted vanillin oak with peppery end notes. Possessing prodigious richness, a rock like structure and incredible power the palate's explosive flavours of liquorice, blackberries and dark plums fill every corner of the mouth with fruit leaving the taster in awe. Nuances of vanillin oak, crushed rocks, spice and blackpepper finish things off nicely. Firm robust tannins ensure great cellaring potential that will see the wine age gracefully for 10-15 years with ease. Tight chewy mouthfeel finishing with an exceptionally long aftertaste of liquorice, ripe blackberries, dark plum, subtle black cherries, vanillin oak, crushed rock and blackpepper. Insanely priced for what it is.
Cellar 15-20 years.
Alc 14.8%
98 points