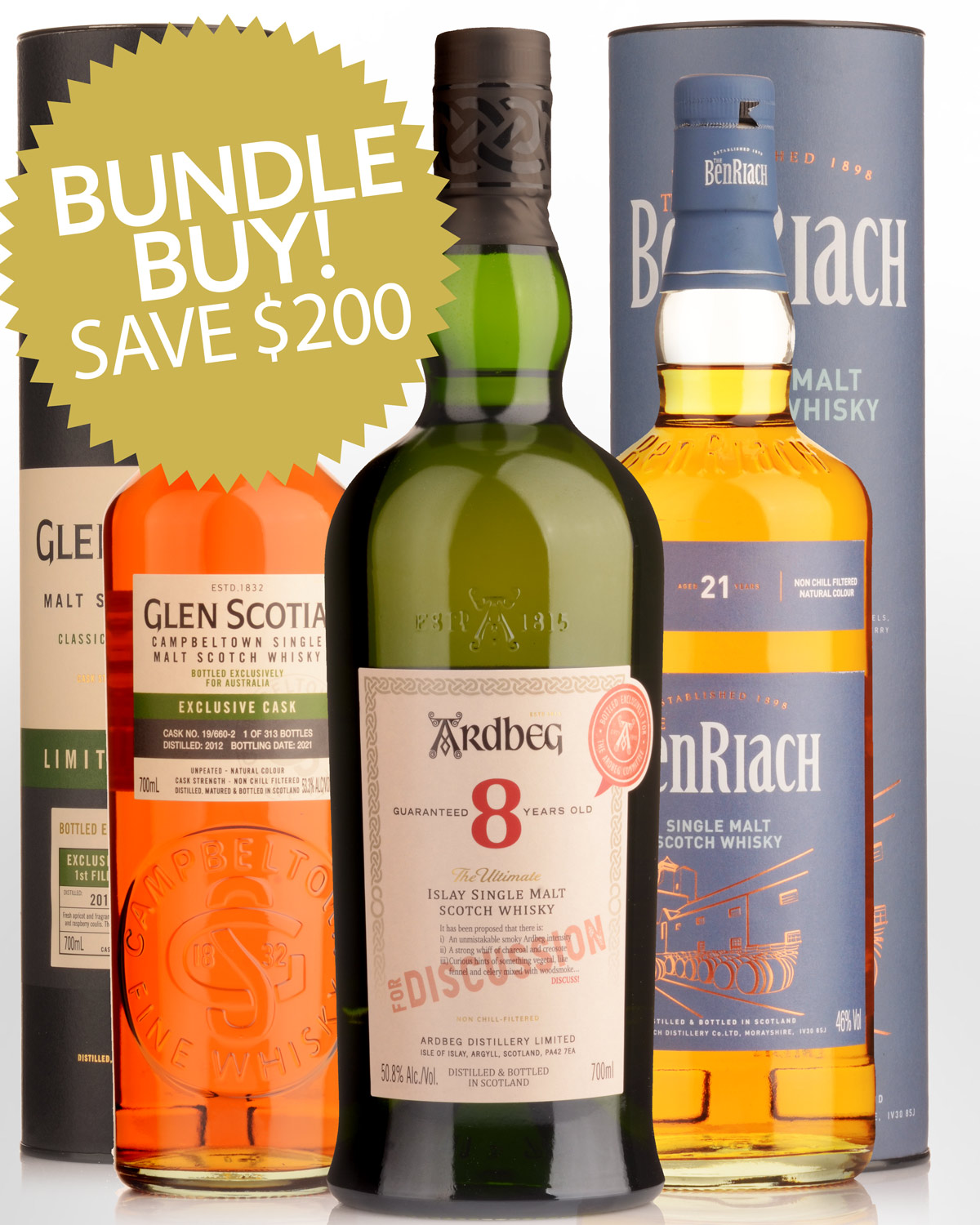 2012 Glen Scotia Australian Exclusive 9 Year Old Cask Strength & Ardbeg For Discussion Committee Release 8 Year Old & Benriach 21 Year Old Single Malt Scotch Whisky Bundle Buy (3x700ml)
SCOTLAND
Take $200 OFF when you bundle Glen Scotia Australian Exclusive 9 Year Old Cask Strength & Ardbeg For Discussion Committee Release 8 Year Old & Benriach 21 Year Old Single Malt Scotch Whisky Bundle Buy together and save! Normally $599.99, now just $399!
Notes on Glen Scotia Australian Exclusive... Led by Oban and Ben Nevis and joined by the Campbeltown community further south, West Highlanders produce many of Scotland's most charismatic malts. Springbank is legendary, but there's another Campbeltowner on the rise: Glen Scotia. One of the country's smallest distilleries, the core range is the realm of supermarkets in Australia (though the quality is generally good). That leaves others to source the 'proper stuff'. In this exclusive bottling, you get the chance to try Glen Scotia in all of its unpeated glory: Young and feisty, but already distinctive and most importantly, uncut. Cask No.19/660-2 was a first-fill Tawny Port hogshead. 53.3% Alc./Vol.
Notes on Ardbeg 8YO Committee Release... Way back in 2004, Ardbeg launched the first of the "For Discussion" series. Labelled as 'Very Young', it gave Ardbeg enthusiasts the chance to sample a 'work in progress'. This latest 'Committee-exclusive' bottling revisits that theme. It's the result of an experiment by Master Distiller, Dr Bill Lumsden and an attempt to answer his question "what if, in an alternative universe, Ardbeg Ten was not the distillery's "flagship" aged expression?" Lumsden adds, "An aged ex-Sherry whisky is new territory for us, so naturally, we want some thoughts. We're sharing this with the Committee's experienced palates to help us find that smoky sweet spot. It's more than guaranteed to provoke discussion among those privileged enough to taste it." 50.8% Alc./Vol.
Notes on Benriach 21YO... This four-cask matured, extra-aged Benriach was first offered in 2018 and now debuts in Australia. Matured in a combination of Bourbon, Virgin oak, Pedro Ximénez sherry and red wine casks, Head Distiller, Rachel Barrie describes it as full of candied peel, honeyed malt and barley sugar flavours. 46% Alc./Vol.
Other reviews... Rich, textured and complex, there is a glorious clarity to the sugars and fondant vanillas. Even the spices seem happy... without creating too many waves. 90 points - Jim Murray's Whisky Bible 2020
...The nose offers tangerines, milk chocolate, and spicy vanilla. Peaches, Brazil nuts, raisins, dates, and more chocolate on the palate, with red berries in the background. The finish is medium in length, with cocoa powder and ginger. Not available in the U.S.
89 points - whiskyadvocate.com, reviewed by: Gavin Smith (Spring 2018)