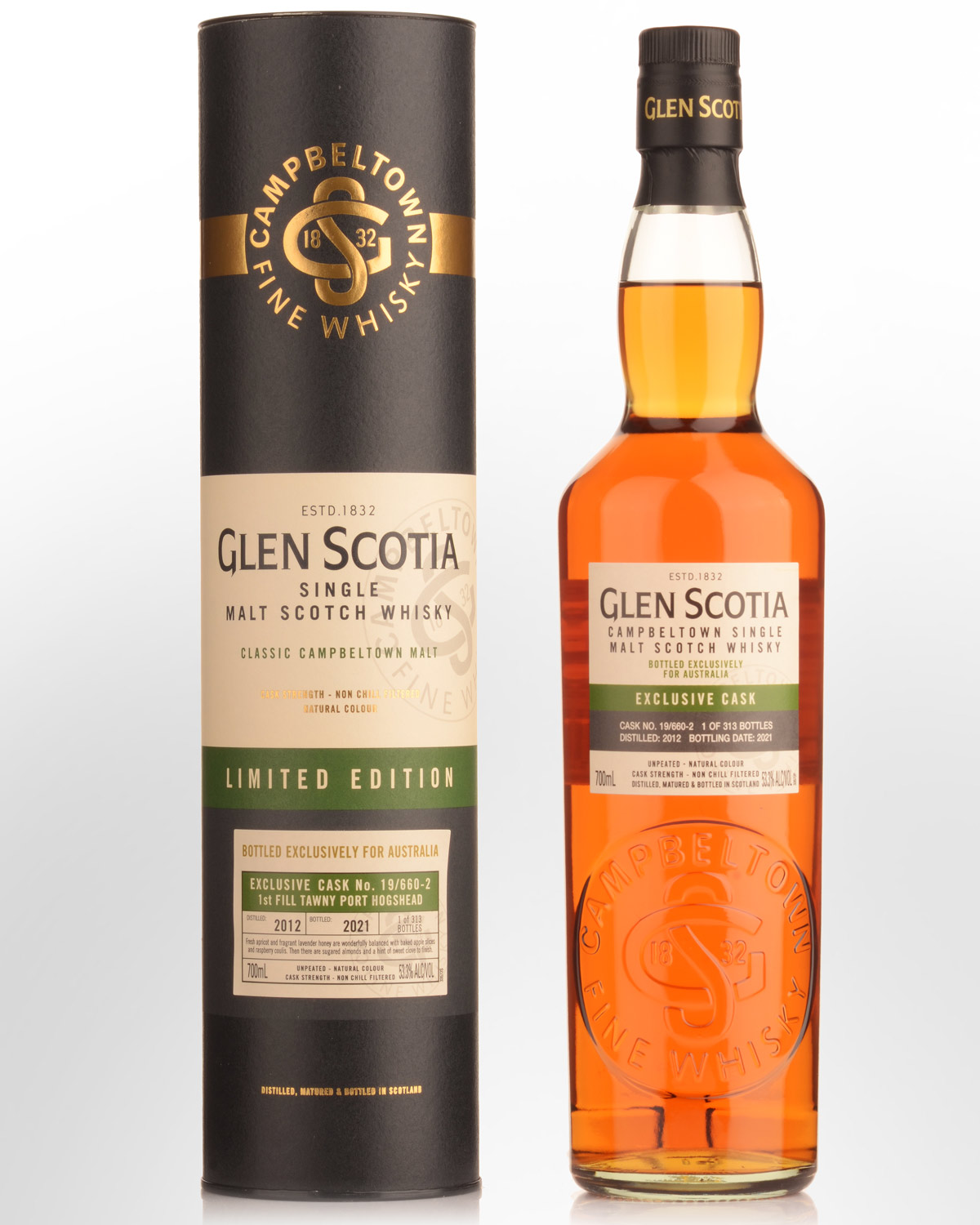 2012 Glen Scotia Australian Exclusive 9 Year Old Cask Strength Single Malt Scotch Whisky (700ml)
A perfect excuse to get acquainted with Springbank's nearest neighbour.
West Highlanders produce many of Scotland's most charismatic malts, led by Oban and Ben Nevis and joined by the Campbeltown community further south west. Springbank is legendary, but there's another Campbeltowner on the rise: Glen Scotia. One of the country's smallest distilleries, the core range is the realm of supermarkets in Australia (though the quality is generally good). That leaves others to source the 'proper stuff'. In this exclusive bottling, you get the chance to try Glen Scotia in all of its unpeated glory: Young and feisty, but already distinctive and most importantly, uncut.
Cask No.19/660-2 was a first-fill Tawny Port hogshead, which has no doubt contributed to the whisky's auburn / polished mahogany colour. In the absence of peat, Glen Scotia's profile can fall somewhere between nutty and fruity. Here, both aspects vie for your attention. The aroma opens peppery, then nutty and gingery with a twang of sulphur and sea breeze lending a coastal edge. 4-5 minutes releases sweeter scents of spiced pears and cinnamon apples over earthier, root vegetable-like notes. The palate is intense and long, unfolding with ginger snaps, spiced apple and salted dark chocolate in a tactile, even slightly 'gritty' delivery. That light sulphur note returns, but adds complexity rather than detracting (those with the 'sulphur gene' will find some satisfaction here). Throat lozenges - think Fisherman's Friends - round off a powerful, heartwarming finish. There's little trace of the port cask, instead what's highlighted is yet another fascinating West Highland make. If you're sulphur sensitive, add water. Those notes dissipate and the profile harmonises in a contrasting and beautiful way.
With just over a kilometre between them, speculation as to whether Glen Scotia will be the next Springbank is inevitable. Given the distillery's versatility and quality of output, the potential is there, but it probably won't balloon anytime soon (then again, just a few years ago many seasoned whisky lovers were oblivious to Springbank...) Place your bets. Right now, here's a perfect excuse to get better acquainted with Glen Scotia. 313 bottles for Australia only. 53.3% Alc./Vol. Non chill filtered.