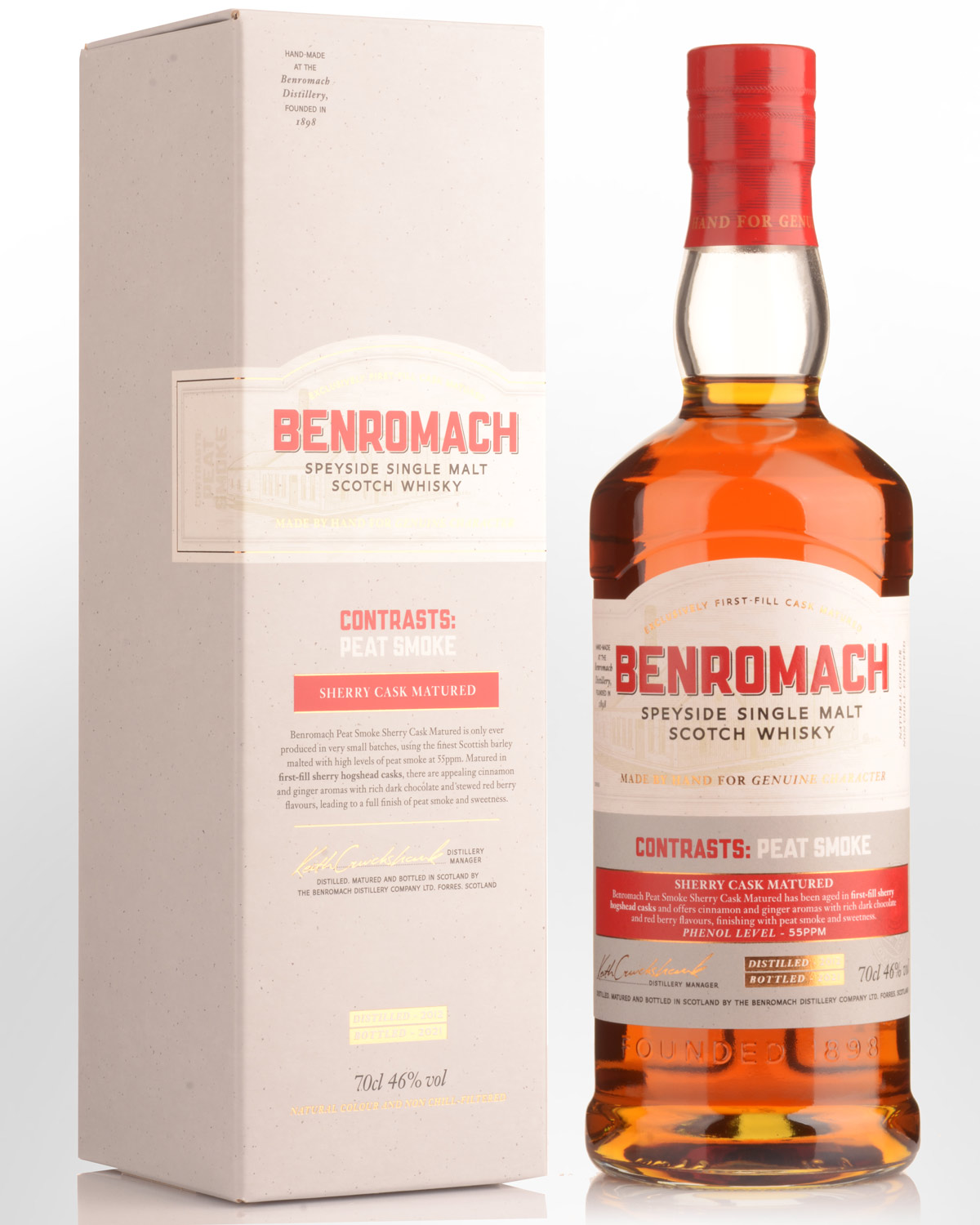 2012 Benromach Contrasts Peat Smoke Sherry Cask Matured Single Malt Scotch Whisky (700ml)
Speyside, Highlands,
SCOTLAND
Peated to a whopping 55ppm, far from your average Speysider.
Want to maximise flavour without going to cask strength? Benromach achieves that in this compelling amalgam of sherry and peat, backed up by one of the biggest distillates in Speyside. Matured in first-fill Sherry hogsheads and peated to a whopping 55ppm (Ardbeg levels and beyond), the phenols kick in with an aromatic blast of barley, farmyard, cured meats, dried fruits and cinnamon. The flavours attack in legion: Smoke almost overwhelms, and you get the impression that it's a bit simplistic. Re-tasting finds the sherry and malt lurking, ramping up through the booming cocoa-laced finish. Far from your average Speysider - more akin to full-bodied Ardmore or Caol Ila, only with a rustic, earthy charm of its own. Going by the distillation date, it's safe to assume this is around nine years old. 46% Alc./Vol. Non chill filtered.
Other reviews... Colour: gold. Nose: we've come much closer to the regular 10 this time, with these lovely acetic, meaty and very fermentary notes, with some Tabasco, onion soup, Worcester sauce, then dried fermented fish and touches of hoisin sauce. Would you please pass the Peking duck? Mouth: ah, hurray, good dirt! And cracked pepper, leather, tobacco, Grisons meat, cold-smoked German (or Alsatian) sausage, marmalade, coffee and cocoa dregs, cinnamon and paprika… A lot of action in this one again. Right up my alley. Finish: long, with a little more toffee, raisins and bean curd. Comments: not a peat bomb at all but this time it is clearly ' smoky malt'. Excellent wild composition, on par with the fantastic regular 10 in my book. 88 points - whiskyfun.com
...Funky and a little bit dirty, which is a fantastic combination when it comes to sherry and peat. It's sweet, but not as sweet as you may expect on the palate from the first fill sherry, with the sour fruit, meaty flavours, and the salt giving it a nice balance... Pull up a leather wing back chair in front of the fireplace, pour yourself a generous measure of this, and you'll be as happy as can be. Either that, or just sit in your pants in front of the TV; it's your dram after all. Needless to say, I really like it. - malt-review.com