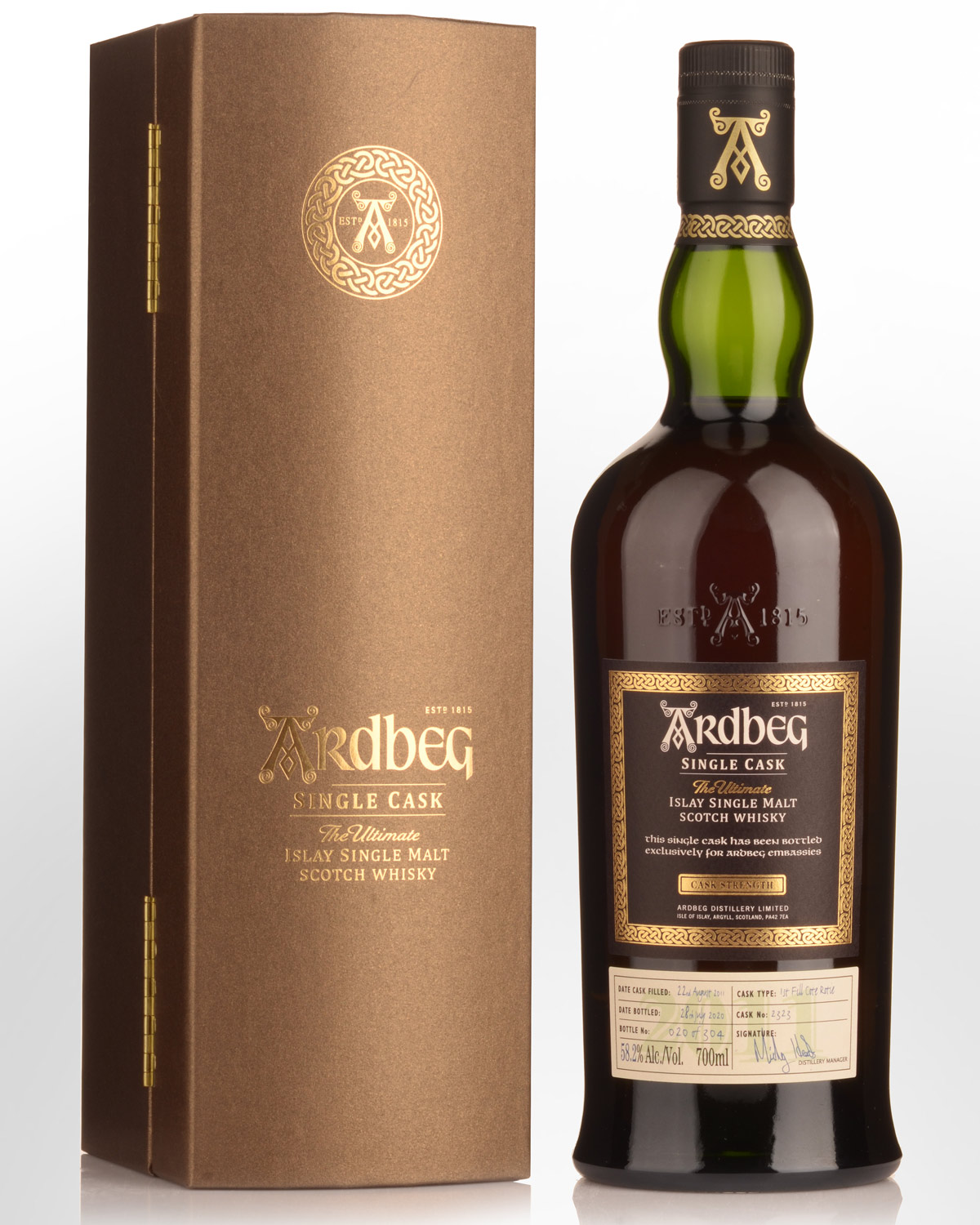 2011 Ardbeg Single Cask No.2323 Cask Strength Single Malt Scotch Whisky (700ml)
Exclusively allocated to Ardbeg embassies with just 304 bottles available globally. This is one for the lucky few.
Considering the cult following Ardbeg has developed over the last few decades, it's almost unbelievable to think that the distillery was closed on and off for fifteen years until 1996, when it was purchased by Glenmorangie. Part of the huge upsurge in popularity has been driven by a steady stream of new releases, targeting both drinkers and collectors. The latest super-premium addition is this all-natural expression matured in a first-fill x-Cote Rotie wine cask, sourced from the Northern Rhone Valley in France (the exact estate is not disclosed). Filled on the 22nd August 2011 and bottled on the 28th of July 2020 exclusively for Ardbeg embassies around the world, cask #2323 is also reported to be one of the last to be signed by Distillery Manager, Mickey Heads before retiring. The new Manager, Colin Gordon is set to take over the helm and drive the company forward to even greater success. Instantly snapped up in global markets, this is certain to show considerable future upside for ardent investors and promises a full-throttle Islay tasting experience. Official notes by Dr Bill Lumsden below.
Notes from the producers... Nose – Deep, pungent and salty, with medicinal notes, dark chocolate, brambly fruit and the tiniest hint of vanilla. A splash of water brings out a flinty minerality, along with pungent floral notes like narcissus or lilies. As the bouquet continues to open up, the classic, smoky Ardbeg character starts to build. Palate – The mouthfeel is full and rounded. The primary flavour is bold and svaoury, with deep peat smoke, a curious rubbery note, and the suggestion of smoked cocoa powder. There is a soft oiliness throughout, with crunchy oak tannins and a touch of clove and nutmeg. The aftertaste lingers with salted peanuts, dark chocolate cream and a touch of coal tar. Non chill filtered. 58.2% Alc./Vol. Strictly limited to one bottle per customer.