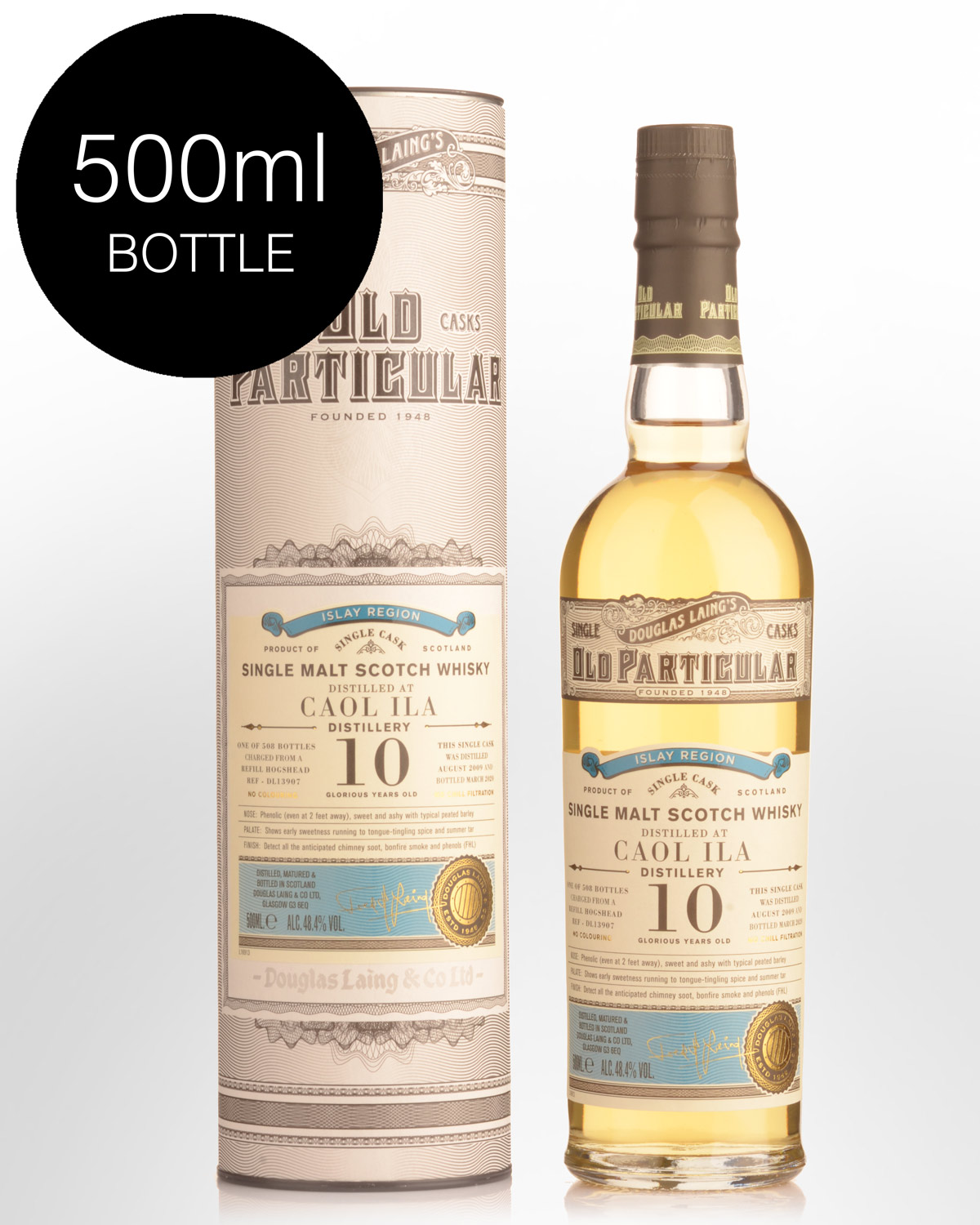 2009 Douglas Laing & Co. Old Particular Single Cask Caol Ila 10 Year Old Single Malt Scotch Whisky (500ml)
A freak single cask: Classic in every sense, delivering everything you could ever want from a young Caol Ila.
Occasionally you do come across a Caol Ila that jumps out from the pack - no mean feat given the considerable number of indies now marketing the distillery. This falls into a predictable profile of ashy-peat-reek meets elastoplast, chimney soot and brine, but it's the freshness, feel and poise, particularly on delivery that take it beyond the mainstream: Some of the tension and austere minerality of Lagavulin at cask strength combines with the medicinal verve of Laphroaig at its most polarising, heightened by a vivacious citrus lift that makes the mid-palate pop. Perfectly balanced, the finish adds salt'n'pepper, wet slate, iodine and smokey vanillas. Not even natural strength, DL13907 is a knockout cask and one of the most characterful bottlings from this distillery in recent memory. Charged from a refill hogshead yielding 508 bottles at a slightly higher ABV of 48.4% (for reasons unknown, Douglas Laing have bottled it in an unusual 500ml format - perhaps to help share it around!?) We have a fraction of the original outturn on offer. Non chill filtered.
Notes from the bottlers... Phenolic (even at 2 feet away), sweet and ashy with typical peated barley. The palate shows early sweetness running to tongue tingling spice and Summer tar. It finishes with all the anticipated chimney soot, bonfire smoke and phenols.
Douglas Laing's Old Particular single casks are a particularly sought-after range of individually-selected Single Malt and Single Grain Scotch Whiskies from all over Scotland. Each is bottled exactly the way the distiller intended: without colouring or chill-filtration, and at high alcohol strength. This combination allows the cask to retain the naturally present oils, fats and enzymes in the spirit that enhance the quality of the nose, the mouthfeel and flavour profile of the whisky.