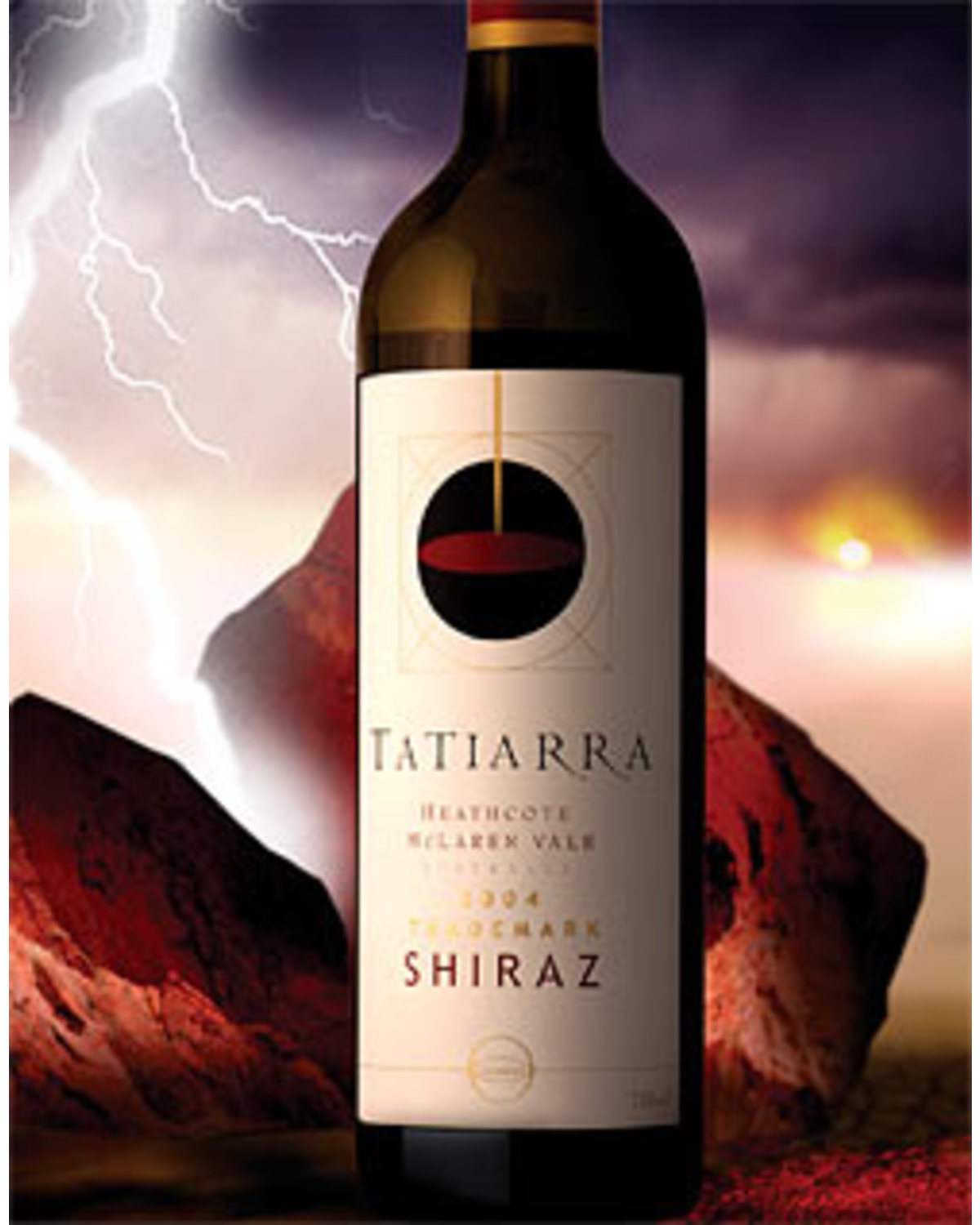 2004 Tatiarra Trademark Shiraz
Heathcote, Victoria,
AUSTRALIA
The 2004 Tatiarra Heathcote Shiraz Collection will take you beyond any Shiraz experience you have ever had before.
Recently "GARAGISTE" (based in Seattle, U.S.A. and one of America's most reputable wine merchants) tasted the wines and were plunged into a sensory tour-de force, re-surfacing with reports so graphic, so potent, that there is little we can add. Put simply: "This is why you drink wine."
This abridged version of Garagiste's full report begins with the 2004 Tatiarra Cambrian Shiraz:
"...if you are a Clos Rougeard meets Lagrein meets Hermitage meets 1955 La Mission Haut Brion sort of person then this is for you...This is a painful experience of acid, complexity, cherry rock and masculine traits that will push aside the uninitiated back to their gentler South Australian experiments. A megalith waiting to unfold...One of the very best wines produced in 2004 anywhere in Australia...For the money the Cambrian has to be one of the most complex and complete wines made in Australia today. THE HIGHEST RECOMMENDATION."
If the stunning 2004 Cambrian Shiraz could be bettered, only one wine could do it, the 2004 Tatiarra Caravan of Dreams Shiraz Pressings:
"...the very best wine of the vintage going beyond the critically swooned over 2003 Pressings. I'm not sure how they could accomplish this...Chiseled, liquefied rock and earth meshed with just the slightest suggestion of heavy cream and a tannic structure that would take Godzilla several films to break through, the 2004 is a mighty wine of earth and fruit with an impossibly complicated, wound up and layered personality that is truly one of a kind in Australia. This is as close as it gets to an old-style Grange character (think 1962 or 1971) while remaining clean, fresh and impenetrable. If you purchase this wine it will be very disappointing if opened today - it will illicit more than a few "who cares?" remarks and evil glairs from your guests. This is all about the ageing potential - if you buy Grange (at four times the price) and you don't buy this then I'm not sure what to say. THE VERY HIGHEST RECOMMENDATION."
After surfacing for air, the tasting panel were then confronted with a wine that stretched their conceptions of the variety to new horizons, the 2004 Tatiarra Trademark Shiraz:
"It is one of the very best (if not the very best) wines of 2004...The devilish amalgam of sultry Footprint with the iron fisted Pressings has produced a "wow" of a beverage that somehow bridges the off-putting nature of the regular Tatiarra wines and softens it with the 2004 McLaren Vale fruit. This is akin to your young Latour being softened with Le Pin - a compelling combination of style, substance, mouthfeel and incredible length and breed this wine has left so many tastes in Australia speechless that I'm not really sure what to write anymore. VERY HIGHLY RECOMMENDED".
The 2004 Tatiarra collection is an utter triumph for Tatiarra's 'dream team' (viticulturists, Ian Rathjen & Bob Wilson together with winemakers Ben Riggs & Peter Flewellyn). Their triumph is only over-shadowed by the loss of Tatiarra co-founder and C.F.O., Bill Spring, who passed away in September. These wines are dedicated to the vision he shared with Nick Chlebnikowski: to produce the world's finest expressions of Shiraz. With the release of the 2004 Tatiarra Collection, that vision is now reality.
Winemaker Ben Riggs set his objective early with this wine unashamedly aiming to create a new Australian wine icon. A formidable wine, juxtaposing the qualities of two of Australia's greatest Shiraz producing areas. The pure fruit bomb 'joosy' flavour profile of McLaren Vale is perfectly matched to the intense black pepper and ripe blackberry flavours of Heathcote. Each vintage only 4 barrels are produced - consisting of two barrels of the finest Shiraz made by Ben Riggs in McLaren Vale (this year one barrel of 2004 Mr Riggs Shiraz and one barrel of 2004 Journeys End Arrival Shiraz.) These McLaren Vale components are combined with the two finest barrels of Heathcote Shiraz from Tatiarra.
Re-taste 23/03/2011
Outstanding saturated black crimson colour with black heart and very deep black crimson hue. The nose is a little shy at first with aromas of blackberry, liquorice, blackpepper, spice and confectionary slowly building intensity with air time. The palate moves into top gear displaying an extra degree of richness and power on the first two wines. Super concentrated with an explosive flavour profile of perfectly ripened blackberry, liquorice and confectionary that fill every corner of the mouth followed by a spicy blackpepper back palate. Velvet smooth tannin structure. Explosive power and depth with exceptionally long aftertaste of blackberry, liquorice, confectionary and blackpepper. The most powerful wine in the line up thus far that still has many years of like left in it. A stunning wine.
Cellar 5-6 years plus.
Alc 15.5%
First Tasted November 2005
Opaque black purple colour, with black purple hue. Lifted, perfumed nose, showing wonderful ripe fruit aroma. Violet top notes are followed by black cherry, spice, blackberry, plum and cedar. The palate has that rare quality of strength and elegance, showing great refinement. Flavours of blackberry, plum, spice, white pepper and liquorice allsorts abound. Not as forceful as the 'volcanic' Cambrian Shiraz, but still showing great length and depth. Fine, dryish balanced tannins. Very long aftertaste of dark chocolate, blackberry, liquorice allsorts and black and white pepper.
Cellar: 10-12 years (2015-2017)
Alc/Vol: 15.5%