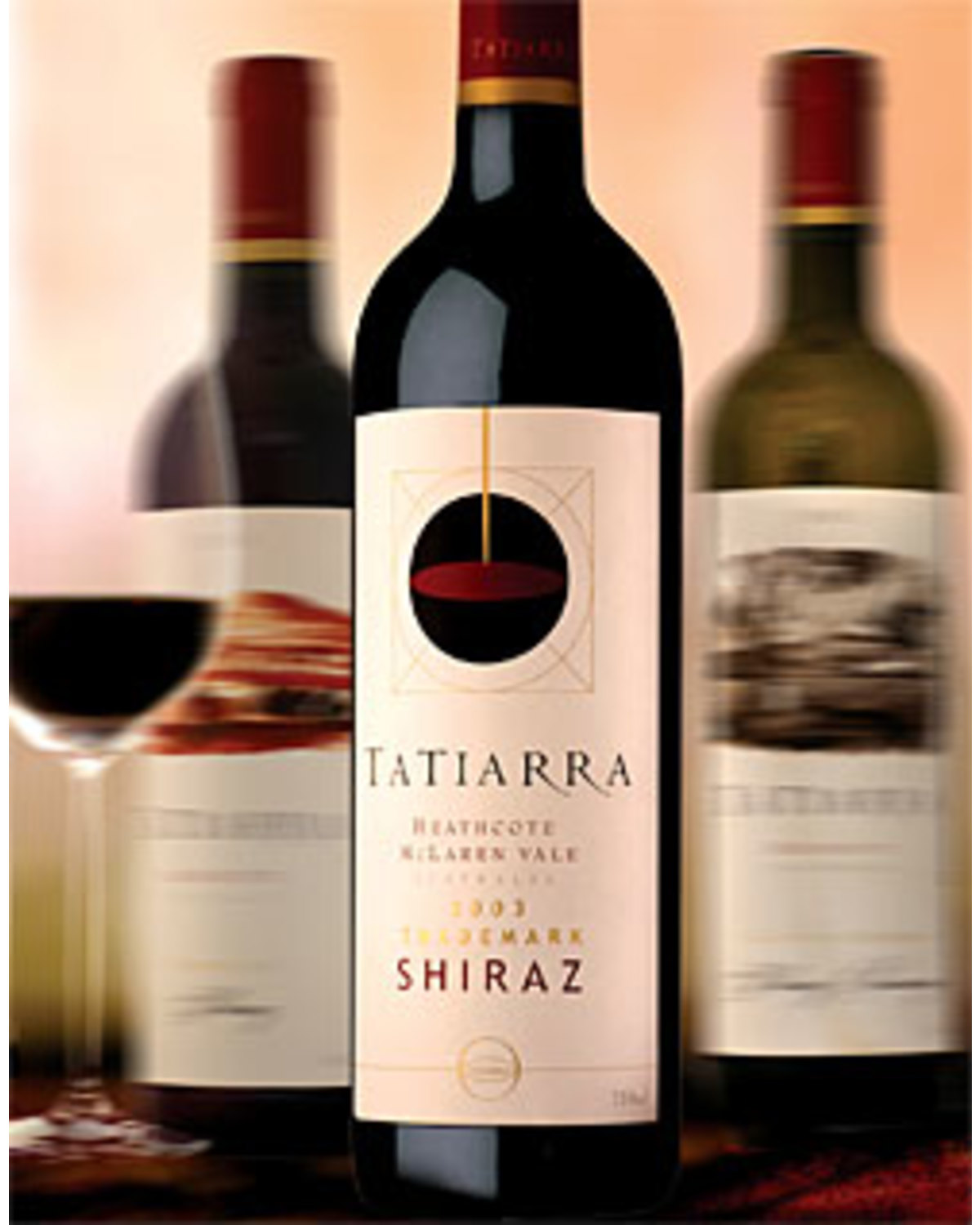 2003 Tatiarra Trademark Shiraz
Multi District Blend,
AUSTRALIA
THE EXTRAORDINARY 2003 TATIARRA SHIRAZ WINES
The 2003 Tatiarra Shiraz wines from Heathcote are nothing short of extraordinary. In just one year the vineyard has received enormous international acclaim for the power and concentration of the Cambrian Shiraz wines. Last November, Vintage Direct reviewed the wines that are produced by Domaines Tatiarra Limited, an unlisted public company runby the old man, Nick Chlebnikowski, and CFO Bill Spring. The pair haveassembled a formidable team of winemakers, Ben Riggs and Peter Flewellyn, together with viticulturist extraordinaire and owner of thecult wine Whistling Eagle - Ian Rathjen.
We gave the old man and hismates a hard time to start with, to ensure we were not accused of goingsoft on them. Now the tables have turned – the world is scrambling forthe wines that are now being sold on allocation.
The reviews forthe 2002 vintage set the stage, with James Halliday in his 2005Australian Wine Companion rating the vineyard amongst the top 3 ofHeathcote, alongside Jasper Hill and Redesdale Estate Wines. He went onto say "It is hard to imagine a more auspicious start to a new venturethan that provided by the 2002 wines." Huon Hooke, called the wines"remarkable". American Importer, Benjamin Hammerschlag of EpicureanWines in Seattle, described the wines from Tatiarra as a "V12 Ferrariroaring up the Northern Highway" and the world's most powerful winecritic, Robert Parker in his recent WINE ADVOCATE magazine had thefollowing to say, "South Australian winemaker Ben Riggs has moved fromthe warmer climates of McLaren Vale to the cooler Heathcote region forthis new project. His stunning Tatiarra offerings should provide a wakeup call for some of the other Heathcote producers who have beencoasting along in cruise control...The beautiful 2002 Cambrian ShirazFirst Release produced from yields of 1.3 tonnes of fruit per acre andaged 18 months in new French oak reveals aromas of lavender, dustyearth, sweet black currants and blackberries. With a gorgeous texture,full body and wonderful ripeness as well as length, this impressiveshiraz should hit its prime in 2-4 years and age for 12-15." On the2003 Tatiarra Cambrian Shiraz Robert Parker wrote, "a barrel sample ofthe 2003 Cambrian Shiraz also reveals marvellous raw materials,combining both power and elegance. It should evolve into asmulti-dimensional wine as its older sibling." After all theseaccolades, one would have at least expected a price rise but not so!The Tatiarra team are firmly focused on producing extraordinary winesfor the long haul and even the CFO agreed that prices should remainstable. The bad news is that stocks are limited and given the worldwidedemand and rave reviews the wines are sure to sell out quickly.
"STUNNING. . . BEAUTIFUL . . . GORGEOUS . . .MULTI DIMENSIONAL . . .WONDERFUL RIPENESS . . . AMONG THE FINEST SHIRAZ WINES I HAVE EVER TASTED FROM HEATHCOTE"
- Robert Parker JR. Commenting on the 2003 Tatiarra Heathcote wines.
TheTatiarra Trademark Shiraz was created from a desire by winemaker BenRiggs to produce a new Australian wine icon, which could be comparedfavourably with other great Australian wine icons such as Grange andHill of Grace. The rationale was to bring together the juxtaposingqualities of Heathcote Shiraz and McLaren Vale Shiraz which wouldreflect each region's terroir in a new and exceptional way. The Shirazfrom Heathcote, which like the top Shiraz from McLaren Vale hasincredibly inky black colour, the underlying difference between the tworegions is fruit flavour and palate structure. The wines of McLarenVale tend to be more voluptuous, almost pure fruit bombs but do nothave the finesse and tannin structure that the wines from Heathcotedeliver. The pure concentration of the black pepper and red berryflavours of Heathcote compliment the rich "joosy" character of theMcLaren Vale. The result of Ben's dream is Trademark Shiraz.
Re-taste 23/03/2011
Opaque black crimson colour with very deep dark red hue. The nose is quite perfumed with alluring aromas of violets, blackberry, liquorice and confectionary followed by some vanillin oak end notes. Rich and opulent possessing tremendous depth and persistence the palate delivers flavours of blackberry, liquorice and spicy dark plum followed by some confectionary with a strong black pepper back palate. Velvet smooth tannins, perfectly balanced with very long persistent aftertaste of blackberry, liquorice and blackpepper.
Drink over the next 5-6 years.
Alc 15.5%
First Tasted June 2004
Totally opaque black crimson colour, which clings to the walls of theglass like paint. Wonderful lifted nose with violet top notes, followedby blackberry, plum, cedar and vanilla. The palate is mouthfilling, butwhen compared with a 100% McLaren Vale Red, showing more restrainedstructure and fine grained perfectly balance tannins. Flavours ofliquorice, plum, cedar and violets are supported by a black pepper backpalate which continues to evolve in a power wave that delivers aprofoundly lasting aftertaste.
Cellar 10-12 years (2014-2016)
Alc/Vol 15.5%